Name:
Artzone DIY Parties
Address:
Greater Dublin area, Kildare, Meath and Wicklow
Tel.:
01 4990614, 01 4063915


Please mention Family Fun when booking!
Artzone Art Parties In Your Home
This new Artzone Home Parties service provides a great alternative to play centre options, and offers parents a stress free option of running an Artzone arts and crafts party in their home or a venue can be arranged.This service offers a creative alternative for your children's birthday parties and special occassions using materials developed by Artzone's qualified Art Teachers.
Artzone ship you everything you need to run a cool art party plus a graphical step by step guide, teaching aid and support studies. You don't require any Art teaching experience to run the party. There is also a qualified Art Teacher available on their helpline to talk you through your party plan and answer any questions.
There are three ways to run your Artzone Home Parties.
 The Party Box – a complete Art Party in a Box shipped to your door. All the art equipment you need and a step by step graphical guide. No art or teaching experience needed for these tried and trusted projects.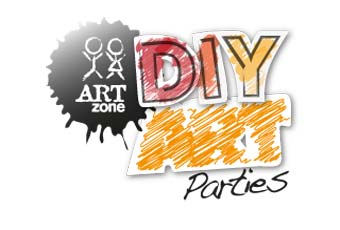 The Home Party – An Artzone Teacher will come to your home (Dublin, Kildare, Meath, Wicklow & Wexford) and run a cool, creative party. You can choose from a wide range of home friendly art party activities.
 The Party Zone – The ultimate art party experience. We have all the we need – canvases, easels, clay wheels, drawing boards and sewing machines to ensure the most creative party experience around. Other Dublin venues available for hire on request.
Booking Online:- You can book on line here through our booking link directly to the Artzone Bookings – see 'Book Now' top of this page page.
Family Tun Tip:-   We suggest you request that the kids going to the party wear an old t-shirt to protect their clothes.
More About Artzone
Artzone are the leading Childrens Art School in the greater Dublin area. The fully qualified teachers ensure a high level of art skills development oin a professional but fun environment. The classes, camps and parties are designed to support the school curriculim and offer an exciting range of painting, drawing, collage, 3D, paper maché, clay and more.