Address:
Aillwee Cave, Ballyvaughan, Co. Clare, Ireland
Tel.:
065 7077036


Please mention Family Fun when booking!
Aillwee Cave
Aillwee Cave and its Birds of Prey Centre, Ballyvaughan, Co. Clare is a very special place in the heart of the Burren.  Let the staff at Aillwee Cave welcome you to the dramatic underworld of this unique landscape.  Your tour consists of a 35 minute guided walk through beautiful caverns, over bridged chasms, under weird formations and alongside the thunderous waterfall which sometimes gently sprays the unsuspecting visitor. Marvel at the frozen waterfall and explore the hibernation chambers of the long extinct brown bears.
The Birds of Prey Centre
Visit the Birds of Prey Centre, home to one of the largest and most varied collections of Birds of Prey in Ireland – Eagles, Falcons, Hawks, Owls and Vultures to name but a few. At the Centre you will learn about crucial Raptor Conservation programmes in Ireland and the centres involvement in Vulture Conservation in the Himalayas. Daily Flying displays provide a rare opportunity to see many of these wonderful species in dramatic free flight set against the Burren Landscape.
Flying Display are daily at 12noon & 3.00pm (1st May – 31st August 12noon, 2.00pm & 4.00pm).
Relax in the friendly Tearoom with a coffee and scone or drink a glass of wine on the terrace and see the most breathtaking views of Galway Bay.  You will be tempted by homemade scones and the lunch menu typically includes delicious soup, quiches and salads.
Browse in the two wonderful Gift Shops and see their breathtaking 2015 collections, where you can find gifts for every occasion.
From bear pits to waterfalls, Aillwee Cave is a family day out with a difference.
Book a Hawk Walk
Hawk Walks cost €80.00 per person which includes a guided tour of Aillwee Cave and visit to the Birds of Prey Centre for Flying Display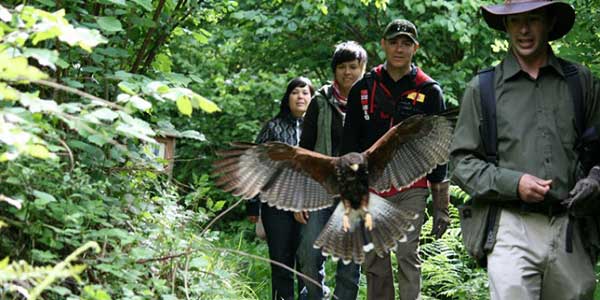 The Farm Shop
At the farm shop watch cheese being made. The Burren in North Clare is the birthplace of this Award Winning Farmhouse Cheese Burren Gold.  This wonderful cheese has won numerous Gold and Silver Medals at various national and international cheese fairs.
Burren Gold is a firm textured Gouda style cheese with a rich creamy taste. It comes in a variety of flavours:- Plain, Smoked, Cumin, Garlic & Nettle, Black Pepper and for something a little more exotic—Piri Piri.  Why not pop in to the Farmshop at Aillwee Cave and taste some delicious Burren Gold Cheese! You may even be lucky enough to see the cheese maker at work.
Aillwee Cave Opening Times And Family Admission Charges
Aillwee Cave is open daily from 10.00am with the last guided tour at 5.30pm – (July & August last guided tour is 6.30pm)
Closed on the 24th, 25th & 26th December & 1st January.
During the Santa's Workshop Event they will be running tours in the morning only from 10.00am -11.00am. Please check the Santa's Workshop page for these date. On all other dates they will be open from 10.00am – 5.00pm. Please note that the flying displays during this event will be running at 11.00am, 1.00pm & 3.00pm.
Admission for Aillwee Cave Only
Admission for Birds of Prey Centre Only
Adults €10.00
Children €8.00
Family (2 adults & up to 4 children) €29.00
Admission for Aillwee Cave & Birds of Prey Centre
Adults €18.00
Children €10.00
Family (2 Adults & 1 or 2 children ) €44.00
Family (2 Adults & 3 or 4 children ) €50.00
Booking Online:- You can book online here through our booking link directly to the Aillwee Caves online ticket sales
Don't miss the dynamic flying displays daily at 12 noon & 3.00pm daily-(May-August 12 noon, 2.00pm & 4.00pm)
History Of Aillwee Cave
Aillwee Cave was first discovered by local man, Jack McGann, in 1940. Actually, it was Jacko's dog while chasing a rabbit that actually discovered the entrance of the cave. When Jack decided to explore the cave, he did so armed only with a candle. He was possibly the first human ever to set foot in the cave, as later examinations showed no sign of human habitation. However, there were other inhabitants. Brown bears bones were found along with bear pits and so it is clear that Aillwee Cave was used has a hibernation site for the bears which became extinct in Ireland over 1,000 years ago.
The cave itself was formed by the melting waters of the Prehistoric Ice Age. It is the oldest cave in Co Clare and possibly in Ireland.
In 1975, the land around the cave was bought by two local families who had an interest in opening Aillwee Cave up to the public. They excavated the entrance to make it more accessible and laid pathways, installed lighting and handrails. In 1977 they carried out further excavations and in 1991, further blasting enabled them to create the circular cave tour that exists today.
Directions to Aillwee Cave Clare
Ailwee Cave are located on the edge of the Burren National Park approximately 3km south of the village of Ballyvaughan on the R480.   This is approximately 60km from the cities of Galway or Limerick.
Family Fun Tip for Aillwee Cave
Having spent a couple of hours in Aillwee Cave you will most likely return to your car to drive to your next destination… can your kids remember which one is a stalactite and which is a stalagmite? A trip inside the earth to view such wonders as the underground waterfall and the bear pits are great at stimulating the kids imaginations. Encourage them to write about what they saw or perhaps make up a story about the bears who once lived in Co Clare and slept the winter away deep in the cave.