Name:
Coolmine Equestrian Centre
Address:
Coolmine, Saggart, Co Dublin
Tel.:
+353 (0)1 4588447


Please mention Family Fun when booking!
Coolmine Equestrian Centre
Coolmine Equestrian Centre is a top class horse riding facility located near Saggart village on the foot of the Dublin Mountains. A family run farm boasts fantastic views over Dublin City to the bay and as far North as the eye can see. Coolmine Equestrian has been awarded with Safety Standards, Customer Support and Tourism approval from The BHS, AIRE and Failte Ireland.
At Coolmine Equestrian they offer various equestrian services at their equestrian facility centre from lessons for adults and children to leisurely trail rides and education.
Horse Riding Lessons
Coolmine Equestrian is dedicated to provide high standards of horse riding and instruction for adults and children, from four years of age and older. They have a team of experienced and professional riding instructors whose main priorities are your enjoyment and safety as well as the achievement of your riding ambitions
Guided Horse Riding
Trail riding sometimes called horse or pony trekking is riding outdoors on natural trails and roads as opposed to riding in an enclosed area such as a riding arena. Trail rides at Coolmine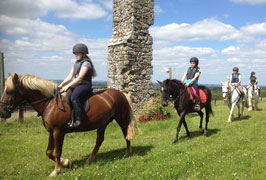 Equestrian are led by fully qualified professional guides who will ensure your enjoyment and comfort.
All trail ride routes are assessed for elevation, distance and duration along with difficulty and skill levels for the rider. All riders are required to demonstrate the minimum riding skill for their chosen trail ride before departing our centre.
Birthday Parties
Why not have a Horse Riding party!
Coolmine Equestrian provide a selection of finger food, light refreshments and soft drinks for you should you wish or alternatively, you can bring your own food and eat Inside/outside the Centre at the picnic tables.
Event Package
Can be for any number of people, but only eight can ride at any one time
If a group is larger than eight they can ride on consecutive hours, while the others wait at the stables or have a stable management session
With a ½ hour arena lesson with fun and games
Or a Castle Field Trail ride
A lesson in Stable Management and Equine Care
We make this fun with quizzes, rosettes and spot prizes for all
For childrens parties, we also provide a bouncy Castle
Family Fun Tip:- Riding hats and boots are provided free of charge
Horse Riding Camps
Coolmine Equestrian offers a fun filled adventure camp for the energetic child!
They run pony camps during all school holidays, and whenever the children are off school.
These pony camps are suitable for children aged 6-18, of any ability. They also run pony play camps for younger children (4-6 yrs).
Pony camps are an excellent way to develop riding skills and progress, are great for building confidence on and around the ponies, and a fantastic way to make lots of 'like-minded' friends in a safe, controlled environment.
The children will get involved with all aspects of pony care, including mucking out, grooming, feeding, plaiting, bathing, tacking & rugging up, as well as riding for 3 hours each day. Riding may include, flat work, jumping, hacking, gymkhana, or even preparation for a competition at the end of the week.
Summer Horse Riding Camps
To Find Out More About Summer Horse Riding Camps
Gift Vouchers
Whether it's to say Happy Christmas, Happy Birthday, Thank You or to celebrate a special occasion this is one present they'll never forget. You can now buy Gift Vouchers from Coolmine Equestrian online.
There is a fantastic range of horse riding activities available at Coolmine Equestrian. Gift vouchers are available for: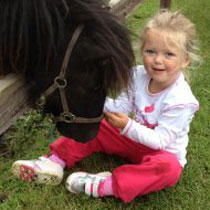 Fixed Price Vouchers
Horse Riding Packages
Lesson Gift Vouchers
Guided Horse Riding Trails
A variety of Equestrian Gift Vouchers are available for purchase, which offer horse riders of all experience levels a real treat.
Vouchers can also be used to pay for your normal riding lesson / trail ride / activity
Directions To Coolmine Equestrian Centre
Coolmine Equestrian Centre is situated in an idyllic Dublin setting located within 20 minutes driving from Dublin City Centre or 20 minutes from Dublin Airport