Name:
Kids Cook Cookery School
Address:
Abbey House, Main Street, Clonee
Tel.:
(01) 825 2926


Please mention Family Fun when booking!
Kids Cook Cookery School in Meath
Kids Cook is a cookery school especially designed for children of all ages, running a range of kids cooking lessons, baking courses, cookery camps, kids' birthday parties and lots more. Kids Cook is based in Clonee, on the border of Dublin and Meath.
The cookery school at Kids Cook has been designed with children in mind, with thoughtful touches such as child-friendly, colourful utensils and equipment. Workstations are lower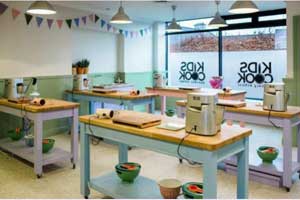 than standard height and steps are provided for the littler ones who need a bit more help to reach up. With safety in mind, the workstations have removable hobs and the only knives used in the kitchen are Kiddikutter safety knives for children. Above the teacher's workstation is a camera which projects everything onto on a large TV screen to help children see close-up what teacher is doing.
All classes are hands-on, children work together in small groups with their peers and have fun learning basic cooking and baking techniques. Kids Cook staff are passionate about cooking and great with kids.
What's on Offer at Kids Cook
After-school and weekend cooking and baking courses for kids aged 5-13 years old
Cookery themed birthday parties for boys and girls aged 4-13 years old
Cookery camps during all school breaks – summer, Easter, Halloween and mid-term
Sugarcraft courses and workshops for kids aged 5 years+
Adult and child cookery classes
Parent and toddler cooking course
Special occasion and seasonal cooking and baking workshops
School Tours
Private group bookings
Cooking courses for teenagers
FamilyFun Discount Offer
Kids Cook offer 10% sibling discount on all their camps just mention "Familyfun" when booking.
Booking is essential for all classes and workshops! Call 01-8252926 or email [email protected] for more information and pricing.
Camps at Kids Cook
Kids Cook camps are sociable and educational. Recipes and methods used are tailored to the appropriate age, to make them as easy as possible to recreate at home.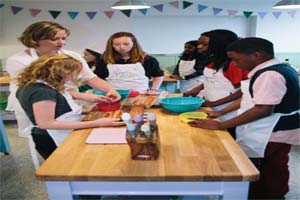 As well as learning a range of cooking and baking skills, kids learn how to work in teams, how to count and measure, how to read and follow recipes and develop their fine motor skills.  They also learn about food origins, kitchen safety and hygiene. During breaks from the kitchen, they play food quizzes and games.
Kids Cook camps are great fun for kids. The team at Kids Cook is passionate about cooking and baking and love teaching kids.
Kids Cook cookery camps are also available during Halloween and Easter holidays and February midterm break.
Information on Dates, Times and Online Booking for
Parent and Toddler Mornings.
Children have fun getting used to textures and tastes of different foods by getting stuck in! It might be cookies, cupcakes or perhaps some gingerbread men! They will also cut and taste a variety of fruit and veg using our special KiddieKutter safety knives. For children aged 2 and up.
Adults relax with a freshly ground coffee or tea and a homemade muffin while the kids make a mess.  Leave the cleanup to Kids Cook! These hour long sessions are open to grandparents, childminders, aunties or uncles too and are on a pay-as-you go basis.
Parties at Kids Cook
Kids Cook is an ideal venue for a kid's birthday party. With a range of themes and packages to choose from, there is something to suit everyone – boys and girls, from age 5 upwards.
Including private use of the school, tuition, party hosts, ingredients, equipment, aprons, food, drinks, party ware and take-home goodies, Kids Cook parties are also great value.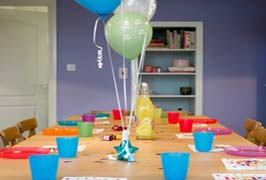 The birthday child will always be made feel special at Kids Cook. If you choose to order a cake from Kids Cook, the friends will decorate it especially for the birthday child.
Every child will bring home a treat that they made themselves, so no need to buy goody bags. Kids Cook take care of everything, even cleaning up the mess. It's the most hassle-free birthday party for parents!
Below are some of the party packages on offer at Kids Cook, but check out their website for more details on what a party at Kids Cook entails and for more themes
Pizza and Cookies party – pizza dough, sauce and cookie dough are all made fresh from scratch by Kids Cook.
Pizza and Cupcake party – each child takes home four cupcakes in a presentation box.
Afternoon Tea party – make savoury and sweet delights for an afternoon tea. Sit down in the butterfly and orchid room to eat from china plates, drink homemade lemonade from china cups and use the family silver!
Food Science party – make and eat pizzas together, after an hour of exciting chemical and gastronomic experiments!
Sugarcraft party – learn how to make impressive decorations for the top of cupcakes using simple sugarcraft techniques. All icing and specialist tools are provided.
Chocolate fountain – can be added to any party. Belgian chocolate running through the fountain, accompanied by a selection of fresh fruit and marshmallows for dipping, makes a great centrepiece.
Parties can be booked for Thursday, Friday, Saturday and Sunday and run for two hours. Prices start at €200 for a minimum of 10 kids up to a maximum of 20. To book a party, or if you have any special requests or queries, call Kids Cook on 01 825 2926 or email [email protected].
Cooking, Baking and Sugarcraft Courses for Kids.
Kids Cook is the only cookery school to offer such a comprehensive range of cooking and baking classes for kids. Choose from a one-off workshop or 4-6 week courses. The choice is wide and the curriculum is constantly changing, with exciting new courses launching all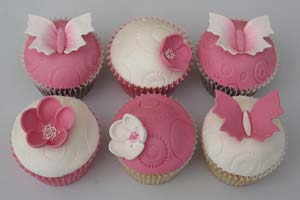 the time. The best way to keep informed is to check out the Kids Cook website or Facebook page.
Cooking lessons are an ideal after-school activity for kids. At Kids Cook, you can choose from courses such as Foods of the World, Fun in the Kitchen, Essential Baking Skills, Saturday Cooking Club, or beginners and advanced Sugarcraft courses. All details of courses can be found on the website, and can also be booked online.
Family Fun Tip:- They provide the cupcakes, icing, toppings, equipment, and presentation box
Parent and Child Classes
These very popular classes are one of the few occasions that grown-up are allowed into Kids Cook! Adult and child classes are a great family activity, and often involve a theme – Christmas, Halloween, Father's Day. Or sometimes you just get to make a mess and have fun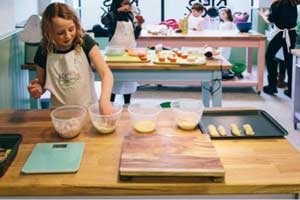 baking something nice to take home!  The great thing is you get to leave the mess behind for Kids Cook to clean up. These classes are usually held at weekends, but for upcoming dates and times, check out the Kids Cook website.
Attending a Kids Cook adult and child class is a great way for adults and children to spend quality time together doing an activity you will all enjoy. One parent and child, both parents and kids can attend.  It doesn't even have to be a parent. Aunts, uncles, grandparents, godparents are also welcome. Children from aged 3.
Contact Kids Cook directly Tel. (01) 825 2926 or check out their website for details of upcoming classes and workshops.
Schools Tours and Group Bookings at Kids Cook.
Kids Cook Cookery School is very popular for School Tours. It is a safe, friendly and fun environment for kids to learn in. The programme is tailored for each class and proves enjoyable for kids of all ages, abilities and interests. No other group will be booked at the same time, you have private use of the premises. All tuition and supervision is provided by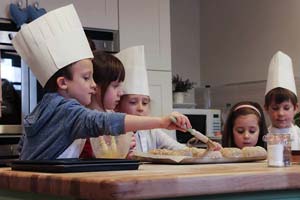 Kids Cook, taking the pressure of teachers and group leaders.  To find out what's included in a Kids Cook School tour and options available, contact Kids Cook directly.
Kids Cook can also provide private workshops for any group or organisation – for example scout groups, sports clubs, preschool and afterschool centres, parent and toddler groups, special-interest groups.
If you are leader of a group with special interests or needs and would like to find out more about a private workshop, contact Kids Cook directly on 01 08252926 or email [email protected]
Kids will love it, you will too!
Directions To Kids Cook in Meath
The school is on the main street in Clonee, Co. Meath.
Located just off juction 4 of the N3, less than 10 minutes from juction 6 (Blanchardstown/ Navan exit) on the M50