Name:
Turoe Pet Farm and Leisure Park
Address:
Turoe House, Bullaun, Loughrea, Co. Galway
Tel.:
353 (0) 91 841580


Please mention Family Fun when booking!
Turoe Pet Farm And Leisure Park
Turoe Pet Farm and Leisure Park in Galway is now one of the leading visitor attractions in the West of Ireland. Turoe Pet Farm offers many opportunities for people to enjoy a fun-filled family day out no matter what the weather conditions are, there is always lots of things to do!
One can take a leisurely walk around the 14 acre park and enjoy the beautiful tranquil setting, fresh country air and the delightful sound of birdsong or go indoors to experience the excitement of children of all ages in the bigger and better revamped Jungle Town and bouncing their way around the new refurbished "Inflatable city" – one of Europe's largest bouncing castles.
Enjoy the two outdoor playgrounds and football pitch and also supervised indoor play area's and "indoor picnic area"
Turoe Pet Farm also runs special events for children during the year – Easter Bunny, Hallowe'en Party, illuminated Christmas Village
Animals at Turoe Pet Farm
Here is just a brief description of some of the fun and activities that awaits you and your family and friends when you arrive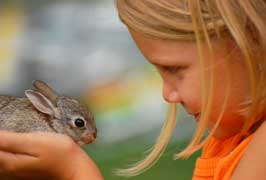 here in Turoe. The first area to greet you comprises of the bird aviary where there are a wide variety of birds and poultry, the pet's corner is always a children's favourite, where they get a chance to cuddle the many adorable rabbits, and a play area including sand pit. The surrounding walking trail allows visitors to closely see their adorable farm animals such as pigs, ponies, cows, donkeys, goats and sheep.
 Family Fun Tip: – Remember, during the cooler winter months, some animals are housed indoors where you still get the opportunity to feed them.
The Nature Trail
The all weather walkway, 'Hawthorn walk'(both wheelchair and buggy friendly) takes you along the perimeter of the 14 acre farm where you get a chance to hand feed many animals including Animals'Larry the Llama', 'Curly the Alpaca' and not forgetting 'Macy' one of the very friendly goats. After saying 'Hello' to 'Dundee' the crocodile and making your wish in the wishing well the trail finishes with a visit to their second outdoor play area.
Turoe Pet Farm Amenities
The Inflatable City, a massive 8000ft bouncing castle consisting of 3 different sized slides. With a 6ft slide, a 12ft slide and for the more brave, a 25ft slide, there is something to suit all ages and capabilities.
Inflatable City is one of the best children's activity centers In Ireland. Inflatable City is fully supervised (it is advisable that children ware socks in the interest of safety) with seating provided for the adults in a heated environment making it perfect for those not so sunny days.
All-weather nature trail around the 14 acre farm (food provided to feed the animals)
Supervised indoor play areas
No time restrictions
Jungle Town (Indoor Play Area)
Europe's largest bouncing castle "Inflatable City"
Two outdoor playgrounds
Astro Turf Pitch with Lighting
Football pitch
Indoor picnic area
Pool room
Sand pit and pets corner
Aviary
Coffee shop
"Country Kitchen" serving hot food
Souvenirs
Toilets and facilities for disabled
Baby Changing Rooms
Free Coach and Car Parking
Wheelchair friendly
Guided tour for group bookings
All our amenities are available in all weather conditions and is suited to children of all ages
Turoe Pet Farm Admission Prices
Adults €9.00, Child €13.50 (under 2 years free)
Family Rates
2 Adults & 1 Child €31.50
2 Adults & 2 Children €45.00
2 Adults & 3 Children €55.00
2 Adults & 4 Children €65.00
2 Adults & 5 Children €75.00
2 Adults & 6 Children €85.00
The above rates include entry to the Pet Farm, food to feed the animals (indoors in the Winter time), use of the outdoor Playgrounds, entry to the "Inflatable City" and "Jungle Town" and access to the Nature trail.
Turoe Pet Farm and Leisure Park Opening Times
Special Days at Turoe Pet Farm
Christenings, Holy Communions, Confirmations!
Turoe Pet Farm & Leisure Park offers a unique venue for your upcoming celebration. They offer delicious home cooking in a relaxed, friendly atmosphere with the needs of all your guests catered for.
Birthday Parties – Party Package
Use of all facilities including:
    Jungle Town i.e. Ball pond, Play maze, Bouncing castle (Supervised)
    Inflatable City (Europe's Biggest Indoor Bouncing Castle) (Supervised)
    2 Outdoor play areas
    Astro Turf Pitch with Lights and regular Football Pitch
    Food to feed the animals around the Nature Trail. The Nature trail is all Weather
Your Private Table is set out with.
Birthday Bags
Birthday Cups
Birthday Plates
Knife and Server available
Host family provide party food and drink, jugs of water available
All Birthday Parties enquiries to David or Mary at 091 841580
Easter In Turoe Pet Farm and Leisure Park
Fun, Games and Family Entertainment with the "Easter Bunny " with Lots of Easter Eggs. Disco with D.J. Corky and special guests each afternoon. There is lots of fun feeding the animals, in the inflatable city, jungle town and playing in the outdoor playground. There will also be hot food and refreshments available.
See all the animals in their glory with many having their young at foot. The grass is green and the trees are in full bloom. It really is a beautiful time of year as we say good bye to winter and welcome in the spring
Christmas At Turoe Pet Farm
Every Christmas the The Winter Wonderland comes to the pet farm with its Illuminated Christmas Village. You can visit Santa in his grotto and enjoy the animate santa scenes. The children can feed the animals in the stable and look around the Nativity scenes. There is also lots of fun to be had in the heated indoor play area "Inflatable City" &"Jungle Town". There is hot food and refreshments available.
School Tours Turoe Pet Farm
Take a School Tours Trip to Turoe Pet Farm for a Fun and Educational filled Day Out for all Ages
Turoe Pet Farm is the perfect location for school tours within galway for all schools from around Ireland. They are easily accessible from the M6 Motorway at Exit 16, just follow the signs to the farm at Turoe.
School Tours at Turoe Pet Farm are guaranteed to be a fantastic day out, meeting the animals and playing at in play centres like Inflatable City the largest indoor bouncey castle in Europe. Feed & Cuddle the animals around the 14-acre park as you enjoy our guided tour and see. All-Weather' facilities are provided with indoor seating area for you to enjoy your packed lunch.
Regardless of the weather a great day will be had by all.
All school Tour enquiries to David or Mary at 091 841580
Directions To Turoe Pet Farm Galway
Turoe Pet Farm is  just 4 km from the new M6 Motorway (exit 16) close to Loughrea County Galway.
M6 Galway – Dublin (Dublin – Galway):
Take Exit 16 signed Loughrea/Portumna/Kiltullagh on M6. At roundabout follow sign to Bullaun – 4km on left-hand side.
From Limerick/Ennis:
M18 to Exit 18 and take M6 to Exit 16 signed Loughrea/Portumna/Kiltullagh follow sign to Bullaun, 4 km on the left – hand side.
From Nenagh/Portumna:
N65 to main Galway/Dublin road (N6). Turn left towards Galway. At first roundabout take 2nd exit (signposted Galway). At 2nd roundabout take 4th exit (signposted Bullaun) R350. From Bullaun: Take road down by Church (signposted Kiltullagh). After pitch on right (200m) take 1st right on bend, follow sign for Turoe Farm.
From Sligo, Castlebar,Tuam:
Take M 17 to Exit 18 on the M6 follow signs to Dublin, Exit 16 on Motorway (signed Loughrea/Portumna) on roundabout follow sign to Bullaun – 4KM on left