Address:
Simmonscourt, RDS Ballsbridge Dublin 4
Tel.:
+353 1 4853045


Please mention Family Fun when booking!
Winter Funderland 2016
Winter Funderland the biggest and most exciting Christmas winter event in Dublin's RDS, Simmonscourt. A festival of family entertainment that incorporates Funderland which is Europe's largest indoor theme park, iSkate on Ice- Ireland's largest ice rink, Fossett's exclusive Christmas Circus, the Christmas market and unique experience in Santas Grotto
Winter Funderland aims to capture the magic of Christmas and the joy and fun of the season, all in one location at the RDS.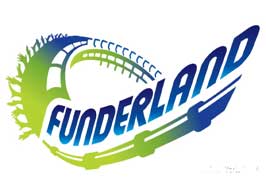 Funderland
Funderland is the Flagship venue, the largest indoor event of its kind in Europe. The venues feature up to three Rollercoasters, a Giant Ferris wheel, and as many as fifteen different thrilling attractions carefully selected from among the top attractions in Europe.
From Bounceworld and the Fun Factory to the Take Off and Ultra Buzz "white-knuckle" rides,  Funderland will present an array of attractions to suit all ages and tastes. For those who prefer to remain on "terra firma" lots of games of skill and chance will offer hours of pure fun and the opportunity to win one of Funderland's famous soft toys
Funderland does not neglect the younger thrill seekers either and they always have an extensive selection of Juvenile attractions for young children to enjoy, with an array of smaller childrens attractions.
So whether you are young or young at heart why not go along and see why Funderland has become a national institution.
Find Out More About Funderland at the Winter Funderland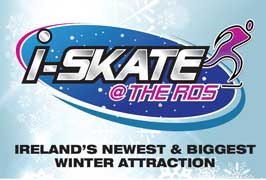 i Skate At Winter Funderland
iSkate is Ireland's coolest ice skating event running  at the Winter Funderland in the RDS in Dublin.
iSkate is not just Ireland's newest ice rink,  it is also the largest with over 1,000 square metres of real ice! i Skate offers an unrivaled skating Christmas experience.
Find Out More About i Skate At Winter Funderland
Santa's Grotto
This year visit Santa in his Grotto with his elf at Winter Funderland with his elf from
You can visit Santa at for free. There is no admission fee to go and meet Santa and his elf.
So make sure you make time to see Santa in his Santa's Grotto
Christmas Market
At this Christmas Winter Funderland , wooden chalets will create a village atmosphere with all the sights and smells of the traditional Christmas. Stallholders will offer everything from traditional sausage and Schnitzel, Gluwhein and Gingerbread.
A place to relax, stroll and enjoy the speciality foods, the Christmas Market will create the perfect atmosphere for a Christmas family outing.
Winter Funderland Opening Times
Winter Funderland  will run from the 15th of December 2016 to 15th of January 2017.
Funderland Opening Times:
Mon-Fri – 2pm -9pm
Sat, Sun & School Holidays – 12noon-10pm
iSKATE-On-Ice Session Times:
Mon-Fri – 10:00am, 11:00am, 12:00pm, 1:00pm, 2:00pm, 3:00pm, 4:00pm, 5:00pm, 6:00pm, 7:00pm and 8:00pm
Sat, Sun & School Holidays – 10:00am, 11:00am, 12:00pm, 1:00pm, 2:00pm, 3:00pm, 4:00pm, 5:00pm, 6:00pm, 7:00pm and 8:00pm
Directions To The Winter Funderland at the RDS
By Car
Outside Trinity College, take Nassau Street (N11) for about 150 metres then turn right following the signposts for the R118. Follow the R118 (also known as Mount Street which becomes Merrion Road) for approximately 2km. The RDS Main Complex will be situated on the right hand side.
To go to Winter Funderland continue along the Merrion Road and turn right into Simmonscourt Road. Winter Funderland is situated on the left hand side after the two office buildings.
By Bus
The RDS is serviced by bus routes number 4, 7 and 45, which stop outside the Main Hall Entrance to the RDS on the Merrion Road. Bus routes Number 4 and 7 stop outside Bewleys Hotel (located beside Winter Funderland). These bus services can be availed of on Nassau Street outside Trinity College.
By Local
Train Dublin DART (Dublin Area Rapid Transport) service also operates from the City Centre to Ballsbridge.  Travel southbound to Lansdowne or Sandymount stations