Advertise with us
Promote Your Venue or Event to thousand of parents of young kids looking for places to go and things to do in Ireland
We are the Number 1 website for Family Fun in Ireland
We have been regular contributors on TV3 where we advise on Family entertainment in Ireland.
We have circa 150k visitors per month increasing to over 200k during school holidays.
Familyfun.ie's role is to drive referrals of genuinely
interested people to our venue partners.
A large number percentage of our visitors regularly visit the site to find out what's on
 We serve over 700,000 page views per month.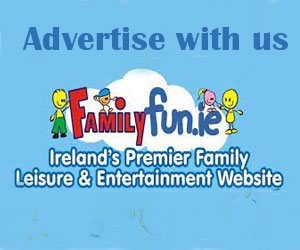 We ensure your venue is seen by a large highly targeted audience searching online for FamilyFun and entertainment that your venue might not otherwise reach. We offer real value in online advertising
Email us through our Contact Form to discuss a package that might best suit your business or call us on 085 730 7940
Testimonials:
"I will defiantly be keeping my listing with Family Fun this year! You guys have generated a huge amount of business for me."
Laura, Hey Presto Parties
" Due to the demand from public we have to change our familyfun.ie website information. Due to the increased volume of calls because of your website, we are going to open to the public. Could you please amend our information on your site……….."
Demographics

Parents / guardian of young kids aged 3 to 18 years
Gender: 80% female
Ad Types
Leaderboard 728*90
Skyscraper 120 * 600
MPUs
Newsletter: facility to include special promotions / events in newsletters
Venues / Events Listings
Venues / events can be listed with full details on individual pages on the site
Facility to include video footage and up to 3 pictures
Can take banner advertorials on main landing page of relevant zone or home page
Venues can update listing twice during a 12 month period without additional charge
Familyfun.ie Rates
Rates for venues : these vary depending on category. Contact the Familyfun team by email us through our Contact Form to discuss a package that best suits your business needs.
Top 5 slot on listing pages at nominal cost subject to availability
Leaderboard and skyscraper ads: Please contact us for quotation
If you have a venue or event that you think is perfect for our audience, we are happy to work with you to figure out a package that works within your budget and schedule.
To enquire about advertising your event, product or service on FamilyFun.ie, please contact us by email through our Contact Form  .