Address:
Butlers Chocolates, Clonshaugh Business Park, Dublin 17
Tel.:
353 1 671 0599


Please mention Family Fun when booking!
Butlers Chocolate Experience
For all budding chocolatiers and chocoholics a visit to the Butlers Chocolate Experience in Dublin, is a real treat for adults and children alike and makes for an interesting and unusual family fun day out. There's lots of interesting things to learn about how chocolates are made, from the cocoa bean right through to being packed in beautiful gift boxes to be shipped all over the world. Go along and have a look at the Butlers Chocolate factory and see for yourself how the award winning chocolates are created and learn about the history of Butlers since it was founded in Georgian Dublin in 1932. Watch the factory in operation and find out how they fill and decorate the chocolates and see for yourself how they produce all the chocolate novelties. Also have a look at the traditional copper pots used to make creamy fudges and toffees.
Visit the Butlers Chocolate Experience – the ultimate chocolate discovery tour in Ireland. Based in the home of Ireland's favourite chocolates, a visit here is a must for chocolate lovers of all ages.
Butlers Chocolate Experience
Have fun in the interactive mini factory and see up close some of the areas you will have seen on the factory floor and try your hand at decorating – you can even bring your own decorated chocolate home!
Butlers Chocolate Movie
Travel through time in the world of chocolate in our cinema. Discover how the Aztecs created the first known chocolate and find out how the taste for chocolate developed all over the world. Hear about the history of Butlers and unearth some interesting facts about our origins and where we are today.
Chocolate Museum
Explore this treasure trove full of chocolate and Butlers memorabilia.  Enjoy a rainforest experience, see artefacts from the Aztecs and follow the journey of chocolate and Butlers to the present day.
Chocolate Gallery
See for yourself our factory in operation from the Chocolate Gallery, enjoying a bird's eye view of our chocolates being created from start to finish by our chocolatiers. This part of the experience is both fascinating and educational.
Experience Room
The ultimate part of the tour where participants get the chance to dress like a chocolatier and try their hand at decorating their own chocolate novelty, which they then bring home. Enjoy demonstrations of how chocolates are enrobed and shells are filled and decorated.
School Tours And Birthdays Parties Chocolate Experience
Butlers Chocolate Experience is the ideal place for a school tour or to host a birthday party. It is both educational and fun for children and sure to be something they will remember and cherish. These need to be booked in advance, please contact Joanna on 01-6710599 or email [email protected]  for further details.
There is lots for the children to see and do as they witness the magic and wonder of a real life chocolate factory. The children will learn about the history of Butlers and chocolate from its origin in Mexico and see up close how the chocolates are created and how the chocolate making equipment works. They will also witness the techniques of chocolate decoration and even decorate their own personalised Butlers Chocolate bear to take home! The one and a half hour Butlers Chocolate Experience can cater for a maximum of 30 children per session. All tours need to be booked in advance.
School Tours
Butlers Chocolate Experience can cater for groups of up to 50 people. This makes it an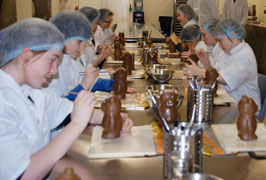 ideal venue for school tours/summer projects and club days out. Coach parking is available. Butlers Chocolate Experience is fully accessible.
Birthdays Parties
Butlers is a great location for birthday parties. Just bring your own cake and they will organise the rest. In fact they will organise the cake too if you want! While the kids are having fun in the Chocolate Experience, parents can enjoy a coffee and catch up in the onsite Butlers Chocolate Café.
The Butlers Chocolate Experience Facilities
Butlers Chocolate Café onsite offering a range of beverages, confectionery, sweet treats and savoury breakfast and lunch options
Plenty of parking onsite
Disabled Access
Baby changing faculties
Butlers Chocolate Experience Opening Times
Butlers Chocolate Experience is open from Monday to Saturday, for guided tours only. Guided tours run daily at 10.00 am and 12.00 pm and 3.30 pm, subject to availability and MUST be booked in advance. Group tours also must be booked in advance. call Joanna on 01-6710599 or email [email protected]
Butlers Chocolate Experience Tickets And Family Admission
The Ultimate Chocolate Experience:

€13.50 per person. This includes: Chocolate Movie, Chocolate Museum, Chocolate Gallery and a visit to the Chocolate Experience Room
Family Price €50 – (2 adults and 2 children under 12, each additional child is €13.50)
Booking The Butlers Chocolate Experience
To make a booking, please call Joanna on 01- 6710599 or email [email protected]
We would appreciate if you would mention Familyfun.ie when booking
Book Online and Save
When you book online  you will receive a 5% discount.
Booking Online:- You can book on line here through our booking link directly to The Butlers Chocolate Experience ticket sales
Directions To Butlers Chocolate Experience In Dublin
Butlers Chocolate Experience is located in Clonshaugh Business Park, Oscar Traynor Road, Dublin 17 – just five minutes from the junction of M1 and M50.
M50/M1 Interchange (Northbound on the M50)
When approaching the end of the M50 towards the start of the M1, take the left lane signposted for the City Centre. Once on the exit keep left as you will be taking the exit just before the Port Tunnel for Coolock. At the roundabout take the 1st exit onto Oscar Traynor Road. Continue for approximately 1km until you come to the third set of traffic lights, you will see the entrance to Clonshaugh Business Park on your left hand side. Butlers Chocolates is the 4th turn on your left once you enter the estate and is the first building on your right.