Address:
Unit E, M4 Celbridge Busines Park, Celbridge, Co. Kildare
Tel.:
01 6273996/7


Please mention Family Fun when booking!
Celbridge Playzone
Celbridge Playzone is an indoor family play and party venue for children in Kildare. This recently refurbished venue holds a large play and slide section. The play-area is divided into different sections for children of ages 0-9. They have amazing party pirate ship and princess castle as well as themed party tables for birthday parties. They have a good café serving hot food with free Wi-Fi. Playzone promotes healthy exercise through play!
Playzone Features
10,000 SQ FT Indoor play centre offering year round fun and activities for 0-9yrs.
Fully Zone Cafe – with an excellent variety of choice on our menu
Three tiered play frame and a mega slide.
Basketball hoop.
Roller race car track. Start your engines!
A designated toddler and baby area.
Bright comfortable surroundings designed so you can see you children from wherever you are. That means you can relax and enjoy their café.
FREE Parking
3 Baby Changing areas
Plenty of seating available.
Celbridge Playzone Themed Parties
At Playzone, they cater for all your party needs and will work with you to provide the perfect party. They now have the new themed pirate ship room ( see picture below) and a princess castle along with other themed party tables.
You have a choice of our 4 themed party tables,
Frozen
Minion
Superheroes
Toddler Mix
For parties you get the foillowing,
Full access to the play area.
A large pot of tea or coffee for the adults.
Free unlimited jugs of juice.
The children's meal choices are tasty chicken nuggets, fish fingers, sausages-All served with hot chips and ketchup or mayonnaise
We will try to meet any dietary requirements.
You get your table for the full duration of the party.
Free themed party-ware.
Free goodie bag for all the children.
Free pass for the birthday child to come back.
Prices
€13.00 per child Monday – Friday
€15.00 per child Saturday, Sunday and Bank Holidays.
A Minimum of 8 children for the Party
A €50 Deposit must be given when booking
See their website for special offers
Booking Online – You can book online here through our booking link directly to Celbridge Playzone Themed Parties
Playzone Special Events
Parent & Toddler
Every weekday morning from 10am – 1pm, with experienced children's entertainer
Mon-Fri only €5.50
Weekends and & bank holidays  €6.00
Includes a FREE regular tea/coffee voucher per group until 1pm. An upgrade to a latte or cappuccino is only €1 extra
Under 15 months free
Adults free
Playzone Opening Time And Admission
Opening Time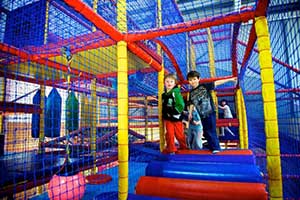 Monday to Friday 9.30 am to 6.00 pm
Weekends and bank holidays – 10.00am to 6.00pm
Mon – Fri all ages is €5.50
Weekend and bank holidays €6.00
Paid entry equals two hours of play
Celbridge Playzone Kids Camps
Celbridge Playzone have been running children's Summer, Halloween, Mid-Term & Easter camps for the last 8 years with their experienced and friendly staff. They run two separate camp groups for children 4 to 5 years and 6 to 7 years. The camps run for 5 days for 5 hours each day, including bank holidays. During the camp, the kids will play on the equipment, play sports, face painting, arts & crafts, music, yoga and fun games. The camp finishes up with a fancy dress party at the end of the week!
For Celbridge Playzone Kids Camps please ring 6273996.
Schools Tours at Celbridge Playzone
They specialise in school tours for children up to 9 years of age with lots of physical fun activities for the children to enjoy. They will provide transport if required. See their website for school outings offers. For bookings please ask for SALES and quote your school.
They provide for the following.
School tours/outings.
Creches.
After school programmes.
Special occasions such as communion celebrations.