Name:
The Chocolate Warehouse Competition
Address:
Mulcahy Keane Industrial Estate Greenhills Road Walkinstown Dublin 12
Tel.:
01 450 0080


Please mention Family Fun when booking!
The Chocolate Warehouse Workshop Competition
To celebrate the February midterm break the Chocolate Warehouse have given Familyfun.ie 2 family passed (2 adults & 2 children per pass) for the Chocolate Workshop for Friday 16th  February 2018 at 11am – 1pm workshop.
The Chocolate Warehouse is a unique venue where visitors can discover the history and joy of chocolate with hands on working experience provided. The subject of Chocolate covers so many topics within the national curriculum from science to history, geography as well as stimulating the senses (especially the taste bud).
The difference in the Chocolate Warehouse is that you enter a chocolate wonderland that makes this visit all the more special. It was set up with one key objective: giving children (and adults) wonderful memories that stay with them for life.
Find Out More About The Chocolate Warehouse
Two Fabulous Hours!
The two hour workshop which covers a 25 minute film explains in detail the story of chocolate and how the cocoa beans are grown and harvested. The visitors are given a chocolate demonstration on how chocolates is made. They are also shown the different machinery needed to make chocolate and the method of how to use a piping bag filled with chocolate. As always the fun part is the "hands on" session. The visitors put on aprons like a true chocolatier and start the business of coating chocolates, adding toppings and hand piping with white chocolate. All participants get to decorate and package the chocolate to take home. At the end of each event they have a short table quiz. This is great fun! The visitors realize they have learned a lot about the history of chocolate and how it is manufactured. Each visitor receives The Chocolate Warehouse Certificate which gives each visitor a sense of achievement and the enthusiasm for future learning.
February Mid Term Break 2018
Thursday 15th February 11am – 1pm & 2pm – 4pm
Friday 16th February 11am – 1pm & 2pm- 4pm
For further information on dates or times of chocolate workshops call 01 4500080
Must pre book: Ph: 00 353 1 4500080. E-mail: [email protected]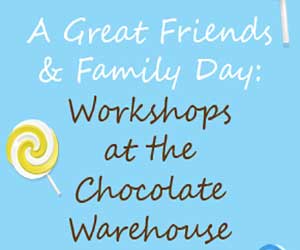 Booking Details
You can book in as an individual, family or group. The Chocolate Workshop is not just for children but also for grown ups. It is the age of the heart not the person that counts.
Admission:
€12.50 per visitor.
Family Ticket:2 adults & 2 children (under 12) €46
2Adults & 3 children (under 12) €56
2 Adults & 4 children (under 12) €66
This includes all materials supplied, products and gift packing used plus The Chocolate Warehouse Certificate. (Children 6yrs and older)
The Chocolate Workshop is fully supervised by Chocolate Warehouse staff.
Family Fun Tip:-  A chocolate shop full of goodies open to all participants and the public and they ensure products for all price ranges.
Parking: Free parking for cars and buses.
Chocolate Warehouse Competition
Familyfun.ie and our friends in the Chocolate Warehouse have got together to give away for 2 family passed (2 adults & 2 children per pass) for the Chocolate Workshop for Friday 16th  February 2018 at 11am – 1pm workshop .
How To Enter The Competition
To be in with a chance to win, just answer the following questions below along with your details and all fields are required, then just click 'Send' : (telephone numbers and email addresses will not be disclosed to other parties).
Competition Question
Now long does each Chocolate Warehouse workshop run for?
The closing date is Monday 12 February at 11.00 am winners picked out on that day and any entry after that date will not be entered in the draw. The winners will be randomly selected and contacted by email and / or phone/ text. The winner names will also appear on the competition page of the Familyun.ie website and/or the Family Fun Facebook page.
The Competition Winner
Winner:-
Terms And Conditions:-
All competitions are free to enter and everyone has an equal chance of winning. All entries to our competitions will be subscribed to the Familyfun.ie newsletter.
All Competitions are FREE to enter
Only one entry per e-mail address per competition.
Prizes are non transferable and non-refundable.
There is no cash alternative for any prizes
Prizes are subject to availability
This competition is open to residents in Ireland only.
The winner will be picked randomly from the list of entrants to the competition.
The winner(s) will be notified by phone/email after the competition expiry date.
Entrants to the competition is consent to the disclosure of their name as a winner.
Familyfun.ie reserves the right to amend, terminate or withdraw the competition or alter the prize of the competition without prior notice should that prize be unavailable for reasons beyond its control.
Entry into the competition will be deemed as acceptance of these terms and conditions.
Family Pass:- 2 adults and 2 children, aged under 12 (N/A)
All entries to Familyfun.ie competitions will also be subscribed to the familyfun.ie newsletter.
Information will NOT be passed on to third parties
By entering the prize draw each entrant agrees to be bound by these terms and conditions