Name:
The Gaming Party Van
Tel.:
087 946 9107


Please mention Family Fun when booking!
Gaming Party Van For Kids Birthday Parties 
Gaming Party Van is Dublin's favourite state of the art mobile video game van, which is fully equipped with the world's most popular gaming consoles such as Xbox One, Alienware alpha, PlayStation 4 and Wii U, with your choice of games from their games locker to choose from.
The Van can accommodate up to 12 players, who can play alone or against each other on large high-definition 1080p TVs. However, the fun doesn't stop there and the vehicle also features  steering wheels and pedals to make the experience as realistic and enthralling as possible. They are linked up together, giving you the chance to race each other.
Gaming Party Van for your Birthday Party or Family Event
The Gaming Party Van is suited to big kids too, making it great for children's and adult's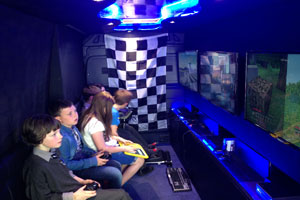 events alike. Gaming Party Van will bring fun and excitement to any party or event, regardless of age and gender.
Kids Parties
For fully hosted children's parties, they recommend a maximum of 13 guests at ages from 7+.
The Gaming Party Van fully trained and experienced game coach will make sure that all your guests are engaged and entertained throughout the party . They will take stress out of your party planning and make sure that you will have the best party ever!
Corporate Events
Please contact them directly so that they can tailor a package to suit your event and budget.
Booking The Gaming Party Van
If you are hoping to add excitement to your party or event, get in touch with the team at Gaming Party Van with any queries that you might have. They are always happy to hear from you if you have any questions about the services.
Book The Gaming Party Van For Your Next Event !
Children's Parties
Family Fun Events
Weddings
Corporate Events
Charity Events
Open Days
& Much More
Family Fun Tip:- A travel supplement may apply at a rate of €0.60 / km if you are located outside of Dublin.
Call 087 946 9107 to book now!
The best shared gaming experience to come to Ireland.

Heavenly Chocolate Fountains
New DOUBLE FLAVOUR Fountain, EXCLUSIVE to Heavenly Chocolate
Chocolate Fountains are becoming increasingly popular at all types of events from wedding receptions, birthdays and family parties in your home. The chocolate fountain can make a wonderful meeting point at your special occasion for all your guests.
Heavenly Chocolate have a wonderful selection of luxurious and delicious Chocolate Fountains to suit any occasion.
Heavenly Chocolate caters for all occasions big and small, get a free quote for your next event or gathering.
Call 087 946 9107 to book now!