Address:
Unit 1, Donore Business Park, Donore Road, Drogheda, Co. Louth.
Tel.:
041 989 8000


Please mention Family Fun when booking!
Funtasia Waterpark
Funtasia Waterpark Drogheda this Egyptian themed entertainment center and waterpark is the newest addition to the Funtasia family business, boasting the first of its kind in Ireland , exhilarating indoor Waterpark pirates cove is 30,000 sq feet of water gushing fun. A giant pirates head dominates this unique Waterpark, filling up with over 500 liters of water, sporadically tipping over onto the unsuspecting crowd below.
With white knuckle speed slides for the adrenalin junkies, the pirate's cove play area for the little ones a toddler area, lots of squirting spraying shooting cannons, a coffee dock, family Jacuzzi, gift shop and lots lots more.
Water cascades everywhere and there are slides for kids and adults alike including 2 tube rides and activity centers
Online Booking:- You can book on line here through our booking link directly to the Funtasia Waterpark ticket sales
Attractions In Funtasia Waterpark
Pirate Cove Children's Play Area
This play area guarantees hours of fun in the water. With water cannons, sprayers and hoses there will be gushing good times had by all. Try one of our splashiest slides or sit and relax at the fountain. Make a splash at the pirate's cove play area. There are lots of surprises at pirates cove, Keep an eye out for the pirate's head.
Children must be supervised at all times by an adult.
Toddler Section At The Waterpark
This area is specially designed for the tiny tots. Miniature slides and mushroom fountains make this a very cute area for toddlers to play splash and slide.
Children must be supervised at all times by an adult.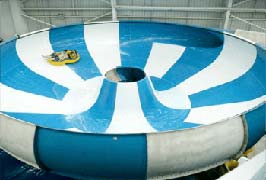 The Super Bowl At Funtasia
Take the plunge on this single and double rider slide, it is  exhilarating ! Be prepared to be spun around the super bowl like you have never being spun before getting sucked into the super slide below. This is adrenaline pumping.
Height restrictions apply to all slides, please see rules and regulations.
The Boomerang At The Waterpark
The double rider speed slide drops 60 feet then boomerangs you up and back at the speed of lightning. This is a definite white-knuckle ride.
Height restrictions apply to all slides, please see rules and regulations.
Reptile Village Zoo At Funtasia Waterpark Drogheda
This fun and hands-on exhibit has some of the worlds most interesting species on display! With everything from large pythons to tarantulas and toads to tortoise and even some Caiman Crocodiles, Reptile Village Zoo has something for everyone and a experience not to miss.  Some of  the exhibits include the Butterfly House which involves 45 -50 beautiful flying majestically around your head, the Taste of the Tropics encourages visitors to roam the vast corridors of Reptile Zoo and finally…Creepy Crawly Corner.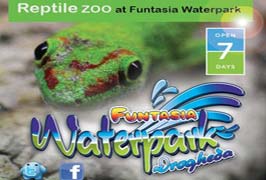 Price:- €5 per person (adults & children) or €18 for a family of 5
They also do Birthday parties, treat your little one to an unforgettable birthday party in Reptile Village Zoo @ Funtasia Waterpark!
Other Attractions In Funtasia
Egytptian Themed Bowling Lane
The Funtasia 10 lane bowling alley with touch screen consoles and automatic bumpers together with cosmic lighting and great music make this a great evening's entertainment for the whole family.
Family fun at its best, the ultimate work for the whole family
Get your hiking boots on and get climbing on the new Funtasia Climbing wall
18 holes of fun for the family in this new Pirates Cove course
At Funtasia Waterpark they are very excited about the arrival of the very exciting Ultimate Sky Climb
A state of the art aerial adventure course, 60 m long, 15 m above the ground, including a zip slide, traverse wall, hanging logs, jigsaw, swinging rungs, swinging platforms, cargo net, Burma bridge and rope ladders
For The Teen In The Family
Funtasia Waterpark has something for everyone, the older ones in the family can shoot some pool on the American style tables with up to date top of the range jukebox systems or play the  latest and greatest video games in the world and all of the old favorites.
In the Simulators you can be a rally car driver or sitting in one of the biggest, scariest, fastest rollercoaster and you will be transported on a journey…… like you have never experienced before.
Parties At Funtasia Waterpark
The team at Funtasia Waterpark have put together a party option to suit everyone that will make your Birthday party unforgettable
All you have to do, is decide which option is for you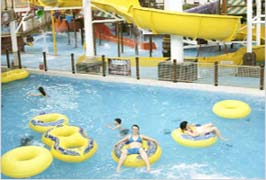 Funtasia Party Options
Bowling Party
Play Area Party
Make A Bear Party
Rollerskating Party
Disco Party Plus Karaoke
Waterpark Party
Pottery Painting Party
Climbing Wall and Crazy Golf Party
Play With Clay
Combo Party You can choose any one of the party options and add on one of the following:
An hour of Crazy Golf / Play Area/Bowling/Rollerskating for just €4 extra per child.
Funtasia Waterpark Parties
Enjoy a succulent burger, steak house fries and a side of French fried onions in the stylish new Pharaohs Restaurant. There is lots to choose from pizzas, chicken fillet burgers, kids meals and a vast variety of delicious desserts at very competitive prices!
If you only fancy a snack ,try one of their delicious Paninni's from the Deli Bar or a wide variety of freshly made sandwiches or subs
Also at Pharaohs is the Smoothie Bar serving all the refreshing fruity favorite smoothies and juices
Funtasia Waterpark Opening Times
Funtasia Waterpark
Mon – Thur, 10 am – 6 pm
Friday,  10 am-8 pm
Sat & Sun, 10 am – 6 pm
Bowling, Arcade Games + Crazy Golf
Play Area
Sky Climb, Climbing Wall & Zip-line
Mon -Thurs Closed / Fri 3 pm – 9 pm /Sat & Sun 12-8 pm
Rollerskating
Mon-Sun 11 am-9 pm
Fast Food
Mon- Sun 11-8pm
Funtasia Waterpark Admission
Waterpark
€11 per person unlimited time
€9.90 per person unlimited time with loyalty card
Play Area
€6 per child for 1 hour
€5.40 per child for 1 hour with loyalty card
Family Fun Tip:  Remember it's unlimited time, so get there early and make the most of it.
Online Booking:- You can book on line here through our booking link directly to the Funtasia Waterpark ticket sales
How To Get To Funtasia Waterpark
From Dublin
Join the M50 northbound. Continue on the motorway through the toll plaza. Pass Blanchardstown, Finglas and Ballymun exits. Take exit marked for Dublin Airport and M1 northbound. Continue on the M1 through the toll plaza. Take exit 9 marked Donore. At the roundabout take the 3rd exit. Continue straight until you reach Lidl. At this junction take a right turn. Take the next left turn and arrive at Funtasia Waterpark on your left.
From Dundalk
Join the M1 motorway signposted Dublin. Continue to exit 9 marked Donore. At roundabout take the 1st exit. Continue straight to until lidl. At this junction take a right. Take the next left and arrive at Funtasia Waterpark on your left.