Address:
Muckross Road, Killarney, Co. Kerry
Tel.:
+353 064 66 71550


Please mention Family Fun when booking!
The Gleneagle Hotel & Apartments
The Gleneagle Hotel in Killarney, Kerry, is one of the leading hotels in Ireland, offering the very best in family fun and entertainment, with unbeatable family break package deals year-round and prides itself on its family-friendly atmosphere.
With a number of Family rooms available, their informal dining options and a host of facilities geared towards the family arena, they strive to be your "home away from home".
With a safe and secure activity centre for young children, excellent creche facilities and the fantastic Aquila Club – guests can partake in a game of tennis, squash, pitch and putt and even a swim before dinner time.
With 244 spacious ensuite bedrooms, many boasting breathtaking views of the 25,000 acre neighbouring parkland, you can be guaranteed a unique and unforgettable stay with Gleneagle. With the finest attention to detail from their team.
The Flesk Restaurant in the hotel has some special healthy options for the kids on the menu!
With an enormous variety of entertainment options, ranging from cabaret and ballroom dancing to live rock 'n' roll – a stay at the Gleneagle guarantees something for everyone.
Holidaying Solo with your Kids?
The Gleneagle Hotel in Killarney is offering special "Flying Solo" breaks for parents travelling alone with their kids over weekends, midterm breaks and holiday time.
A double room for one adult and one child costs from €100 per night, while rooms with a double and single bed for one adult and two children cost from €120 per night. These rates include breakfast, free nightly entertainment, free Kids' Clubs and free nightly kids' entertainment.
The Gleneagle features all the leisure facilities you could possibly wish for – a 25m swimming pool, kiddies' pool, gym, squash and tennis courts, pitch and putt, snooker and children's activity centre. Not to mention the Eager Eagles Kids Club and Chillzone, The Captain Jack Kids Show and Kiddies Disco. And these are just the activities the hotel provides, imagine what 25,000 acres of National Park has in store for you.
For further information visit www.gleneaglehotel.com
Family Friendly Deals
Fun Filled Activities for the Kids
The Gleneagle Hotel Killarney is fun for all the family with our supervised Kids Club programme including Eager Eagles and Teen Zone and a great selection activities for children.
The Gleneagle Hotel Kids Club
At the Gleneagle they have plenty of activities to keep the kids busy –  Eager Eagles Kids Club.
The Eager Eagles programme for your little ones aged 4 – 10, offers supervised swimming sessions with the super splash slide and other inflatable toys, nature walks, arts and crafts, movie time, Miracle Play centre, soccer, hockey and lots more!
Teen Zone
If you are the owner of a teenager then you know they will want to spend most of the holiday denying your existence…the Gleneagle's nightly teen zone (open from 8pm – 11pm) is a welcome break for the both of you and who knows you might even spot a slight smile on their faces when they return to the room after making new friends around the games machines.
Familyfun Tip :-  Locally organised trips may be subject to a minimal additional charge
They cater for birthday parties too, incorporating soccer, swimming and an extensive play area for an action-packed day.
There are numerous sporting and leisure activities to take part in from super waterslide sessions to scavenger hunts.
At peak family holiday times, The Aquila Club offers a wide range of activities from morning to evening which are open to all children from ages 4 – 14 years.
For more information on Kids Clubs and their Fun activities please call 064 6634063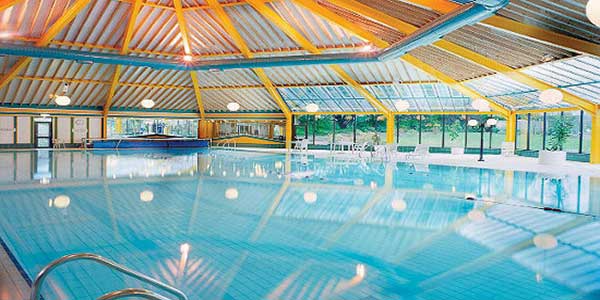 Family Entertainment
Who doesn't have fond childhood memories of being let 'stay up' past the regular bedtime because 'sure it's the holidays?'. Not only do the Gleneagle provide action packed days for their family guests, but they also provide evening entertainment via Captain Jack's show and Children's Disco each evening from 7.30-9.30pm during the Summer Months and Mid Term Breaks
Gleneagle Family Accommodation
At the Gleneagle Hotel in Killarne they have 244 spacious bedrooms with every imaginable room type offered:  double bedroom, twin bedroom, triple bedroom, family bedroom, family suites and double suites – they have them all and they smell fresh as a daisy as they are all non-smoking!
Naturally they offer all the usual things other hotels make a big deal of on their sites but how many other hotels offer the possibility of spotting Killarney's version of Bambi from the comfort of your bedroom window? Yup, that's right the Gleneagle's complex is nestled right on the edges of Killarney's famed National Park and Lakes, where the native Red Deer roam freely and very happily.
Gleneagle Family Apartments.
Located just 300 metres from the Gleneagle Hotel, the exclusive 3-storey River Apartments are the epitome of self-catering luxury.
Designed to a 4 star standard, each spacious apartment has 2 bedrooms – 1 family room and 1 ensuite master-bedroom – and sleep 4-5 people comfortably.
Residents of the River Apartments can enjoy exclusive use of all of Gleneagle's extensive leisure facilities, and can also avail of discounts to certain scheduled events in the INEC.
Apartment facilities include:
Kitchen – Refrigerator -Tea/Coffee
Microwave – Toaster – Fan Assisted Oven & Hob
Large television with Multi-Channel TV
Direct dial telephone
Iron & Ironing board
Cot & Highchair available
Linen & Towels supplied
Housekeeping service is also available on request.
Baby prep room
This facilty include:
Sterilizer, bottle warmer, microwave, high-chair, travel cot, fridge, televeision, bathroom, baby changing table, bouncers, interacitve toys.
Baby listening facilities are also available on your bedroom phone and a babysitter can be booked for you during your stay.
* Ages from 6 weeks- 18 months