Address:
2 St Laurences Road Dublin 20
Tel.:
0851 890 191


Please mention Family Fun when booking!
Abracadabra School for Creative Kids
Abracadabra School introduces parents and children to the interactive way of learning based on learning through experience.
Abracadabra School believes each child is unique and they acknowledge their talents, creativity and imagination, their own way of interacting with peers. At Abracadabra, they are all about Interactive learning and experiencing, through interactive experience shows and toddlers shows and if that in not enough, Hop On The Story Bus!
The concept of interactive learning through experience is the base of Abracadabra Events.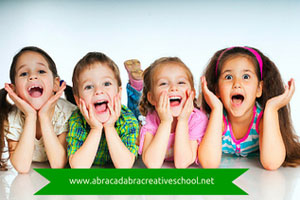 During the interactive events, kids experience confidence, build trust, create own tools from basic elements (like paper plates and crayons). Children and parents are always involved through moving, stretching, crafting, singing and becoming characters in the story.
Abracadabra School vision is to contribute to a happy and healthy life for children and parents all around the world!
Abracadabra School creates a unique and interactive experience for families in Ireland
The Story Bus – A trip into the Story
Fun, Live Entertainment and Lifelong Learning on a 4 hour trip from your city to amazing destinations.
Abracadabra School is reaching more and more children, parents and families all over Ireland.
The Story Bus is created by Abracadabra School for Creative Kids. This new interactive experiences help children and parents communicate better and build trust based relationships. Launching the Story Bus, Abracadabra School creates a unique and interactive experience for families all over Ireland.
The bus is a real, physical bus departing from Dublin, Cork, Galway and Waterford to different locations around the city! During the trip, the dedicated tour guide will introduce you to the story in a fun and interactive way. As soon as you arrive at the destination, you will discover the magical places where the story unfolds. On the way back, you will celebrate together the friendships and learning that you have experienced together.
For the Parent
Just sit back, relax and listen to the story instead of hearing the eternal question: "ARE we there yet?". They will drive and entertain your kids so you can be part of the adventure and enjoy the moments. And why not, experience the magic yourself!
For the Child
This will be an entertaining trip where you will listen to an amazing interactive story and experience great adventures when they reach your destination. And why not, enjoy a little bit of learning and lots and lots of fun
Booking The Next Story Bus
Booking Online:- You can book on line here through our booking link directly to the The Story Bus ticket sales