Name:
EPIC The Irish Emigration Museum
Address:
The "CHQ", Custom House Quay, Dublin 1
Tel.:
+353 1 906 0861


Please mention Family Fun when booking!
EPIC The Irish Emigration Museum
Uncover hundreds of stories of adventure, adversity and triumph in the world's only fully digital museum at EPIC The Irish Emigration Museum.
EPIC The Irish Emigration Museum is the new state of the art visitor experience that showcases the unique journey of the Irish nation, where dramatic stories of how Ireland's diaspora have spread around the globe, and how they changed the world, are told through the technology of now.
EPIC The Irish Emigration Museum is a "must see" visit in any tour of Dublin and Ireland. It is located at the heart of Dublin, at Custom House Quay on the River Liffey, the original departure point for so many of Ireland's emigrants.
Through 20 remarkable themed galleries, using cutting-edge interactive technologies, visitors explore the many tales of migration, the forces that have driven it, and the impact that it has had on the world.  This is the authentic and epic story of 10 million journeys and the roots of 70 million people, told with memorable style, passion and in a way that is highly entertaining, engaging and educational.
Visitors begin their journey by receiving a stamped passport as they enter the exhibition. They will follow a path through the 20 remarkable galleries organised into four thematic groups:
Migration: an introduction to Ireland and the arrivals and departures that have shaped it
Motivation: why people left Ireland – the stories of adventure and tragedy
Influence: what Irish people did overseas, and the extraordinary influence they have had in their adopted homelands in politics, business, science, sport and the arts
Connection: where the Irish are now, and what they are doing in today's highly connected world.
Family Fun Tip:- This top-rated attraction is a must-see for anyone with an interest in Irish culture and history. EPIC also houses the Irish Family History Centre, with a team of genealogy experts to help visitors explore and uncover their Irish roots.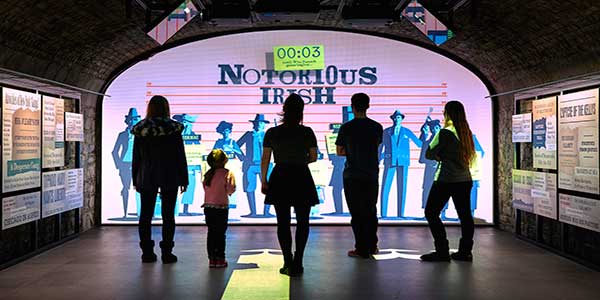 10 Family Fun Activities to try out at EPIC!
1. Stamp your souvenir passport
Fill up your very own souvenir EPIC passport. Can you collect every stamp?
2. Try our interactive sports table
Spin the disks and watch your favourite sports stars come to life
3. Watch your step
Try out some Irish dancing moves
4. Listen to talking books
Our library isn't quiet…the books talk to you!
5. Get drawing
Create your own crayon masterpiece…or draw whatever you like
6. Travel through history
Hear people from hundreds of years ago tell you their story
7. Send a digital postcard
Surprise your family and friends by sending them a greeting
8. Choose your favourite villain
From pirates to cowboys, pick the most horrible in our dastardly game
9. Discover your Irish family
Maybe even track down your great-great-great-great-great-grandparents at the Irish Family History Centre
10. Take the EPIC quiz
Can you answer every question on our interactive touch screen quiz?
EPIC Highlights include:
Travel back in time through 1,500 years of history
Interact with the past in easy-to-use high-tech galleries
Discover family-friendly exhibits full of entertainment and education
Stamp your very own EPIC passport as you move through Irish history
Connect with your ancestors at the Irish Family History Center
Awards:
European Museum of the Year 2018 – Shortlisted
TripAdvisor Certificate of Excellence 2018
TripAdvisor Travellers Choice Award 2017 – Top 5 Irish Museums
Children in Museums Award 2017 – Shortlisted – the only Irish museum selected for this prestigious European award
Opening Hours
EPIC is open daily from 10:00 am to 6:45 pm and last entry is at 5:00 pm.
Open all year round excl. Christmas Eve, Christmas Day and St. Stephen's Day.
Last admission: 5:00 pm.
Approx Visit Duration: 90 minutes. Cafes and restaurants in CHQ
EPIC Admissions
Adult — €15
Child Age 6-15 – €7.50
Child 5 and under – Free
Senior/Student – €13
Family Pack Offer
Buy a family pack for only €37.00. This pack consists of 2 adult and 2 child tickets, and you can also add additional child tickets for only €6.00 each.
Online Booking
You can book online here through our booking link directly to the EPIC The Irish Emigration Museum ticket sales
EPIC Lunch – €25.95 – Entry to EPIC and a 2 course lunch at the Hilton Garden Inn Custom House Quay
EPIC on Dublin Pass – Get FREE entry to EPIC and some of Dublin's best attractions with the Dublin Pass
Group Booking – Group rates available for 10 or more people pre-booking. For Group Bookings please contact them on 01 906 0861 or email [email protected].
EPIC School Tours
EPIC The Irish Emigration Museum is the perfect destination for your school tour. With 20 stunning, interactive galleries at EPIC and ties to the primary school curriculum, your students will learn something new, and most importantly – have loads of fun!
To Make A School Tour Enquirty
Discover Your Irish Heritage
As part of EPIC The Irish Emigration Museum's visitor experience, The Irish Family History Centre (operated by Eneclann) will be introducing an exciting way for visitors to search for their Irish ancestors, discover their own unique family story and explore Irish heritage. Knowing who you are and where you come from is something they feel everyone should get excited about. They want you to unearth your Irish roots in the most memorable way you can.
Directions To EPIC The Irish Emigration Museum in Dublin
EPIC The Irish Emigration Museum is located at the heart of Dublin, at Custom House Quay on the River Liffey, the original departure point for so many of Ireland's emigrants, it is a short walk from O'Connell Street or Trinity College, so can be easily accessed as part of your visit to the beautiful city of Dublin.
By Foot
EPIC The Irish Emigration Museum is just 8 minutes from O'Connell Bridge. Walk east from the Bridge along Eden Quay with the River Liffey on your right. Continue along Custom House Quay straight past the historic Custom House until you see an arch on the left, beside The CHQ. The entrance is beside this arch.
By LUAS
Luas Red Line stop at Georges Dock which is right outside EPIC.
By Bus
Get the 14, 15, 27 bus to Amiens Street/Connolly Station and walk 3 minutes to The chq Building. Buses 15a, 15b & 151 arrive at Custom House Quay/Jurys Hotel and walk 1 minute. Also stop 4 on the Dublin Sightseeing Tour's Dockland route.
By Car
The CHQ is easily located in most Sat Navs (coordinates – 53.348031,-6.247889) and parking is available nearby to the rear of Jurys Inn Hotel, Custom House Quay, Dublin 1. Parking enquiries should be made directly to Park Rite
Map
See Google Map Top of Page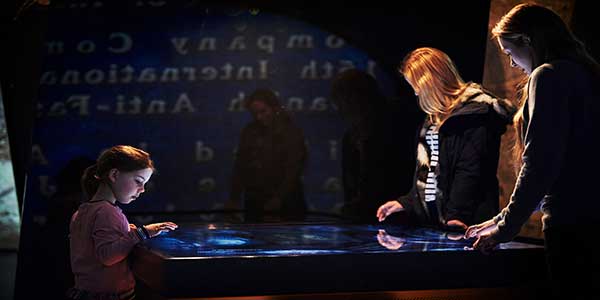 Did You Know
EPIC The Irish Emigration Museum
Rihanna has Irish ancestors! Her Irish surname, Fenty, inspired the name for her makeup line.
Three members of the Beatles – John Lennon, Paul McCartney, and George Harrison – all come from families of Irish descent.
Irish physicist John Tyndall was the first to explain why the sky is blue.
Shortlisted for the Children in Museums Award 2017, EPIC is a modern museum situated in Dublin's Docklands; it tells the moving and unforgettable story of the 10 million Irish people who left their homeland – and how they influenced and shaped the world.
Experience this story in 20 breath-taking interactive galleries, complete with touchscreens, motion-sensor games, and audio and video to bring these one-of-a-kind tales to life.
Awards: 
Children in Museums Award 2017 – Shortlisted – the only Irish museum selected for this prestigious European award
European Museum of the Year 2018 – Shortlisted
TripAdvisor Certificate of Excellence 2018
TripAdvisor Travellers Choice Award 2017 – Top 5 Irish Museums
Highlights
Find out why Irish people travelled the globe over the centuries
Uncover hundreds of stories of adventure, adversity and triumph
Interact with the past in easy-to-use high-tech galleries
Stamp your very own souvenir EPIC passport as you travel through Irish history
Send a digital postcard from Dublin
Connect with your ancestors at the Irish Family History Centre
Unlike any other museum experience