Airtastic Kildare Entertainment Centre
Adventure awaits you at Airtastic Kildare! They have all your favourite activities, and some new ones too, all under one roof to bring you and your family a whole lot of fun. Planning a birthday party or a fun day out, give Airtastic Kildare a go.
You can enjoy Ireland's largest Soft Play Centre packed with oodles of exciting and fun play zones for children aged 11 years and under.
Why not play ten pin bowling on the 8 lane bowling alley, get lost in space in their 18 hole space themed indoor mini golf course, play to win prizes in Ireland's largest play to in amusements or dine American style in the NY Kitchen.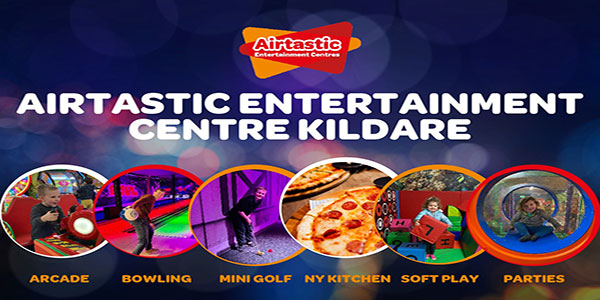 Airtastic Activities
Airtastic Bowling
The 8 lane ten pin bowling alley will bowl you over with joy! Timed to perfection and with the option for guiding aids and lane side bars, you're sure to have a blast at Airtastic Bowling Alley at Airtastic Kildare.
Airtastic Mini Golf
Fancy an out of this world experience? Have a blast with the Spaced Themed Mini Golf at Airtastic Kildare.
You'll travel to the moon, embark on the Airtastic space ship and take a voyage to Mars while challenging yourself on the 18 holes of mini golf (they're trickier than you think)
One small step for mankind, a few great steps towards a hole lot of fun.
Soft Play at Airtastic Kildare

Lots of fun for children aged 11 years old and under to enjoy! Soft play is walk in only – no need to book, just come and play.
Get your child to Airtastic for a great 90 minute session of total fun and a huge range of energy spending activities in the newly opened Airtastic Soft Play Centre in Kildare.
There are lots of exciting and fun playing zones for all children aged 11 years old and under.
They have two massive Soft Play Frames – one for the under 4s' and one for the over 4s'. Geared towards their younger guests, the soft play centre is packed full of fun exciting activities.
From slides to crawl tubes and swings to obstacles, there is nonstop fun.
As well as all the crazy activities there are specific role play areas where the younger kids can act out in the little house equipped with a kitchen. There is also driving fun in the Cosy Coupe cars.
If you get tired, you can take a break and enjoy a beverage, a delicious snack or a tasty treat in the Soft Play Café.
Amusements at Airtastic Kildare

PLAY TO WIN PRIZES!
Enjoy lots of fun in Airtastic Kildare amusement arcades.
Play to get tickets and exchange them for fun prizes! They have games for all ages and abilities to enjoy.
The arcade at Airtastic Kildare is one of the biggest play for prizes amusements in Ireland so it's definitely not to be missed!
How does it work? You play your favourite machines and the better your skills (or your luck), the more tickets you win. Collect your tickets and choose your favourite prize from the hundreds of great options in the Airtastic shop. Or if want to save up your tickets you can add them to an Airtastic Arcade Card and accumulate them over many visits to earn our biggest and best prizes.
Eat Out at NY Kitchen!
At NY Kitchen enjoy yummy American style food and beverages before, during or after your fun! If you happen to be in the area, why not call in to enjoy a great meal – it's a tasty destination on it's own!
Try their great selection of stone baked Pizza, Sharing Platters, Treats & Snacks and don't forget everything can be enjoyed with a great choice of drinks.
Enjoy the taste of America at the Soft Play NY Deli with succulent 100% steak Burgers, mouth watering stone baked pizzas, amazing wraps and salads to name but a few. There's something for everyone and all tastes.
A bonus when the children are busy having lots of fun is the adults can relax with a nice cup of coffee/tea and a treat at the NY Deli. Enjoy a coffee, a toastie or panini and a well deserved sweet treat while you're at it!
Birthday Parties at Airtastic Kildare

Located just 20 minutes west of Dublin in Celbridge, Co.Kildare the newest Airtastic Entertainment Centre is the perfect party venue. Pick your amazing party from the many great party packages and let Airtastic do the rest!
What's included?
Each Party Package Includes the following:
Greeted by a member of staff to get your party started
Bowling & Soccer Parties are 90 minutes long which includes 1 hour of activity and 30 minutes in your private party room.
Soft Play Parties are 120 minutes long which includes 90 minutes of soft play fun and 30 minutes in your private party room.
Private party room to enjoy delicious stone baked pizza, chicken goujons and french fries and unlimited blackcurrant and orange squash
A free return pass for the birthday child
Print at Home Party Invites – click here!
Please don't forget to bring your own birthday cake, candles/party bags for the birthday guests. Please remember to arrive 10 minutes before your start time to allow for check-in.
Visit the Airtastic Kildare website for all party details, prices and to book a party!
Bowling Party
Why not choose to have an epic Bowling Party at Airtastic Kildare! This party is suitable for children and teens of all ages.
The Airtastic Ten Pin Bowling Party is 90 minutes long – 60 minutes of epic fun on the bowling lanes followed by 30 minutes in a party room for yummy food and drinks.
It's every person for themselves when it comes to bowling as the highest score wins! Take aim and let the good times roll!
Soft Play Party
Dedicated to the little ones, (children aged 11 years old and under), the Airtastic Soft Play party is the best party ever!
The Soft Play Parties are packed full of heart pumping fun! The soft frame is the largest in Ireland and full of activities including swings, slides and plenty of obstacles!
Airtastic Soft Play Party is two hours long – 90 minutes of activity in the supersized Soft Play frame followed by 30 minutes in a party room for delicious food and drinks.
To accommodate the really young they have an under 4 years play area with loads to do including a role play area.
There are two great party options available:
Soft Play Party
After Hours Private Soft Play Party
Soccer Party
Whether you want to be the next Messi or maybe kick for fun with your mates, the soccer party will be a delight for all!
The Airtastic Soccer Party is 90 minutes long – 60 minutes activity in the HUGE sports arena followed by 30 minutes in a party room with yummy food and drinks.
It will include some fun games like dizzy penalties, crossbar challenge, penalty shoot out and of course the all-important match which will be refereed by an Airtastic staff member.
This party is suitable for children and teens of all ages.
Groups & Schools at Airtastic Kildare
Bring your group to Airtastic Kildare, Leinster's No 1 leisure destination, where there's fun for everyone!
What's on offer?
Are you a school teacher or youth group leader and looking to book your next trip? Look no further than Airtastic Kildare, where groups can play Bowling or Soccer or Mini Golf or Soft Play and have the most fun ever!
Airtastic Kildare provide group rates so there is an opportunity to bring a larger number of people along for a unique experience at a greatly discounted cost.
Our experienced and friendly staff are fully trained and will always be on hand to engage, enthuse and supervise your group to ensure that everyone has a fantastic time.
For more information and to make an enquiry about school tours and groups click here!