Tel.:
+353 5791 20336


Please mention Family Fun when booking!
Birr Castle Demesne
Birr Castle Demesne offers something for everyone to enjoy, and offers a combination of fun, relaxation and discovery to all who visit.  It is home to one of the largest and most beautiful gardens in the country, an interactive Science Centre, and a 170 year old telescope which was the largest in the world for over 70 years. Children can climb the tallest treehouse in Ireland.
There are fun and educational trails available for all ages, including 'The Family Quest' (suitable for all ages), 'The X-Trail Solar Trail' (suitable for ages 9+), and 'The Red Tree Trail'.
The Great Telescope
In the early 1840's, the Third Earl of Rosse designed and built the largest telescope in the world. With this telescope, he discovered the spiral nature of some of the galaxies, and from 1845-1917, anyone wishing to witness this phenomenon had to come to Birr. And they came, in their hundreds, from across Europe and beyond, to observe the stars with Lord Rosse or simply to marvel at this feat of engineering in the middle of Ireland.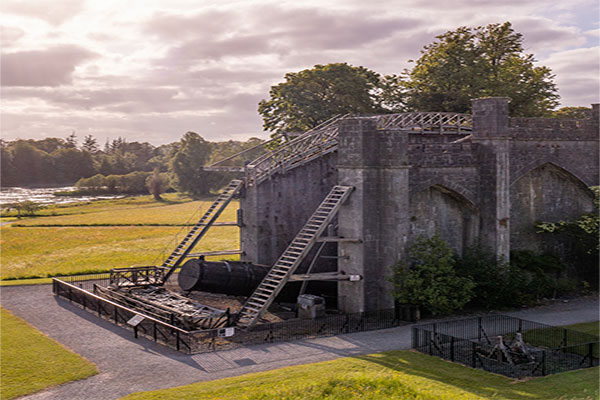 This Reflecting telescope remained the largest in the world for over 70 years and is arguably the largest historic scientific instrument still working today. This 'leviathan' as it is named, remains in the centre of the gardens as Ireland's greatest scientific wonder and represents a masterpiece of human creative genius.
The Gardens
The Gardens have a rich history attached to them. They were originally landscaped around the lake in the 18th century by Sir William Parsons, and over the generations of the Parsons family the Gardens has increased in beauty and interest.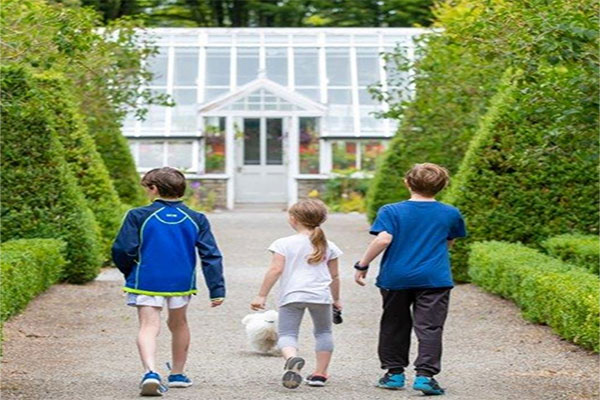 It now has plant material collected and subscribed for by 3 generations of the Earls of Rosse, as well as some of the most famous plant hunters past and present. It was the first garden in Ireland to receive specimens of  "Metasequoia glyptostroboides" (Dawn Redwood) after its discovery in China in 1945. The garden comes alive in spring with spring flowering bulbs and a vast Magnolia collection..
Treehouse Adventure Area
The Treehouse Adventure Area at Birr Castle Demesne features the tallest treehouse in Ireland, (for ages 7+) a fantastic playground with swings, a sand pit and more for all ages.
Science Centre For Schools
Did you know that over 150 years ago Birr was the silicon valley of the world, if you were a mad scientist, engineer or astronomer Birr was the place to be.
Why – before the days of computer, broadband and smart phones, you had to travel to where the big discoveries were being made, not only did Birr have the biggest telescope in the world, but also had some of the best engineering, mathematical and creative minds.  Everyone from as far away as Australia and Russia, and even Charles Babbage (the inventor of the computer) came and were inspired.
They believe strongly at Birr that by using the past inventions and discoveries of the Parsons' family, they can captivate our young, so that they can see how science can be fun and is relevant to their lives, and inspire them to continue to study this exciting subject through leaving unto a fulfilling career.
Discover Primary Science Educational Tours in Birr Castle Demesne
With the significant changes being introduced through the new science curriculum, the emphasis is on taking science out of the textbooks and the classroom and into everyday experiences and practical activities of investigation, experiments and analysis.  Ireland's Historic Science Centre has taken the opportunity to play a role in working with teachers and schools in celebrating our scientific heritage and fostering, inspiring and encouraging young scientists of the future. At Birr Castle they aim to achieve this by providing a fun, interactive tour through Ireland's Historic Science Centre and through the gardens to end at The Great Telescope.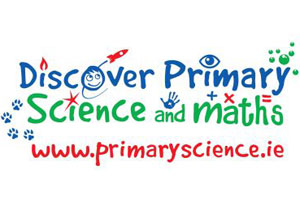 The DPSM programme consists of:-
A guided tour of the science galleries of Irelands Historic Science Centre.
A visit to the restored telescope in the gardens.
An interactive workshop where the children work in groups to build and launch rockets, make observations and record results. Within the workshops children will be get a chance to work with measurements, angles and distance.
A team game using the rockets to learn about the planets of the solar system.
Teachers Notes
Discover Primary Science children's worksheet
Length of tour: 2.5 hours.  Admission €10 per student. Suitable for 3rd, 4th, 5th and 6th Class.
For Bookings and further details, please contact the Educational Officer at [email protected]
Birr Castle Demesne Events
Birr Castle Demesne Co. Offaly offers something for everyone to enjoy and they also run events throughout the year
Check out their regualr updates on events. 
Birr Castle Demesne Opening Times:
Opening Times – Open 362 days of the year
16 March to 26 October- 9 am – 6 pm
 27 October to 15 March 10 am – 4 pm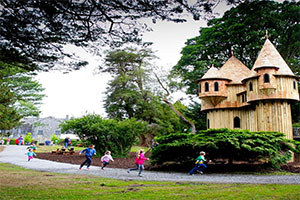 Birr Castle Gardens and Science Centre is closed December 25th, 26th and January 1st.
Facilities
The Discovery Gift Shop – Open Daily
The Castle Courtyard Cafe – Open Daily- 17 March to September
Tree House Adventure Area – Open Daily
Birr Castle Admission Rates:
Adults – €10.00
Student (16 years and above, students require a valid student Id) – €7.50
Senior age 65 and above ID maybe required) – €8.00
Children 4 years and under FREE
Children (age 5-16) – €5.00
Family rate (includes 2 adults and 2 children) – €26.00
Ball games,tricycles and bicycles are not allowed in the gardens.
Memberships are available for 3 months, 6 months or 12 months at Birr Castle Demesne.  We welcome individual and family memberships. Visit Birr Castle Friends Membership for more details.