Address:
Quinsborough Road, Bray, Co. Wicklow
Tel.:
01 286 4455


Please mention Family Fun when booking!
At Bray Bowl Entertainment And Party Venue, Bray
Bray Bowl Entertainment isn't just your regular bowling alley, it's a multi activity indoor entertainment facility located right beside Bray Dart station. At Bray Bowl Entertainment they have a wide choice of activities to choose from that caters for all tastes.
Kids Birthday Parties and Corporate Entertainment are their specialty. They also cater for school tours, summer projects, language schools & sports/recreation clubs too. Bray Bowl is located only 50 yards from Bray Dart Station (30 minutes from Dublin City Centre) and only a 4 min walk from the
National Sea Life Aquarium
.
Bray Bowl Special Offers
Bray Bowl run special offers every Wednesday through to Sunday for kids and families. To find out more on
Bray Bowl Weekly Special
Birthday Parties At Bray Bowl
Bray Bowl Birthday Parties have unrivaled value. The minimum age they cater for are kids aged 7 years +. It works out at €15 per person are available throughout the week. It is a minimum number of 8 kids per party. They wristband all attending on entry
Birthday Party Package
The activities included in the Birthday Party package are Tenpin Bowling, Quasar Laser Tag and the Retro Video Arcades. The duration of all activities takes approximately 2 hours with 30 minutes time given for food and cake after the activities. You can decide the structure of your party subject to availability. After the 2 hours of activities, it's food time.
The most popular structure at the moment is Retro Arcades for first 30 mins followed by a double session of Laser Tag (30 mins). Bowling for 30 minutes followed lastly by another double session of Quasar. Please note; this might not be the structure available on the day but they can alter slightly subject to the availability.
Bray Bowl Birthday Parties require a €50 deposit.
They can reserve table space for you in their party area. They don't have any cooking facilities so they are encouraging customers to order in the food of their choice to Bray Bowl Entertainment. You will need to bring in your own paper plates, paper cups, napkins, cake candles, soft drinks, birthday cake, party bags and any other food. You can also decorate your own table and if you want to bring in cordial drinks for the party they can supply you with jugs of tap water at no extra cost. In their birthday party package they can permit a maximum of 4 supervising adults per party.
Four Star Pizza
They have a great offer exclusive to Bray Bowl Entertainment through Four Star Pizza. They will deliver their largest 16" pizza to Bray Bowl for only €12 (usual price €20-€22). It's a maximum of 3 toppings and each of these pizzas has between 10 and 12 slices. They would recommend 1 pizza for every 5-6 kids approximately. You can ring in your pizza delivery and give them the specific time to deliver the food. This would be after all your activities so 2 hours from your start time. They will leave a menu on your table along with a schedule of activities. They will also have a party host looking after all the parties throughout the day. The party host will look after the 4 supervising adults for complimentary tea/coffee and if you need anything else on the day, just ask.
(Please note that there is no personal host per party) All of your rubbish will be disposed/recycled for you. They can also supply a knife for cutting the cake and if you need to store your cake Bray Bowl have a fridge/freezer in our staff kitchen.
Birthday Party Invitations
There are free Birthday party invitations located the Bray Bowl website; Just print them off on a home printer and they will have all the relevant details for your party at Bray Bowl Entertainment. At the end of the party each child attending will be given a 100 Ticket Token from theTicket Arcade to redeem in the Prize Centre. These can be either redeemed for sweets or added to more tickets for a better prize. This can be used as a great substitute for a party bag and they must be used on the day.
Family Fun Tip:- While you're Bowling, check out the incredible mural of Bray. It covers the whole wall by lane 12 and is an incredible representation of the great town of Bray.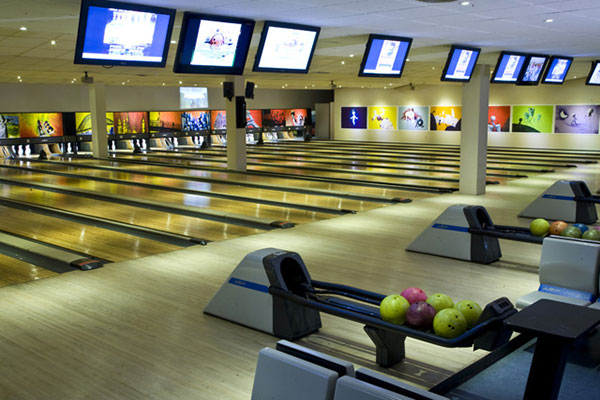 Bray Bowl Tenpin Bowling
If Bowling is your game, they have 12 lanes, all with automated bumper rails and ramps for the younger kids (under 12's). No need for Bowling shoes anymore so wear your flats, trainer or runners. You can play Bowling by the game or by time and it's a maximum of 6 people per lane.
16 lanes with a state of the art Steltronic scoring system.
32″ LCD monitors
Electronic Bumper lanes & wheelchair facilities are available
Pricing
1 game – €6 per person
2 games – €9 per person
3 games – €12 per person
OR
30 minutes – €20 per lane
60 minutes – €33 per lane
120 minutes – €53 per lane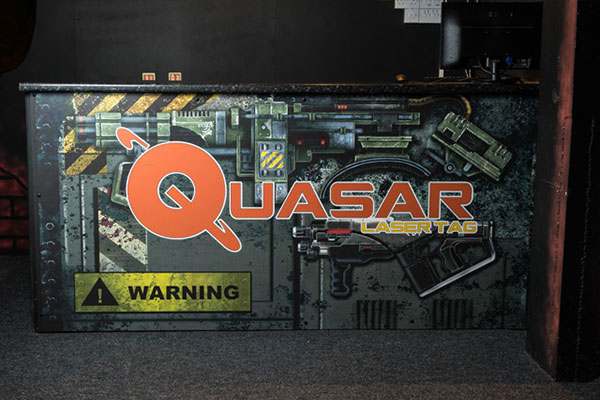 Bray Bowl Quasar Laser
The new state of the art Quasar Laser Tag system and arena has proven to be very popular with kids and adults alike. It's a minimum height requirement of 1.2 metres to play and they can take a maximum of 30 in the arena at one time. Quasar does exactly what it says on the tin; "It's serious fun…..with a laser gun!"
30 gun system with the very latest software
Brand new state of the art maze arena
Suitable for children 6-7 years & upwards
Pricing
Here are the 20 minute game prices;
1 game – €6 per person
2 games – €10 per person
3 games – €14 per person
Quasar and Bowling Combo Deal
If you would like to combine both Quasar and Bowling they can offer
you a combo deal. (Please note; Quasar games last for 10 minutes in combo deal)
1 game of each – €9 per person
2 + 1 game combo of your choice – €11 per person
2 games of each – €14 per person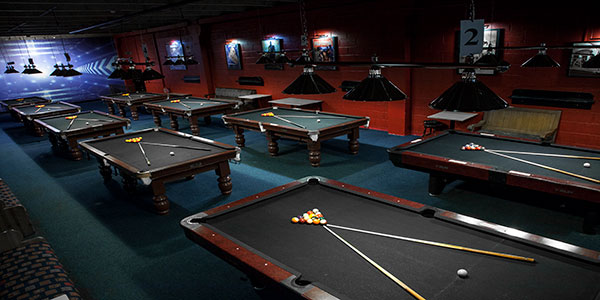 Pool & American Pool
Play Pool on their 8 ball tables or American 9 ball tables. Both located on the ground floor. Play by the hour, half hour or the special offer of 3 hours for the price of
Hollywood themed Pool Hall with 8 Pool tables & 3 American Pool tables.
Pricing
American 9 ball table – €12 per hour
8 Ball (reds & yellows) – €10 per hour
Snooker
If you fancy a bit more peace and quiet, you can play Pool on our 3/4 size Snooker tables located on the first floor. Speaking of Snooker they have 6 full size tables too with special offers throughout the week. The 3 hours for the price of 2 in Snooker has proven to be very popular
10 table Snooker club with 6 full size & 4 medium size tables
Located on first floor of Bray Bowl
Pricing
Full size table – €12 per hour
3/4 size table – €11 per hour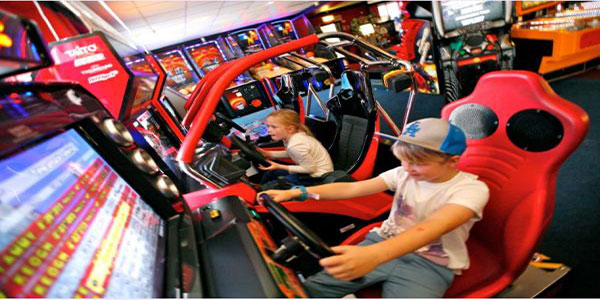 Arcades At Bray Bowl
"Tickets For Prizes" Novelty Arcade
Bray Bowl has taken the leap into familiar ground for those that remember Bray arcades of old. "Tickets For Prizes" Novelty arcade has the latest games to suit all ages. Some of their latest games will take you back to your childhood with the classic carnival theme; Milk Jug Toss, Down the Clown, Ski Ball and many more.
Collect your tickets and redeem them at the Prize Centre.
Video Arcade
The Video Arcade has all the games for that competitive streak in you. Choose from any of their drivers, gun games, basketball machines, air hockey tables or even that dance off you've been craving for so long! The dance machine along with all the rest will not disappoint on your next visit.
Remember, all of the video arcade machines are completely FREE during Bray Bowl's weekly "Event for all ages" & "BYOB Nights".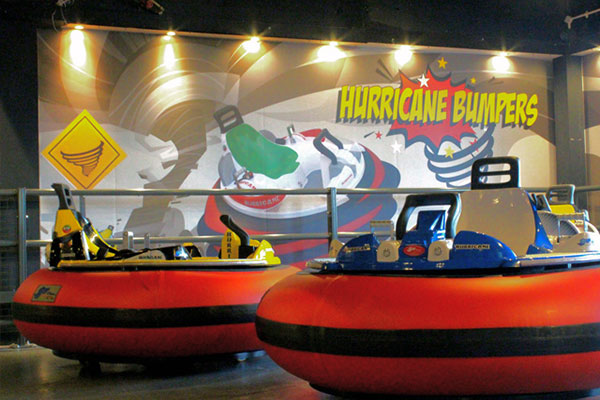 Hurricane Bumpers  at Bray Bowl Entertainment.
Bray Bowl Entertainment latest attraction is the Hurricane Bumpers!! Choose from 5 cars in their brand new arena and spin yourself to your hearts content! Purchase your token at Reception for only €2.50. Each game lasts for three and a half minutes
To Find Out More Information About Activities And Birthday Parties At Bray Bowl Go To The Website BrayBowl.ie