The Brehon Hotel & Angsana Spa
In line with tradition in tune with today…
No matter where you are or how beautiful the backdrop – at The Brehon Hotel they believe you have to deliver outstanding, genuine service every day. This is what they do.  Exceptional surroundings complemented by exceptional service… this is The Brehon Way.
The Brehon Hotel & Angsana Spa is an award winning 4 star hotel in the beautiful Killarney, a perfect hotel resort for leisure and family in Ireland. The hotel is only a short distance from Killarney town centre with  magnificent views of the adjacent National Park and distant mountain ranges .
Family Friendly Deals
The Brehon Hotel & Angsana Spa, is one of the leading family friendly hotels and offers the ultimate ideal destination for a family break in Killarney.
Families staying at The Brehon also have complimentary access to The Aquila Club Leisure Centre at the neighbouring Gleneagle Hotel. This includes a 25m pool along with a separate kids' pool.
Booking Online:– You can book online here through our booking link directly to the The Brehon Hotel Special Offers Reservations
Fairy Trail @ The Brehon – Your Magical Journey Awaits!
Visit Queen Kate, The Brehon very own fairy Danú & the 14 other fairies that have moved into The Brehon Gardens with a magical overnight stay at The Brehon.
Enjoy Overnight accommodation for two adults & one child
Breakfast the following morning
Take a Journey through our magical fairy Trail – make a wish on the wishing seat, cast your worries away on our worry plaque, visit the fairy houses & answer the questions on the trail.
Relaxation time for Mom & Dad in the vitality suite of our Angsana Spa
Access to the Aquilla Pool at our sister hotel next door The Gleneagle for the children
*The Vitality Suite (Pool) of the Angsana Spa is for use for adults over 18 years only.
Child is sharing in parent's room.
Fairy Trail in association with The Irish Fairy Door Company
Book Online -Your Magical Journey Awaits
Flying Solo Package 
Winter break, birthday weekend, spring break, summer break, St. Patricks Day weekend… there are ongoing opportunities to take your kids on a getaway.
The Brehon Promise to you – Waiving the Single Adult Policy. Price based on 1 adult and per child. Saving from €50 per night.
The Brehon appreciate that parents don't always get to holiday together. If you are holidaying solo with your kids, then they have the perfect tailored break for you. Don't let busy family schedules stop you…
Spacious Deluxe Room with King Bed with 1 Single Bed for 1 adult and 2 child under 16.
All rooms are non-Smoking Please Note: This rate is only valid when accompanied with Children.
Rate includes
Overnight Bed & Breakfast for 1 adult & 2 children in a spacious deluxe room with king bed & single bed.
No Single Adult supplement saving from €50 per night.
Complimentary Shuttle bus from Bus & Rail Station.
Take a journey through our magical Fairy trail in our gardens.
Kids playroom
Choice of dining options on site – children's menus for lunch and dinner, children's afternoon tea available
Complimentary access to the Aquila Club facilities in our sister hotel next door, The Gleneagle.
Friendly atmosphere and more opportunities to chat and meet other guests for company
Friendly Staff that always go the extra mile to chat and help.
Free cancellation (48 hours prior to arrival date).
***The Vitality Suite (Pool) of the Angsana Spa is for use for adults over 18 years only.
The Brehon Hotel Family Accommodation
The Brehon family rooms and suites offer the choice of a large spacious deluxe room with a king bed and a single bed, open plan suites or two interconnecting bedrooms. All room types provide families with an abundance of space to enjoy while two televisions means there is no fighting over the remote control.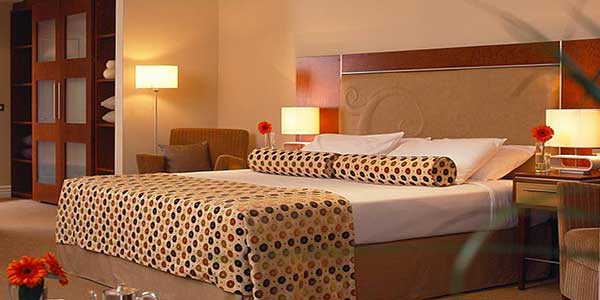 The Brehon Hotel For Families
There is family entertainment with Captain Jack and his crew who have entertained families throughout the length and breadth of Ireland to rave reviews. Accompanied by his trusty clowns, Jelly Baby and Twinkle, his buddy VERN the Dodo, who thinks he's a Parrot, they have enthralled audiences with their unique action dancing, magic, fun and games.
Captain Jack entertainment is on at The Gleneagle Hotel and the Captain Jack show is FREE for The Brehon residents.
The Munster Suite" is available on selected dates for kids to enjoy during your family holiday at the family friendly Brehon Hotel in Killarney. This playroom includes a DVD player, TV, Board Games and a great selection of children's toys.
Family Fun Tip:- Please be advised that this room is unsupervised and all children must be accompanied by a parent/guardian.
Afternoon tea at The Brehon & Angsana Spa, Killarney isn't just for grown-ups, kids too are invited to come along and enjoy tiers of tasty treats and dainty delights.
The treats on offer include simple sandwich triangles, mini scones served with Jam, preserves and cream and fruit smoothies. Then for dessert there's cookie monster cookies, cake pops, jelly and ice-cream shots and rocky road.
When visiting The Brehon the fairy experts advice is to tip toe and to stay really quiet when out searching in the new Fairy Trail as you might have a chance to spot one of the beautiful glittering fairies or see their trail of magic fairy dust. This is going to be a lovely thing to do for families dining your family break in the hotel.
Family Attractions In Killarney
Staying at The Brehon Hotel, allows easy access to many superb attractions in the Killarney region. Providing loads to do during your family holiday or that well deserved family weekend break.
You and your family will be spoiled for things to do in Killarney. For the outdoor enthusiasts there's horse riding, nature trails in Killarney National Park, Muckross Traditional Farms, Kennedy's Pet Farm,  Kingdom Falconry and much much more. On a rainy day in Killarney, families enjoy visiting the Aquila Club at The Gleneagle Hotel and Buddies Play Centre. A trip to Killarney Cineplex is also a great treat for all the family.