Dates:
From Saturday, 30th of November 2019 to Monday, 23rd of December 2019
Venue:
Lullymore Heritage and Discovery Park
Address:
Lullymore, Rathangan, Co. Kildare
Tel.:
045 870238


Please mention Family Fun when booking!
Lullymore Heritage and Discovery Park Christmas Event 2019
Winter Wonderland
Lullymore Heritage & Discovery Park brings you its traditional 14th annual "Lullymore  Christmas" event for 2019.
Santa arrives in Lullymore on Saturday 30th of November and departs for the North Pole on Monday 23rd of December 2019. A truly traditional and magical experience for both young and old as the park is transformed into a Winter Wonderland of family fun with some very special guests to entertain you along the way.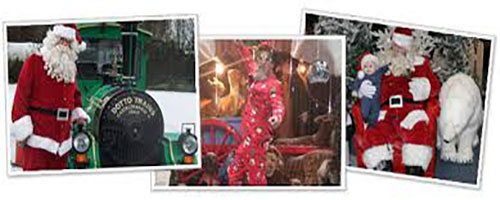 Lullymore  Christmas
A memorable visit to Santa and a gift from the busy Elves in their workshop. Funky Forest Indoor Centre becomes a Winter Wonderland and don't forget to have fun with the elves when you visit here!
A Festive Train trip – the Lullymore Christmas Express will take you on a magical trip through an illuminated ancient woodlands.
Christmas Holograms in old style thatched cottage, Crib scene in Early Christian Centre and illuminated walkway to Fairy Bower.
Animals such as donkeys, goats and miniature horses will be in paddocks beside Indoor Centre.
Welcome Santa and his merry friends as they arrive on the Lullymore Christmas Express Road Train at 10am weekends and 2pm Wednesday to Friday.
Bring some real festive magic to your Christmas with a visit to Lullymore this year!
For more information visit Lullymore Heritage and Discovery Park

Event Information
Venue:- Lullymore Heritage and Discovery Park, Kildare
Classification :- Family Christmas Event
Dates :- November 30th – December 23rd
Times:-
OPENING TIMES:   Weekends   10am – 6pm / Fridays   2pm – 6pm
 LATE OPENINGS:   Wednesdays and Thursdays 2pm – 8.30pm
Dec. 4th & 5th / Dec. 11th & 12th / Dec. 18th & 19th
Last admission 1.5 hours before closing (4.30pm daily or 7pm for Late Openings)
Familyfun Tip:-
Please arrive early, especially on weekends
Peak times are last 3 weekends of event (expect queuing)
Off peak times are midweek 2pm – 6pm and late evenings (with minimal queues)
Duration: Maximum stay 1.5 to 2 hours
Admission:-
Child – €20 *includes gift*
Adult ot Teen – €10
Infant (under 2yrs) €12 *includes gift*
*Groups/School Tours must be pre-booked, please call 045 870238 during office hours for more information
Booking:– No Booking Required for Family Visits – For more information, please contact Tel. 045 870238
Note:-
The outdoor play area and adventure golf are closed during Christmas event for health and safety reasons.
Park will be closed to the Public from 24th December 2019 to 24th January 2020 – Reopens Saturday 25th January 2020.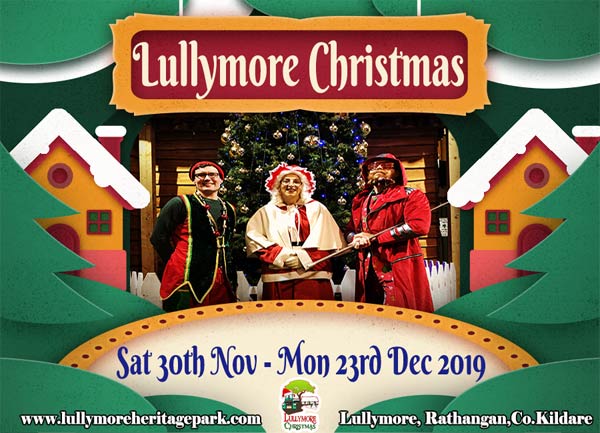 Directions To Christmas In Lullymore
Lullymore Heritage and Discovery Park is a family day visitor attraction located on a mineral island in the Bog of Allen, just 4 miles outside Rathangan, Co. Kildare
Once in Rathangan, take the R414 towards Allenwood and you will arrive at Lullymore Heritage Park
For more information, visit Lullymore Heritage and Discovery Park