Address:
Alfie Byrne Road, Clontarf, Dublin 3
Tel.:
+353 1 8363060


Please mention Family Fun when booking!
Clasac Theater Christmas Panto
*This event will not be taking place this year*
Tempus Productions traditional Christmas Panto!
Join Tempus Productions again this year as they whisk you away to a land of mystery and intrigue with this "Genie-us" of a Pantomime that'll never fail in "Peking" up your spirits! Guaranteed to provide spectacular entertainment, belly-ache inducing laughter and more bad puns than a Father-of-the-Bride speech, this is a show that you can't afford to miss!
A long way away, in the far off city of Peking, there lives a young washer-boy named Aladdin. Handsome, witty and well-liked, he lacks only one thing…money! How can anyone expect to marry the Princess Jasmine when they can't even afford to bring her out on a date? Working for his overbearing mother the Widow Twankey, looking after his not-too-bright brother, Wishee Washee, and evading the local Police force, Officers Hu and Mi, it seems Aladdin doesn't have a chance. That is, until his "long lost uncle" Abanazar arrives promising gold, jewels and riches, all in exchange for retrieving a rusty old lamp.
Christmas Panto Information
Venue:- Clasac Theater, Clontarf, Dublin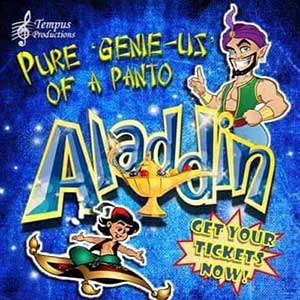 Classifion :-   Christmas Pantomime  /  For All Ages
Date:-  13 January – 22 January
Show Time:-
Friday January 13th – 19.30 Evening Show
Saturday January 14th – 14.00 Matinee Show
Saturday January 14th – 19.30 Evening Show
Sunday January 15th – 14.00 Matinee Show
Friday January 20th – 19.30 Evening Show
Saturday January 21st – 14.00 Matinee Show
Saturday January 21st – 19.30 Evening Show
Sunday January 22nd – 14.00 Matinee Show
Admission :- Tickets cost €15.50 incl. Booking Fee and VAT
Running Time:- TBC
 Booking Online:- You can book on line here through our booking link directly to the Aladdin ticket sales.
Tempus Productions
Organiser of the Christmas Panto Aladdin
Tempus Productions is a community based drama organisation which was founded in 2009 by a group of people for whom drama and entertainment are a passion.  Their goal has always been to bring great quality entertainment at an affordable price to as many people as possible. They aim to stage professional-standard shows at family-friendly prices that will provide their audiences with an experience of live drama that they'll never forget.
Collectively, the members of Tempus Productions have decades of experience, spread among a wide variety of talented and passionate people.  The members have performed in, produced and directed shows in all manner of venues over a multitude of genres.  They pride themselves in the versatility of their performers and in the development of character actors.