Clara Lara Fun Park
Clara Lara Fun Park Wicklow is an unique outdoor adventure Park in dedicated to providing healthy and creative fun for families and groups of children.
At Cara Lara there are lots to do for all active ages in the 30 acres of beautiful countryside in the Avonmore River valley with tree houses, Tarzan swings, rope bridges, rowing boats, water slides, rafts, canoes and junior go-carts.
The lakes are all man made with a flat gravel bottom and approximately 2 feet deep.
Why not have a go on the breathtaking Aqua Shuttle, the biggest water slide in Ireland.
For the less energetic there are mini golf and miles of hill walking through the spectacular countryside.There is also a junior playground.
They have a picnic restaurant serving burgers, chips, sandwiches, ice cream, teas and coffee etc
Also there are extensive  riverside picnic areas and barbecues and you are welcome to
bring your own picnics.
Family Fun Tip:-
The Park is not suitable for groups with children above the age of 12 years: Admission will be refused to anyone over this age.
Dogs are no longer permitted in the Clara Lara Fun Park Wicklow.
BRING OLD SHOES, TOWELS AND A CHANGE OF CLOTHES. YOU ARE GOING TO GET WET !!
Clara Lara Fun Park Admission
Adults and Children:
Group Rate (Includes Gold Bracelet: See below)
Children 4 yrs & under (Or < 1m tall & OAP's)
Family Season Ticket (See below)
Barbecues (Please ask on arrival)
The Admission charge is for the whole day and covers unlimited use of all the Clara Lara Park facilities except those listed under 'Optonal Extra Charges' .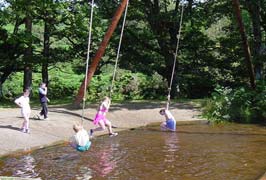 Optional Extra Charges:
Amphicats :
Aqua Shuttle:
Rowing Boats:
Junior Go Carts:
Mini Golf :
Radio Controlled Boats – Coin operated:- €1 – (not covered by Gold Bracelet).
Group Rates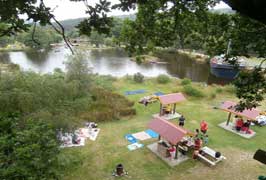 Available to SCHOOLS, CLUBS, SUMMER PROJECTS and other groups of children in parties of ten or more. To qualify, all members MUST take the Gold Bracelet and the cost be collected before arrival.
Every 10 children must be accompanied by a responsible adult for whom there will be no admission charge. One adult must be nominated to be in charge of the Group.
The Group Rate is NOT available on SUNDAYS during JULY and AUGUST or on BANK HOLIDAYS
Clara Lara Fun Park Opening Times
The park is open 10.30 – 18.00 from mid May until end August
Directions To Clara Lara Fun Park In Wicklow
Clara Lara Funpark is in County Wicklow midway between Laragh and Rathdrum and about 5 miles from Glendalough.
See Google map at top of page.