Name:
Clayton Hotel Leopardstown
Address:
Leopardstown Dublin D18 NR24
Tel.:
01 2935000


Please mention Family Fun when booking!
Clayton Hotel Leopardstown
Clayton Hotel Leopardstown is the ideal holiday destination for you and your family to enjoy!
It boasts a fantastic location close to Wicklow and Dublin and after your day of exploring you can relax in one of their spacious luxurious hotel rooms.
This 4 star hotel in south Dublin is just off junction 14 of the M50. It has great transport links around the city and surrounding areas. The Luas Green line is only a two-minute walk from the hotel and the Dublin Aircoach is located on the hotel doorstep.
It is the ultimate base for your visit to Wicklow the Garden of Ireland, and all it has to offer whether it is walking the start of the Wicklow Way from Marlay Park or enjoying the surrounds of the Powerscourt Waterfall and Gardens.
Why not discover the great outdoors in Dún Laoghaire harbour, The Peoples Park, Airfield Estate, Bray to Greystones Walk, and lots more. All these locations are located within driving distance from the hotel.
At Clayton Hotel Leopardstown they strive to guarantee that ambience for the perfect family getaway! With the supreme location close to Dublin and Wicklow and the luxurious family friendly rooms why not treat you and your family to a well-deserved break!
Family Friendly Deals
Are you looking for an adventure packed family staycation in Ireland?
Look no further than Clayton Hotel Leopardstown! They offer many packages to suit your needs from a weekend getaway with your family or if you want to explore a little more, stay longer! Bring the family, dine in luxury and enjoy the experience Clayton Hotel Leopardstown has to offer.
Family Pizza and Parking
This offer is available from the 2nd of June 2021 to the 31st of August 2021.
Relax at Clayton Hotel Leopardstown and book their 'Family Pizza and Parking' package. Enjoy a family room, two family sized pizzas with ice-cream for the kids, the Clayton Signature Vitality breakfast including a children's breakfast menu and park your car with their compliments.
Should you wish to book interconnecting rooms for larger families please call reservations on 01 293 5000.
Book your stay now – Family Packages and Special Offers
The Wicklow Way Picnic Package
This is the perfect package for all ages, as Clayton Hotel Leopardstown is the ideal base for your visit to Wicklow the Garden of Ireland and all it has to offer. This package includes our signature Clayton Vitality breakfast, welcome pack for the kids, complimentary parking and a packed Lunch for everyone to enjoy on the day out.
Whether it is experiencing The Wicklow Way from Marlay Park, or enjoying the surrounds of the Powerscourt Waterfall and Gardens, Bray to Greystones or even taking on The Great Sugar Loaf. Do it all and then come back and relax at Clayton Hotel Leopardstown and let us do the rest.
Book your Family Summer Break at the Clayton Hotel Leopardstown 
Summer Activity Breaks for Families
Clayton Hotel Leopardstown is the place for you and your family this summer!
The 4-star hotel is a great family-friendly hotel in Dublin, just 20 minutes to Dublin city centre and the LUAS stop on the doorstep, you'll be exploring the city in no time. There are many nearby attractions to suit all of your family's needs including Dublin Zoo, GoQuest, Dundrum Shopping Centre, Jam Park and many more!
Pay a visit to Dublin Zoo, try a zip-lining experience at Zipit Tibradden Wood, go to Jump Zone Ireland's largest trampoline park or visit Powerscourt House and Gardens!
There are plenty of fun-filled family activities in Dublin and Wicklow close to Clayton Hotel Leopardstown that will help you enjoy a family break. Why not visit Imaginosity, Dublin's children's museum located in Sandyford, just 1.5km away, or pop into Dundrum, Ireland's largest shopping centre, where they offer abundle of fun in Funky Monkeys indoor soft play centre. Make sure to check out the brand new Explorium – sport and science museum.
To wind down, buy some goodies and head into [email protected] or take a trip to Dublin's Leisureplex located in Stillorgan. From bowling, to pool, zoo adventure land and more – this is guaranteed to keep those older kids occupied.
Family Friendly Accommodation
Return after a day exploring Dublin city to relax in the stylish and comfortable family rooms, with all the additional facilities needed to make your stay enjoyable.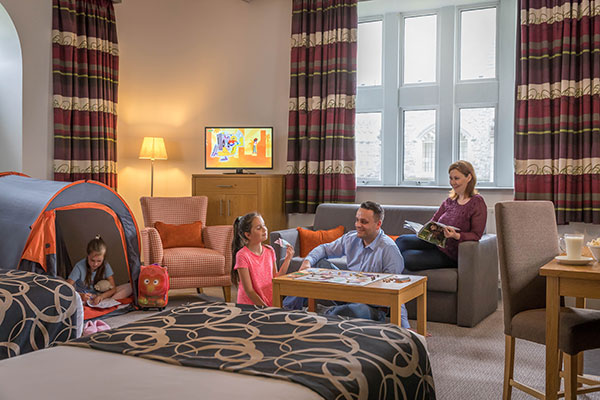 All family rooms include one double bed and two single beds to accommodate two adults and two children under 12 years. Check in is 2:00pm and check out is at 12:00pm. For larger families the hotel provides interconnecting rooms or a second adjacent family room, which can accommodate up to 6 people. Please call the hotel on 01 293 5000 for excellent value offers!
Book directly with Clayton Hotel Leopardstown online – Instant savings for you and your family? Click on Clayton to save €10 off every night. Sign up and you'll get exclusive access to their latest offers too!
Family Accommodation Facilities
 Luxurious toiletries
 Signature Clayton beds
 Iron and ironing boards
 42 inch flat screen multi-channel television
 Tea and coffee making facilities
 Security safe
 Cots on request
 Complimentary high speed internet access
 Power shower and bath combination
 Hair dryer
 Trouser press
Dining at Clayton Hotel Leopardstown
Guests staying at Clayton Hotel Leopardstown have a variety of dining options to choose from during their stay at the luxurious 4 Star Hotel. At Clayton Hotel Leopardstown you can count on enjoying a relaxing meal in a friendly, stylish setting, with menus to suit all tastes and budgets. Suppliers are carefully chosen to ensure the freshest produce and, where possible, local suppliers are preferred.
Clayton Hotels take great pride in offering excellent dining options and even under the current challenging conditions they are committed to providing quality food and superb service in a safe environment for their guests. At this time, their Bar and Restaurant services are limited to hotel guests' only and limited takeaway at selected locations. Please contact the hotel directly for further information.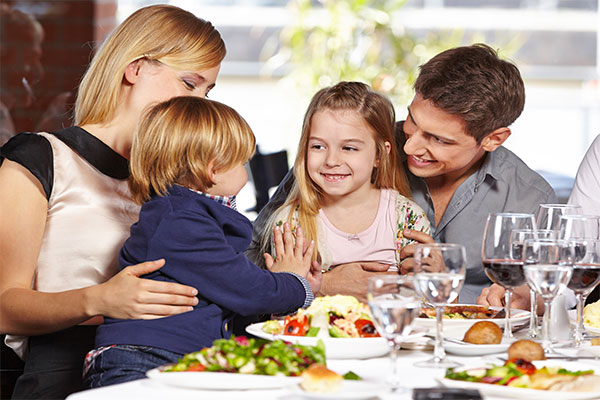 The dining services are key elements of their "Clayton Keep Safe Program" which ensures the health and safety of guests and colleagues. Clayton Hotel Leopardstown have spacious restaurants and public areas in which they can manage social distancing well and they have additional protocols that will be explained by the restaurant team.
Restaurants and lounges are set up to reflect physical distancing with suitable spacing between tables. All food and drink orders will be taken at your table and, although your server may look a little different, you can be sure they offer the same warm welcome and excellent service with a smile.
Food will generally arrive at your table covered by a cloth. During peak dining periods you may be requested to reserve a table through our Guest Services Platform, accessed automatically when you connect to hotel WiFi.
Vitality Breakfast
The Vitality breakfast at Clayton Hotel Leopardstown offers a wonderful variety of traditional breakfast favourites and fresh, healthy options.
Clayton Hotel Leopardstown's trademark buffet has had to be replaced by full table service for now but they have designed a breakfast menu to suit all tastes and preferences. When you arrive for breakfast you will be greeted by your server and shown to your table who will explain our new breakfast service along the way. The Clayton Vitality Breakfast Options or Clayton Hot Breakfast Options are the perfect way for you and your family to kick start the adventure-packed day! They provide a special breakfast menu for kids also.
In-Room Dining
Have you had a busy day exploring Dublin? Why not relax in your luxurious family room and order in! Clayton Hotel Leopardstown have an advanced room service menu with their unique Guest Service Platform, accessed by logging onto the hotel WiFi which allows you to view our in-room dining menu and order online. This can be instantly paid for using credit or debit card. You will be given a time for collection of your order at which time your food can simply be picked up from our restaurant.
Red Bean Roastery
Lighter meals and snacks are available throughout the day from Red Bean Roastery. The lounge areas will be setup in such a way as to maintain social distancing. Although the counters may look different to avoid having open food on display, they continue to offer a wide range of delicious snacks and treats to enjoy with your family.
The Atrium
The early afternoon and evening menu offers a unique blend of alternative dishes for your dinner in Dublin to suit every palate. You and your family are invited to sit back, relax and enjoy your food and great atmosphere at your leisure!
Unfortunately, The Brasserie Restaurant in South Dublin is closed for lunch and dinner and will not be serving Carvery lunch at this time.
Clayton Hotel Leopardstown Fitness Suite
At Clayton Hotel Leopardstown they provide a total solution to health, fitness, lifestyle, and relaxation. The Leopardstown Fitness Suite offers guests a fully equipped gym for people who are looking for an intense work-out or to relieve any stress. The gym is a fully-equipped fitness centre available to all guests.
Gym Facilities
 Fully air-conditioned
 Free to use for all residential guests
 Free weights
 Treadmill
 Cross trainer
 Rowing machine
 Chest press
 Shoulder press
 Leg curl
 Leg extension
 Bicep curl
Opening hours are 7 days a week, 24 hours a day. For more information on our fitness suite contact [email protected]
Nearby Family Attractions
 Airfield Estate (4km)
 Dundrum Shopping Centre (5km)
 Dublin Zoo (27km)
 GoQuest (3km)
 Dublin Mountains (13km)
 Skill Zone (2km)-
 Dún Laoghaire (7km)
 Powerscourt House and Gardens (14km)
 Tibradden Wood (9km)
 Sandyford House (2km)
 Marlay Park (5km)
 St Stephen's Green Shopping Centre (10km)
 Aquazone (25km)
 Rainforest Adventure Golf (5km)
 Jam Park (37km)
 Imaginosity (2km)
 Tayto Park (46km)
 Sealife Bray (14km)
 Newbridge House and Farm (43km)
 Fort Lucan Outdoor Adventureland (25km)
Clayton Hotel Leopardstown Travel Amenities
Clayton Hotel Leopardstown is conveniently located in Central Park, Sandyford, South County Dublin's premier business district. The hotel is just a short LUAS ride away from Dundrum and accessible to Dublin's City Centre.
Parking
Parking for hotel guests at Clayton Hotel Leopardstown is available. The car park is located underneath the hotel where there is a special €10 overnight rate available for all guests, this can be paid directly at reception. The car park is accessible by elevator to all floors. For non-residents, the car park is charged at €2.80 per hour or €16 per day. When booking online you can add-on parking for a reduced rate of €8 per night.
Electric Car Charging Points – two Tesla charge points and an e-Cars charge point available in the underground car park.
Directions from Dublin Airport
By car – from Dublin airport drive towards the M1/Dublin road, take the first exit southbound, remain on the M50 until you reach junction 14 which will take approximately 30 mins. The hotel is located on the right side of the road.
By aircoach – the Dublin Aircoach is accessible from Dublin Airport Terminal 2 which will take approximately one hour and 15 minutes to arrive at Clayton Hotel Leopardstown (Approximately 34km).  The Aircoach also departs from the hotel's front door every 15 minutes between 04.30am to midnight and every half hour from midnight to 04.30. Tickets can be purchased online or from the driver.
Directions from Dublin City Centre
Head northeast on St. Stephen's Green/R138 toward Hume St
Slight right onto Merrion Row/R138
Slight right onto Pembroke Street Lower/R138
Turn left onto Leeson Street Lower/R138
 Continue onto Stillorgan Rd/N11/N31 for 1.8km
 Turn right onto Brewery Rd/N31
 At the roundabout, take the 3rd exit onto Leopardstown Rd/N31/R113- Th
The hotel is located on the left side of the road. On-site parking is available.
Directions from LUAS Green Line
The LUAS Green Line tram is a 1-minute walk from the hotel with its own 'Central Park' stop. It begins at Cherrywood and will leave you into the city centre at St. Stephen's Green within 20 minutes.