Tel.:
00353851154890


Please mention Family Fun when booking!
Cool Shoes
Make Your Shoes Look Cool
Cool Shoes is a small family business who wanted something different, interesting, colourful and fun. Then they came up with the idea to make and design their own shoes like they imagined. They had so much fun creating their shoes and enjoyed the time they spent together as a family. And are so proud wearing the shoes that they had made themselves, everyone wanted to know where they got them?
They want to share this feeling with you. You can have fun by creating your own shoe style and enjoy spending time with family and friends too with Cool Shoes.
CoolShoes.ie
CoolShoes.ie have picked the best products for you to explore and create your own shoes as you want and like. Just give your canvas shoes a unique and cool look by adding your very own style with their wide range of stencils, colour with the fabric markers and add texture with 3D paints and sprays. You can paint, spray and doodler on your canvas shoes any way you want. Your ideas become a reality with every touch!
You can find inspiring ideas on Cool Shoes website with step-by-step instructions on how to make your shoes and clothing stand out from the crowd. It is so easy and fun to style and glam them up with the products.
Enjoy wearing and sharing ideas with your friends, classmates or colleagues. You're the one who makes your shoes look Cool. Wear them with pride and be unique in your own way with Cool Shoes.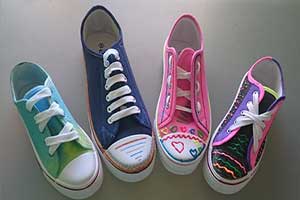 You can book a Cool Shoes party or give as a gift to someone you know.
Cool Shoes Party
A Cool Shoes Party in your own home.
There are two ways you can have a Cool Shoes Party, by ordering of their Party pack, or they can host the party and you can all have fun together.
To book a Party for a birthday or just to have a fun day with friends and family is so easy.
You can customise your parties in a few simple clicks. Starting from the basic Party pack which includes white lace pump shoes and fabric markers pack to share to the Cool Canvas shoe party pack.
They also have 4 party themes to pick from.
Your party will be the talk of the town with a Cool Shoes Party.
CoolShoes  is a registered Irish Company

Before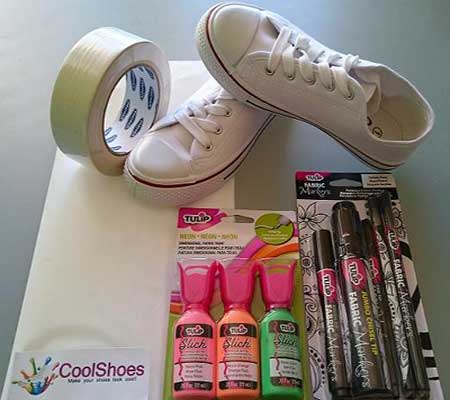 After with Cool Shoes