Address:
Knocknaheehy Cork City Cork
Tel.:
(085) 1356543


Please mention Family Fun when booking!
Freddies Ice Cream For Hire
Freddies Ice Cream cater for Communions, Confirmations, Birthday Party's, Weddings, Garden Fetes and Family Events. They are a family base company in Cork and have been in operation for over 20 years. They take extreme pride in the fact that they have 3 generations of their family involved in helping this business expand.
Freddie will work tirelessly to provide you with exactly what you require. With years of experience operating and organising some of the best parties and events Freddie's understands that each event/party is unique.
Each client, each budget, each location and each brief is intrinsically different, and therefore Freddie tailors his response and creative skills appropriately. Providing the friendliest service and carrying the best, variation of stock, it's no wonder kids everywhere will ask for Freddie's time and time again and they do!!
Freddie's Ice Cream Service
They specialise in weddings, birthday parties, Communions, Confirmations,  school fetes, Family fun days, School Open Days, School Sports days, School Tours & Much More.
Along with all the different Ice Creams they also supply a variant from Popcorn to Candyfloss slush Novelty Pops & Much Much More. Freddie's famous Candy carts are available for hire.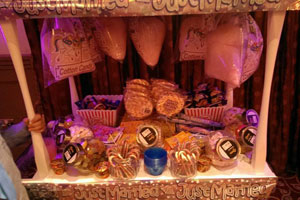 Types of Carts that they on offer.
Floss Cart & Machine
Popcorn Cart & Machine
Chocolate Fountain And Chocolate Dip Cart
Frutina Ice & Slush Puppy Cart
Traditional hard Boiled Sweet Range
Traditional Sweet Candy Cart
They are fully registered with the environmental health board and they are also fully insured with public & Product liability with 8 million indemnity cover.
For price information please contact them Tel. (085) 1356543
The Famiyfun.ie Offer
If you order the Candy Carts and the Freddie's Ice Cream Van together they will give you a 20% Discount if you mention "familyfun.ie" when ordering.