Venue:
Mahon Point Shopping Centre
Address:
Mahon Link Road, Mahon, Cork,
Tel.:
0818 919 807


Please mention Family Fun when booking!
Cork On Ice Christmas Ice Skating 2018
Cork On Ice is back again this year, revealing its stunning 800sqm ice rink under the impressive roof of a 2425sqm marquee on the grounds of Mahon Point Shopping Centre. Now in its third year at this location, Cork on Ice is becoming one of the traditional ways to usher in the winter season for many families. Now expanded, the event marquee offers more seating, lockers and viewing areas, under an airy ceiling decorated with twinkling Christmas lights
The cosy rest area offers the perfect place to relax rink-side and watch others on the ice, with a selection of tasty refreshments
To complete the experience, Cork on Ice will offer skaters the opportunity to purchase instant photos of their skating antics before they leave
With a large main rink, a separate smaller rink and a variety of special events throughout the season, there's something fun for everyone to enjoy!
Cork on Ice are hosting a Penguin Club for young skaters, a skate with Santa, Student nights, Ice hockey and much much more fun and festive activites taking place all throughout the Christmas season!
Ice Skating At Cork On Ice
Cork on Ice is Irelands Favourite Ice Rink! The main rink is 600m2 and while it might be busy at times it is never overcrowded because they restrict the number of people that can take to the ice at any one time. The separate small Rink is 200m2 and features penguin and seal skating aids to help junior skaters find their feet! Regular customers also know that the staff at Cork on Ice take great care of their visitors ensuring that your visit is enjoyable and safe.
Cork on Ice is an accessible venue and they welcome people of all abilities They have a great sound system and a super light show to enhance the experience. This is a large rink but don't be worried if you haven't skated before as there is a handrail right around and many visitors choose to not let go. They have an experienced team on hand that will only be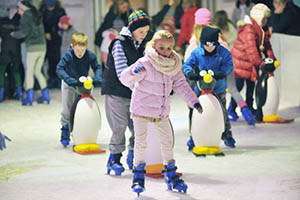 too pleased to offer assistance and advice.
Sessions last for 50 minutes and you should arrive at least 20 minutes before your session starts. It's a good idea to wear gloves and thick socks and bring an extra pair just in case. Skating is like cycling, you're safer wearing a helmet and they will have them available at the venue but feel free to bring your own.
Tickets are on sale now both online
on this page and through the dedicated Ticket Desk in Mahon Point Shopping Centre. Off peak prices are available 7 days a week and special group and class discounts are available
Kids Ice Skating At Cork On Ice
This small ice rink is magic and perfect for children from about age three up. The friendly penguins are always willing to help the little and not so little one keep their balance. Regular snow falls and a fantastic light show help ensure that your family's visit to Cork on Ice will be memorable for everyone.
Please note that this rink is separate from our main rink. A dedicated Cork on Ice team member is present at all times. Because each child is different but generally they advise that children under 3 should not use the rink. If you have any doubt bring your child along a little early and show them the small Rink and see how they feel about it….before you buy a ticket
Family Fun Tip:- They cannot guarantee that each child will get a penguin or seal for the entire session, but they encourage people to pass them on after 10 mins
Skate With Santa
Fancy a skate with Santa Claus this Christmas?
Skate with Santa is back for another season. Santa Claus will be skating on the morning sessions every Saturday and Sunday in December (check their facebook pages for more).
Join us for some Christmas songs, hot chocolate and even some snow!
Take this opportunity to create lasting Christmas memories for all the family!
A perfect opportunity to get young kids on the ice!
Skate with Santa does get very busy, especially in the weeks coming up to Christmas so we advise that you book your tickets in advance to avoid disappointment!
Tickets can be booked online, at the ticket desk or by phone on 0818 919 807. Off peak prices apply
Booking Online:- You can book on line here through our booking link directly to the Cork On Ice ticket sales
Cork on Ice Event Information:
Venue: Mahon Point Shopping Centre, Co. Cork
Date/Times: Cork on Ice is open 7 days per week from 3rd November – January 27th
Admission:
Off Peak Prices:
Adult 

€13

Child 

€12

Family of 3 

€30

Family of 4 

€38

Family of 5 

€47
Peak Prices:
Adult 

€14

Child 

€13

Family of 3 

€36

Family of 4 

€46

Family of 5 

€56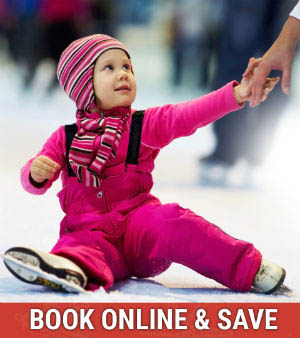 Directions To Cork On Ice
From the North, Cork City Centre, and (Limerick N20 Dublin N8).
Follow directions for the Jack Lynch Lee Tunnel and South Ring Road, when you exit the tunnel take the first exit for (Mahon & Blackrock). Proceed to the lights, take a right (over the bridge) through three sets of traffic lights then turn right to enter the Shopping Centre car parks.
From the East, and (Waterford & Wexford N25)
As you approach Cork City take the first exit at the Dunkettle roundabout to enter the Jack Lynch Lee Tunnel, when you exit the tunnel – same as above (North).
From the South, Cork Airport N27, and (Carrigaline N28 Bandon N71)
Proceed to the N25 South Ring Road and follow directions for the South Ring – East Link. Take the exit for (Mahon & Blackrock) and proceed to the lights and turn left. Proceed through 2 sets of lights, then turn right at the junction to enter the Shopping centre car parks