Alpine Skate Trail at Fota 2022/2023
 Ice Skating
This winter sees the return of one of our favourite seasonal activities as ice skating comes back to Cork.  They have created an Alpine-themed ice rink and trail- all housed inside a Marquee directly opposite Fota House.
Just minutes from Cork city, it really is the perfect location for an ice rink, where you can enjoy the cheerful atmosphere amongst beautiful grounds.
FAMILY CHRISTMAS ACTIVITIES IN CORK
As well as the main trail itself, there will also be a small rink for younger skaters and a great selection of refreshments and other activities, which will make the overall experience a great Christmas destination for families and groups of all ages.
Ice Skating At the Alpine Skate Trail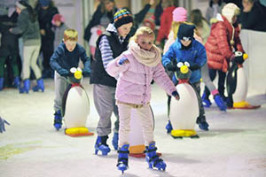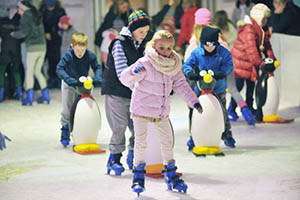 Sessions last for 50 minutes and you should arrive at least 20 minutes before your session starts. It's a good idea to wear gloves and thick socks and bring an extra pair just in case. Skating is like cycling, you're safer wearing a helmet and they will have them available at the venue but feel free to bring your own.
Booking Online:- You can book on line here through our booking link directly to the Alpine Skate Trail ticket sales 
Kids Ice Skating the Alpine Skate Trail

This small ice rink is magic and perfect for children from about age three up. The friendly penguins are always willing to help the little and not so little one keep their balance. Regular snow falls and a fantastic light show help ensure that your family's visit to Cork on Ice will be memorable for everyone.
Alpine Skate Trail would recommend bringing children down for a look first, to see what they think because if they don't like it on the day there is no refund or voucher.
Family Fun Tip:- Skating aids (penguins or seals) must be booked in advance €5 per session and cannot be guaranteed for each child.
Alpine Trail Skate Event Information:
Venue:
The Alpine Skate Trail is located at Fota House & Gardens Carrigtwohill, Co. Cork, T45 Y642.
Dates:   4th November – 29th January
Days Open:
November and January  Wed – Sun
December  Tues – Sun
School Hols & days per week (not 25/12)
Admission Online Prices:
Under 18   €17
Adult         €20
Directions To Alpine Skate Trail
The Alpine Skate trail has moved a little – we are now located directly opposite Fota House. We can be found on the grounds of Fota House & Gardens, Fota Island,
Carrigtwohill, Co. Cork
By Car:
From the Dunkettle interchange roundabout at Cork, go east and exit at Junction 3
(signposted Cobh). Take the R624 for approximately 2.5km and the Alpine Skate
Trail is on the right hand side with a shared entrance to Fota Wildlife Park and Fota
House and Gardens.
Parking:
All day parking costs €3 payable by Euro coins or by contactless card payment at the
exit barriers. Use the lower car park for Fota House.
Please note the Alpine Skate Trail is not accessible by train.