Dates:
From Saturday, 16th of May 2015 to Sunday, 17th of May 2015
Venue:
Waterways Ireland Dockland's Summer Festival
Address:
Grand Canal Dock, Docklands, Dublin
Tel.:
+353 1 2500066


Please mention Family Fun when booking!
Waterways Ireland Docklands Summer Festival
Waterways Ireland Dockland's Summer Festival on the 16th and 17th of May  is a celebration on Grand Canal Dock with a weekend of entertainment and competitions on both the water and the land. A huge array of activities are planned over the course of the weekend.
There will be an assortment of water based activities for the public to partake in and enjoy including kayaking, paddle boarding, barge rides, dragon boat displays, as well as the opportunity for the young and old to try their hand at a range of interesting water sports
Watch out for the world-class wakeboarding demonstrations over the weekend.
Why not try some paddleboarding or kayaking at a reduced rate for a half hour session.
With everything from open air DJ's, Come Try it Sessions, Wake Boarding demonstrations to international food markets, the Docklands Summer Festival promises an entertaining and fun filled weekend for all.
The newly developed Grand Canal Plaza and surrounding quays provide a uniquely modern and dynamic unban space for all the family to enjoy.
Family Fun Tip:-
Water Hazard – Children must always be accompanied by an adult.
Docklands Summer Festival Events
Events On Land
Waterways Ireland Visitor Centre
10.30 – 4.00pm    Decorate Your Duck!
11.00 – 4.00pm   Art and Crafts workshops
Booking is advisable but not essential. Tel: +353 (01) 6777 510
Fun Fair
All the fun of the fair can be had at Docklands Summer festival this year with a wide array of entertainment and fun rides to keep any child amused
Street Performers
The street artist's always wow the crowds with their dazzling array of skills and acts.
This year we will have street performances from the World Street Performance Champions each day from 12 noon onwards
Food Markets
The Food Markets offers the freshest food sourced locally where it is cooked and served on site to provide the most authentic and iconic street food available
A Night at the Dogs
Shelbourne Park have a special Festival racenight on Saturday 16th May from 6pm onwards
Kings of Concrete
The Kings of Concrete monthly Skills Weekenders takes place from  11am to 5pm on Saturday and Sunday the 17th & 18th of May at Mabos – 8 Hanover Quay
This skills weekend is open to all ages from 10+.  This is for anyone looking to try out new fun creative things or to get better at what your currently doing….
There will be workshops in the following:
• Skateboarding
• Graffiti/illustration
• Parkour/free-running
• Longboarding –
• Wakeboarding basics
• Stencil art
Entry is free, Sign up is required pre-event
Events On The Water
Wakeboarding Champions
This year they have some amazing wakeboarding talent joining them for Waterways Ireland's Docklands Summer Festival. There will be on the water displays running all day on Saturday and this year Sunday will see our first ever International Wakeboarding Championships taking place in Grand Canal Dock
The Gibson Hotel Duck Races
The Gibson Hotel Duck Race for Charity was so popular last year that they decided to sponsor two more duck races this year!!  At Just €5 per Duck or €20 for a flock of 5 Ducks, why not join in the fun on Saturday 16th and Sunday 17th May at 4.30p.m.
The proceeds go to a good cause as your Duck donation will go to help fight cancer by funding Biobank Ireland's Cancer Research programme for Breast and Colon Cancer.
Get your ducks from the Waterways Visitor Centre or through  IDEA  01 2500050
Maldron Hotel Cardiff Lane Golf Island Challenge
The challenge is to hit a ball from Grand Canal Square approximately 100 yards across water land it on the especially designed and landscaped floating green and get it into the hole!…
The names of those who get a hole in one are put into a hat and the lucky name drawn will win a fantastic hotel break from the 4 star hotel Maldron Hotel, Cardiff Lane located opposite Bord Gais Energy Theatre..
Rafting Challenge
Teams of 4 people per raft and races of 6 rafts.  Full training, lifejackets etc provided. Currently accepting team entries from Docklands companies  or groups for races from 2pm on Saturday and Sunday.
Please note that the programme is subject to change.Family Fun Tip:-In the interest of safety, please do not enter the water during the festival unless as part of an official supervised festival event.WATER HAZARD – Children must always be accompanied by an adult..
How To Get To The Dockland's Summer Festival
Dublin Docklands only minutes from the city centre is served by an extensive public transport network. This includes intercity trains, a fast commuter train service (Dart), Dublin Bus services and a light rail network (Luas).
LUAS
The LUAS RED LINE leaves you at the Festival's doorstep, just stroll to the Liffey quayside in less than 2 minutes and you're there!
The RED LINE operates from Tallaght station right into the city centre and all the way through to The O2, its last stop.
DART
DART networks provide excellent service from many different parts of Dublin. In most cases parking is available at the various stations along the route.
Dublin Bus
Dublin Bus offers a high frequency, accessible and easy to use service from all over Dublin to within a 20 minute walk of the Venue.
The 151 route operates every 10 minutes during rush hour and will leave you on Castleforbes Rd, the closest stop to the Venue, only 2 minutes walk away. The last bus departs Castleforbes Road at 23.15pm Mon – Sat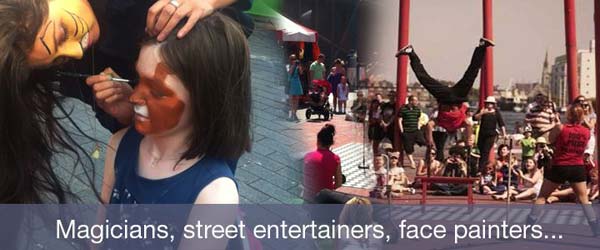 The Dublin Dockland's Summer Festival promises a hive of activity across the Docklands, with entertainment and family fun guaranteed, so don't miss out!