Name:
The Gaming Party Van
Gaming Party Van For Kids Birthday Parties 
Covering Dublin and the surrounding Areas
Gaming Party Van is Dublin's favorite state of the art mobile video game vans, which is fully equipped with the world's most popular gaming consoles such as Xbox One S, Playstation Pro (Mk 2), PlayStation 4 Wii U, Nintendo Switch and the amazing Oculus Rift with your choice of games from the latest and greatest games to choose from.
Their Vans can accommodate up to 14 players, who can play alone or against each other on up to 10 large high-definition 1080p TVs with their Mk2 van equipped with a state of the art Samsung 4K TV connected to the PS4 Pro, the worlds most powerful console. (please specify when booking, which van you wish to book).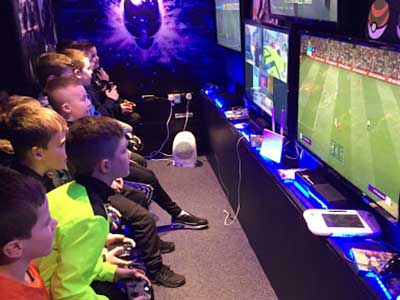 Gaming Party Van for your Birthday Party or Family Event
The Gaming Party Van is suited to big kids too, making it great for children's and adult's "Gaming Party Van"events alike. Gaming Party Van will bring fun and excitement to any party or event, regardless of age and gender.
Kids Parties
For fully hosted children's parties, they recommend a maximum of 13 guests at ages from 7+.
The Gaming Party Van fully trained and experienced game coach will make sure that all your guests are engaged and entertained throughout the party . They will take stress out of your party planning and make sure that you will have the best party ever!
We all know kids LOVEEEEEEE Fortnite. It's available to play at everyone's favorite gaming van on 10x4K large TV's…Each Birthday Boy or Girl will receive a Fortnite dog tag. These are free to whoever wins a round of solo or you can also win a keychain for winners of duo.
Family Fun Tip:- For fully hosted children's parties, they recommend a maximum of 13 guests at ages from 7+
Corporate Events
Please contact them directly so that they can tailor a package to suit your event and budget.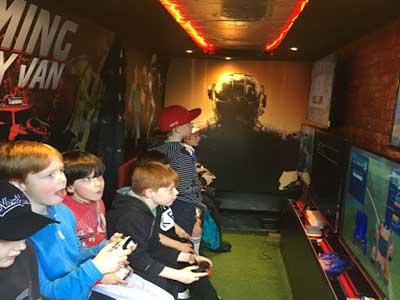 Booking The Gaming Party Van
If you are hoping to add excitement to your party or event, get in touch with the team at Gaming Party Van with any queries that you might have. They are always happy to hear from you if you have any questions about the services.
Book The Gaming Party Van For Your Next Event !
Children's Parties
Confirmations
Graduations
Family Fun Events
Weddings
Corporate Events
Charity Events
Open Days
& Much More
Family Fun Tip:- A travel supplement may apply at a rate of €0.60 / km if you are located outside of Dublin.
Packages Available
VR PARTY €240 (Thursday – Saturday)
Weekend Party €25 (Thursday – Saturday)
Midweek Party €199 (Monday – Wednesday)
Party for 2 Hours on 10x4K Screens in Blue Van and 9x4K Screens in Red Van
Up To 14 Players in the Blue Party Vans and 12 in the Red Party Van at a time
Includes 9 Consoles
FREE Fortnite dog tag for the birthday boy or girl.
All The Latest and Greatest Games
Digital Party Invitation Download
Only €50 Deposit
The best shared gaming experience to come to Ireland.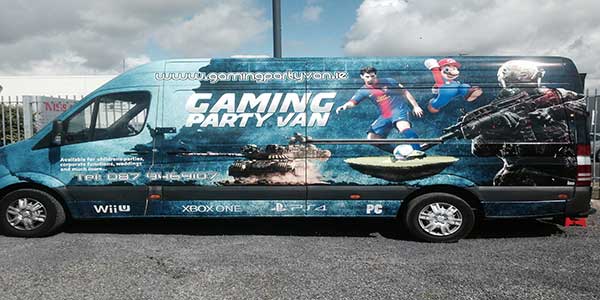 What They Are Saying About Gaming Party Van
Nichola Dowd
I hired the Gaming Party Van for my son's communion on Saturday last and it was a huge hit:-) It rained for the whole day but this didn't matter as after wrecking the house running around it, they had two hours in the gaming van and there wasn't a peep out of any of them. The parents got to have a chat in peace and the kids got a party bag after. Would highly recommend it, Great stuff.
Yvette Carroll
I cannot recommend John & the gaming party van enough! Thank you to John who came for my sons 9th birthday, the boys loved it! He came set up, sat with the children, he entertained them for 2 hours, John was so kind and patient with them.
Thank you so much John, Paddy & his friends had a great time… we will see you again next year, I have no doubt!
Jackie Malone
I honestly cannot thank John enough for today ….I hired the gaming van for my son's confirmation…WOW..serioulsly could not recommend it enough …kids had the best time ever and the service was 110 per cent such a gentleman thank you so much will definitely be back