Address:
Dublin Bus Headquarters, 59 Upper O'Connell Street, Dublin 1
Tel.:
+353 (0)1 7033215


Please mention Family Fun when booking!
Take a Ride on the Fright Side with The Ghostbus
DoDublin launches a new spook-tacular Ghostbus
Step inside the world's first and original Ghostbus and be transported into a world of ghostly happenings, comedy horror, and terrifying histories. The new Ghostbus will drive you into your nightmares, taking in some of Dublin's most haunting sights along the way. Visit the Hellfire Clubroom and haunted museum downstairs, and play a hand of cards with the devil himself. Next take your seat upstairs in the Victorian Theatre with its blood red velvet curtains and begin a thrilling ride tracing Dublin's creepiest mysteries. You will be led through this ordeal by a sinister guide and driver, two men in tune with the afterlife, who will do their best to put you at your unease.
Did you know that Dublin was home to one of horror fiction's most famous names: Dracula author, Bram Stoker? Your creepy host will give you an unnerving insight into his origins as the tour creeps through Dublin's darkened streets. At the College of Surgeons, a certain Dr. Clossey is still said to roam the corridors carrying a bucket of human entrails.
Having heard some twisted tales aboard the Ghostbus get ready for a lesson in grave robbing and bodysnatching in the grisly surroundings of the haunted graveyard. More grizzly dealings are unleashed at the 12th Century St. Audeon's Church, where the ghost of Darky Kelly,the madame of Dublin's notorious Maiden Tower is said to wander restlessly. Don't be surprised if the supernatural occurs as you delve inside the creepy Christchurch crypt to scenes of medieval torture. Designed to spook your imagination, the spine-tingling, nerve-racking DoDublin Ghostbus Tour will be a journey of hair-raising frights you will never forget.
What you can expect on the Ghostbus Tour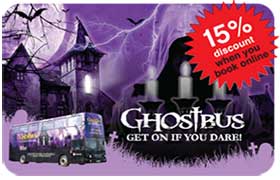 Unearth Dr. Clossey's gruesome past
Discover Dracula's Dublin origins
Theatrical experience with professional actor
Unravel the mysteries of Dublin's haunted sites
Visit the Medieval Vault at Dublin Castle
Visit St Kevin's Graveyard
Free Pat Liddy Walking Tour worth €10
Ghostbus Tour Information
Admission: Ticket Price €28
FamilyFun Tip: Vouchers For Tickets Purchased Online Must Be Printed Out, Cant be accepted on smartphone/tablet
Duration: Approx. 2 hrs
Tour Depart: Start at Dublin Bus Headquarters at 59 Upper O'Connell Street, Dublin 1
FamilyFun Tip: Please arrive 15 minutes before the tour departure. Seats that are not filled 15 minutes before hand may be resold
Departure Times:
Monday to Thursday – 8pm
Friday and Saturday – 7pm and 9.30pm
Disclaimer:- They are not responsible for passengers' flesh crawling, hair standing or blood freezing
Things You Need to Know about the Ghostbus Tours
Tours are provided in English only and last for two hours
The tour may not suit people of a nervous disposition.
The DoDublin Ghostbus Tour is not suitable for children under 14 years.
The DoDublin Ghostbus Tour begins at Dublin Bus Headquarters at O'Connell Street.
This tour is not wheelchair accessible
The tour does not operate on a Sunday and Bank Holidays
About the DoDublin Ghostbus Tour
The Ghostbus Tour was created and designed by Dan O'Donoghue (Ghostbus Tours Ltd) for DoDublin. It is the world's first custom built ghostbus and the first Ghostbus Tour departed Dublin Bus headquarters in 1998 and since then 6,512 tours have taken place. Each night the Ghostbus travels over 12,000 metres and over the years has travelled 79,000 km with 140,000 people taking a ride on the Ghostbus dark side since the first tour. Love/Hate, Fair City & The Tudors actors have all taken to the Ghostbus to tell Dublin's spookiest stories.  October sees the most visitors to the Ghostbus and DoDublin is happy to report that zero deaths have occurred on Dublin's scariest ride. The oldest Ghostbus was retired in 2014 after 42 years of service to Dublin Bus.
Private Hire
The Ghostbus is ideal for office nights out and Christmas/Hen parties.
If you'd like to book a private hire please contact: [email protected]