Address:
59 Upper O'Connell Street, Dublin 1
Tel.:
+353 (0)1 7033215


Please mention Family Fun when booking!
DoDublin Tours
Experience the best that Dublin has to offer on board a DoDublin Bus Tour
DoDublin introduces and showcases the best of the city. They are the original Dublin Sightseeing Tour Company and have been entertaining visitors since 1988.  DoDublin operate a range of sightseeing tours and transport services including:
The original Hop on Hop off Tour
Glendalough and Powerscourt Gardens Tour
Malahide Castle and Howth Tour
Ghostbus Tour
Airlink Express
DoDublin Hop on Hop off City Tour
With the brilliant 2 Kids (under 14) Go FREE with every adult ticket  offer, the Hop-on Hop-off Tour makes for a great day out for all the family in Dublin's historical and cultural city centre.
You will also receive a free walking tour with Dublin Historian Pat Liddy to cover the hidden city locations the bus can't reach (worth €10), and free entry into The Little Museum of Dublin (worth €8). They will give you a free map of the city, and a discount guide with tons of savings to be found along the hop-on hop-off route.
There is live commentary from their Fáilte Ireland trained drivers for you to enjoy, all native Dubliners and all of whom are great entertainers. The term "gift of the gab" was invented for Do Dublin tour guides! They take great pride in presenting the best of Dublin city, with plenty of historical and cultural references, quotes by famous Dublin poets and writers, loads of jokes and plenty of songs too.
DoDublin also provide pre-recorded multilingual tours in 10 languages, which operate every 30 minutes.
Buses start at 9am daily, and arrive at each stop every 10-15 minutes. There are 31 stops in total, each located beside a top Dublin City attraction.
Key Information
2 kids go free with every adult ticket!
The original Hop on Hop off Tour of Dublin
Fáilte Ireland trained tour guides
Buses depart every 10 – 15 minutes
Discount guide with discounts to Dublin's best attractions
Free Pat Liddy Walking Tour
Free admission into The Little Museum of Dublin
To find out more about the DoDublin Hop on Hop off City Tour
Malahide Castle and Howth Tour
Take the Malahide Castle & Howth day tour and discover two gems of Dublin tourism. From peaceful islands and Martello towers to the delightful Howth harbour and enchanting Malahide Castle, this is a bus tour with a difference. Get out of the city, take in the fresh air, be blown away by the scenery and sample Dublin's best fish & chips along the way.
The tour includes a guided tour of Malahide Castle, one of the most stunning and perfectly preserved medieval castles in Ireland. Dating from the 12th century, you'll learn about the adventures of the Talbot family who lived there for generations. Visit the extensive castle grounds and Avoca Café and clothing shop located adjacent to the castle.
What's included:
2 Kids under 14 go free with every adult ticket
Admission into Malahide Castle
Free loop on the hop on hop off tour
Free entry into the Little Museum of Dublin
Free Pat Liddy Walking Tour of Dublin
Tour Times
Howth & Malahide Castle Tour departs at 11am daily
To find out more about Do Dublin Sightseeing's Half Day Tours
Glendalough and Powerscourt Gardens Tour
The Glendalough & Powerscourt Gardens tour brings you to visit two of the most popular tourism destinations in Ireland, both conveniently located just an hours drive from Dublin city. Enjoy stunning views from start to finish as you set off along the south coast of the city, taking in the Dublin Docklands and continuing along to Sandymount. Your Do Dublin guide will keep you entertained throughout the day with commentary on all the places you'll see, fascinating historical information, anecdotes, jokes and perhaps even a few songs!
First stop is Glendalough, a destination that's known to every Dubliner for its idyllic beauty and serenity. Take a walk up to the lakes, visit the 6th century monastic city and Glendalough Visitor Centre or stop off in the local hotel for a spot of lunch.
The tour then continues through Wicklow, passing the picturesque town of Enniskerry before arriving at Powerscourt House and gardens. Relax in the Georgian glory of the Powerscourt Estate with gardens voted No.3 in the world by National Geographic and set within the beautiful backdrop of the Wicklow Mountains. Take a walk around and visit the Japanese gardens and pet cemetery, before stopping off in Avoca Cafe in Powerscourt House for tea and scones.
What's Included:
2 kids under 14 go free with every adult ticket
Free loop on the hop on hop off tour
Free entry into the Littler Museum of Dublin
Free Pat Liddy Walking Tour of Dublin"
Tour Times
Glendalough & Powerscourt Gardens Tour departs at 10:30am daily
To find out more about Do Dublin Sightseeing's Half Day Tours
DoDublin Tours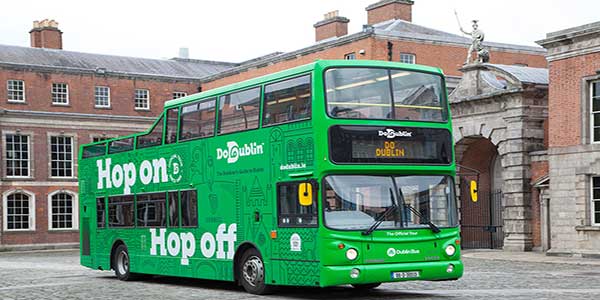 The Glendalough & Powerscourt Gardens Tour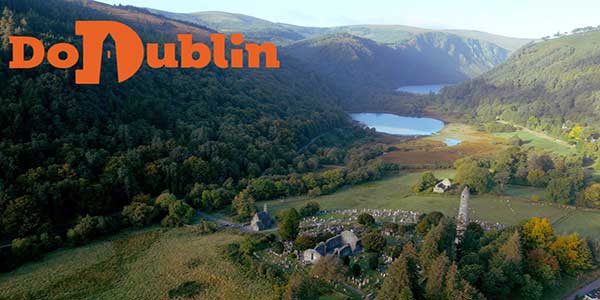 The Malahide Castle & Howth Day Tour