Address:
59 Upper O'Connell Street Dublin 1 R01 RX04
Tel.:
+353 (0)1 7033215


Please mention Family Fun when booking!
DoDublin Tours
Experience the best that Dublin has to offer on board a DoDublin Bus Tour
It's time to Do Dublin with Dublin's original Hop on Hop off tour! DoDublin has been guiding visitors around the capital city since 1988 and operate Dublin's No.1 Hop on Hop off tour. The DoDublin tour guides are famous around the world (with more 5 Star Reviews on Tripadvisor than any Hop-on hop-off tour in Europe!) for their entertaining tours, quick wit and knowledge of Dublin city
The Hop-on hop-off tour visits all of Dublin's top family attractions including Dublin Zoo and the National Museum Collins Barracks but DoDublin also provides tickets for many of the top attractions including EPIC, the Irish Emigration Museum, MoLI The Museum of Literature of Ireland, The Little Museum of Dublin and many more.
DoDublin also provides the most extensive range of options for Airport transfer in Dublin, including airport bus options, mini-bus hire, chauffeur car hire and more!
Visit DoDublin for more information on all of their products and to book now!
DoDublin Days Out Card
The DoDublin Days Out Card is Dublin's Best Value Visitor Card that provides you with access to 6 of Dublin's top family attractions:
EPIC the Irish Emigration Museum
The Little Museum of Dublin
MoLI – The Museum of Literature Ireland
Christchurch Cathedral
Dublinia
Saint Patrick's Cathedral
Visit all these great attractions at your own leisure, and save 25% on the overall price!
Online Booking
You can book online here through our booking link directly to DoDublin City Attractions Days out Card
 EPIC The Irish Emigration Museum
Celebrate the Irish diaspora who have made their mark across the world at EPIC the Irish Emigration Museum which has been voted Europe's Best Museum 3 times since it opened its doors in 2016.
The Little Museum of Dublin
Visit Dublin's most popular museum displaying treasures donated or loaned by the people of Dublin! The museum has an extensive collection of items chronicling 20th century Dublin including artists and musicians, history, politics, events and more.
MoLI – Museum of Literature Ireland
Ireland has a rich literary history, and this is showcased in MoLI. This museum celebrates some of history's greatest storytellers with engaging exhibitions and artefacts from the National Library of Ireland.
Christchurch Cathedral
An iconic building located in the heart of Dublin; Christchurch Cathedral is a must-see for locals and visitors alike! This historical treasure dates back to the 11th century and is home to one of the largest and oldest 12th century crypts in Britain and Ireland, in which you can take in the Treasures of Christ Church exhibition.
Dublinia
Located within Christ Church Cathedral, Dublinia allows visitors to experience what life was like back in the 900's when Vikings first settled close to the River Liffey.
Saint Patrick's Cathedral
One of Dublin's oldest buildings, Saint Patrick's Cathedral is another site known for its beauty and history and makes for a great day out!
The Days Out Card can only be purchased online.
Get 25% off the Hop on Hop off ticket at checkout when purchasing Days Out Card.
Freedom Ticket
The Freedom ticket combines the Hop on Hop off tour ticket with a transport ticket, allowing the freedom to travel anywhere in the Greater Dublin area. Travelling from Dublin Airport to the City Centre couldn't get any easier with the Freedom ticket as travel on routes 16 and 41 between Dublin Airport and the City Centre is included. This ticket can be conveniently purchased online and can be redeemed in a number of locations including Dublin Airport and Dublin Bus Head Office on O'Connell Street.
What's included in The Freedom Ticket?
72 Hours Travel Pass
Includes Airport Bus Routes 16 + 41
Includes Entire Dublin Bus Network
Tram (Luas) and Train (DART) Networks
Also Includes 48 Hours Hop-on Hop-off Tour
Online Booking
You can book online here through our booking link directly to DoDublin Freedom Ticket
Hop on Hop off Tours
The Hop on Hop off tour provides a historical and culture enriched day out that can be enjoyed by all the family. With each adult ticket 1 child under 15 goes free! Not only will you see the sights of Dublin from their open top bus, with each ticket you receive free entry to the Little Museum and can enjoy a guided stroll around the city with the Free Pat Liddy Walking Tour (valid to 31st March 2023).
Attractions along the route include the Guinness Storehouse, EPIC The Irish Emigration Museum, Teeling Whiskey Distillery, Trinity College and the Book of Kells and so much more! DoDublin's Fáilte Ireland trained, and native Dubliner, drivers will showcase their "gift of the gab" along the route, while providing live commentary for the duration of the tour.
DoDublin also provide pre-recorded multilingual tours in 9 languages. Tours depart at 9am each morning and operate every hour from Dublin Bus Head Office on O'Connell Street Upper with the last departure at 5pm (last bus is 7pm during the Summer season)
 Key Information
1 child under 15 goes free with every adult ticket
Pre-recorded tours in 9 languages
25 stops along the route
Duration of 1 Hour 45 Minutes (approx.)
Fáilte Ireland trained tour guides
Tours departing every hour (every 30 minutes during the Summer season)
Wheelchair accessible buses
Online Booking
You can book online here through our booking link directly to DoDublin Hop on Hop Off Tours
DoDublin Tours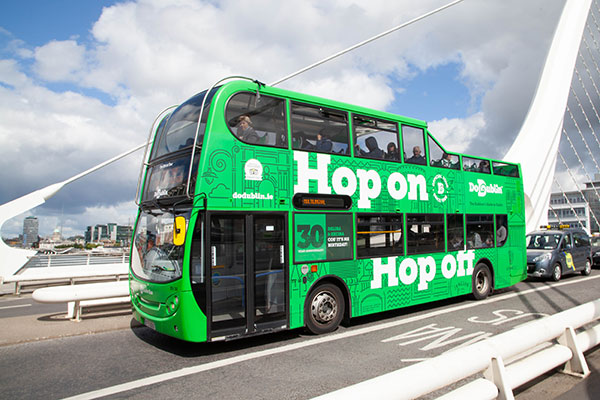 The Glendalough & Powerscourt Gardens Tour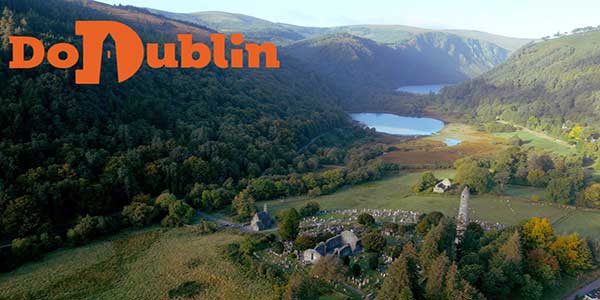 The Malahide Castle