Wild Lights at Dublin Zoo 2023
Explore Dublin Zoo like never before!
Wild Lights, the award-winning night-time spectacular returns to Dublin Zoo with a brand-new theme, 'The Enchanted Zoo'.
Come inside an enchanting world where you'll discover the secret life of the Zoo at night! You'll be greeted by a Wizard and presented with a choice of three pathways to explore first. From there, you'll be transported to lands of magic and wonder, with fairies mythical creatures, multi-coloured animals and even a candyland, all lit up as beautiful silk lanterns.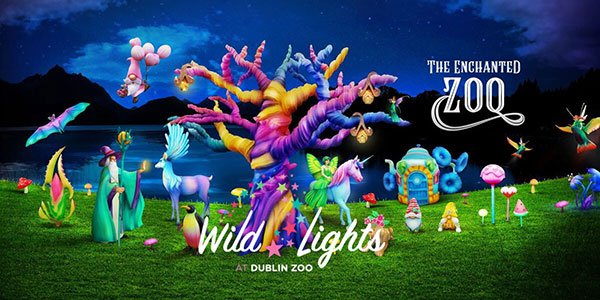 As you journey through this immersive experience, you'll also have the chance to meet the nocturnal keepers and guardians of the mystical animals and creatures, the Zoo gnomes, visible only in the Zoo at night. Wild Lights is an truly unforgettable experience for friends, families and groups, and a perfect way to come together to celebrate the festive season.
Wild Lights opens on the 16th November 2023 runs through into January 2024.
Wild Lights Opening Times:
Monday – Sunday
5.00pm – 9.00pm
Last entry is 8.00pm sharp. There will be no admissions after this time.
Closed Christmas Eve, Christmas Day and St. Stephen's Day
Look here for more information and to book