Eagles Flying Irish Raptor Research Centre
Visit Eagles Flying, the premier visitor attraction in the North West of Ireland
Did you ever dream of Eagles swooping only inches above your head or having a bird of prey landing on your bare hand?
Eagles Flying, with a large number of eagles, owls, hawks, falcons and vultures Ireland´s oldest Bird of Prey Centre, makes your dreams come true. Their unique training methods make it possible to allow their visitors the closest contact with birds of prey and other animals.
Eagles Flying is a scientifically managed, voluntary run sanctuary for wildlife and other animals in need. They are fully wheelchair accessible and have  free parking for cars and coaches.
Eagles Flying can also look after Birthday parties, large groups and school tours. For more information Tel. 00353-71-9189310 or email [email protected]
For seven years in a row Eagles Flying was awarded the Travelers Choice Award by Tripadvisor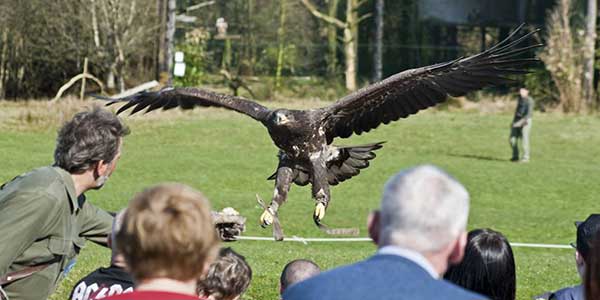 Watch Eagles Flying Show
You can enjoy this most outstanding experience every day, when attending the Bird Shows. They start at 11 and 3 every day. Come and see the "Bird Whisperers" at work!
During the highly entertaining and interactive Bird Shows you can experience Eagles, Hawks, Falcons, Vultures and Owls swooping right over your head or landing next to you. Some of them even allow to be touched – but ask one of the birds trainers before! You might even have the chance of a bird landing on your own hand.
Is there anything you ever wanted to know about birds of prey? Just ask!  In addition to all the information you get during the interactive shows, their scientists will answer all your questions.
They can seat more than 550 people outdoor and 250 in the indoor arena per show. Booking is not essential, but they would appreciates notice, if you intend to bring bigger groups.
So whatever the weather – A visit to Eagles Flying  really is worthwhile and an excellent day out for all the family
Family Fun Tip:–   There are incredible photo-opportunities, bring your camera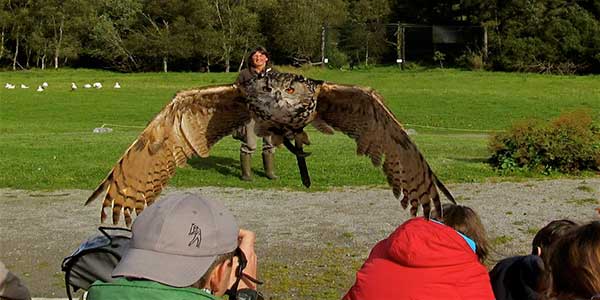 The Touch Zoo
Before and after the shows you can enjoy guided tours through the centre or get hands-on with the various animals in the Touch-Zo0.
Eagles Flying is home to 380 birds and animals out of 83 different species
There are also goats, lambs, donkeys, horses, guinea pigs, rabbits, hedgehogs, ferrets, different pigs, raccoon, chinchillas and many more.
Even the ones who might not be interested in birds, will find a pet to delight in.
Eagles Flying Opening Times
They are open every day from 7th April until 7th November at 10.30-12.30 and 2.30 -4.30
Flying Demonstrations commence 11.00 and 15.00 daily and last for 1 hour
Eagles Flying Admisssion Prices
Adults – €19.90
Student(over 16 with ID) – €16.90
Children under 3 – Free
Children (3-16th birthday) – €10.90.
Family (2 adults and 2 children) – €54.90
Additional child – €9.90
Child Group – reduced rate per child – €9.90
Adult Group – reduced rate per adult – €16.90
Group = 16+ people
Your entrance fee enables the team at Eagles Flying to do their important nature conservancy work.
They appreciate your support.
Directions To Eagles Flying
Take the N17 towards Galway at Collooney roundabout. After you pass through Ballinacarrow take the 1st official road left, following the sign to Temple House. Before entering the gate of Temple House you turn left towards Ballymote. Take the next road to the left that will take you to the entrance of Eagles Flying
Turn off the N17 at Ballinacarrow and follow the signage.
Eagles Flying  –  interactive, informative, interesting, incredible, in Ballymote, County Sligo, Ireland