Easter Bunny At The Chocolate Warehouse
Enjoy the wonderful experience of visiting the Easter Bunny. Stroll down the magic corridor viewing his Easter scenes and then enter his Easter hutch. Wow!! What a delight the Easter Bunny is waiting for you and presents you with your Easter Egg. Now it is ready for you to bring it to the special bow room where you make an Easter bow to put onto your Easter Egg box. After that your name is personalised onto your chocolate egg. Now you have your own special Easter egg!
Next, view the mini chocolate factory. Then enter into The Chocolate Warehouse Easter shop. Its full of Easter eggs, Chocolate rabbits, chocolate novelties, chocolates, chocolate cars, chocolate footballs, hampers, teddies and goodies galore.
Come and enjoy the Easter experience at The Chocolate Warehouse. For all ages young and young at heart. Feast your eyes on their unique range of Easter eggs products only available at The Chocolate Warehouse.
Ideal for Creches, Montessori or group visits.
To Find Out More About The Chocolate Warehouse
Easter Chocolate Shop
The Chocolate Warehouse chocolate shop is full of Easter eggs, chocolate rabbits and chocolate novelties. Easter eggs, Easter baskets and Easter chocolate novelties are our specialties. They can personalise Easter eggs and make Easter baskets of every size and budget. Call in it will give any chocolate lover a thrill of a life time.
Easter shop open: Monday 19th March to Easter Saturday 31st March.
Monday to Friday 9.30am – 5pm
Saturdays 11am – 5pm & Sundays 12pm – 5pm.
Closed March 17th
Event Information 2018
Venue:- The Chocolate Warehouse  Dublin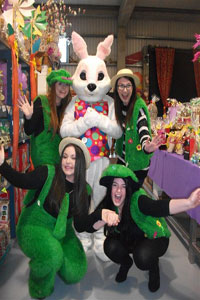 Opening Dates: Saturday 18th of March to Easter Saturday.
Date/Time:-
Saturday 17th March St. Patricks Day Closed
Sunday 18th March 1pm – 5pm
Monday 19th March 12pm – 5pm
Saturday 24th March 11am – 5pm
Sunday 25th March 12pm – 5pm
Monday 26th March 10am – 12.30pm & 1pm – 4pm
Tuesday 27th March 10am – 12.30pm & 1pm – 4pm
Wednesday 28th March 10am – 12.30pm & 1pm – 4pm
Thursday 29th March 10am – 12.30pm & 1pm – 4pm
Good Friday 30th March 11am – 5pm (we recommend to come early as it is a very busy day)
Easter Saturday 31st March 11am – 5pm
Easter Sunday Closed.
For mid week Easter bunny visit times call 01 4500080.
Easter Bunny Admission
 €11 per child. (Includes personalised Easter Egg)
Adults free
€9.50 per child (group rate 10 or more children, includes personalised Easter egg)
Booking
No need to book for weekend just call in
If you are interested in booking or discussing the Easter Bunny visits further please contact The Chocolate Warehouse at Ph: 00 353 1 4500080 or at

[email protected]
Parking: Free parking for cars and buses.