Dates:
From Saturday, 13th of April 2019 to Wednesday, 24th of April 2019
Times:
10:00 am to 5:00 pm
Venue:
Easter Train Experience at Rathwood
Address:
Rathwood, Rath, Tullow, Co. Carlow
Tel.:
059 91 56285


Please mention Family Fun when booking!
Rathwood's Easter EGGperience
 Hop on board the Rathwood Easter Express for an 'egg'citing adventure through the fun filled forest
Watch out… Freddy Fox is back and will be causing Havoc this Easter at Rathwood.
The Easter bunny doesn't know what to do… But Little Red Riding Hood is here to help. She knows EGGactly what Freddy the Fox is like and will be able to save Easter but only with your help…
Join the Easter Bunny for story time, you will get to hear about all the adventures the Easter bunny has been up to since last year.
Join Little Red Riding Hood on an adventure through the enchanted forest searching for Freddy Fox, with the mission of saving Easter.
 Then there is the biggest Easter egg hunt collecting the missing eggs for the Easter Bunny. That's not all, once the Egg's are all collected there will be a reward for the boys and girls. It's time to open your imaginations and get crafty!!
Don't worry it is Easter and of course as long as everything goes to plan you will be back up to visit the Easter Bunny to collect a lovely Chocolate Easter Egg!!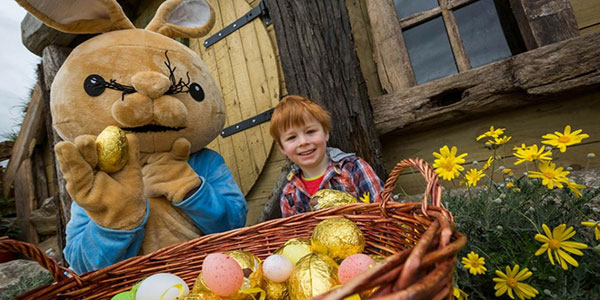 Rathwood Santa Train Inforamtion:
A fun-filled train ride through the Rathwood forest with surprises along the way.
Meet the Easter Bunny & Little Red Riding Hood.
Enjoy an Egg-citing egg hunt in the Enchanted Forest
Design and take home your very own Easter egg decoration.
Each child will receive a set of bunny ears to take home.
Receive a Full Sized Easter egg from the Easter Bunny
Last but not least receive a yummy hot chocolate in Rathwood's Merrytree Restuarant.
Event Information
Venue:- Rathwood, Co. Carlow
Classification :- Family Christmas Event / All Ages
Dates:- Running From the 13th to the 24th of April.
Duration:- 1 hour
Admission: –
Adult €8
Child €12
Baby – Free
Booking:- Bookings must be made in advance online or at reception on (059) 9156285
Booking Online :- You can book your train place on line here through our booking link directly to the Rathwood's Easter EGGperience ticket sales.