Finn McCools Tours
Officially The Best Tour Company In Ireland
Highly rated on TripAdvisor
Let Finn McCools Tours take you on what is sure to be a very memorable trip to some of Irelands most awesome locations. Finn McCools Tours have some of the most knowledgeable tour guides available, they are friendly and good fun – and they love their job. They are guaranteed to make your tour very enjoyable.
Finn McCools Tours from Dublin and Belfast
Finn McCools offer high quality tours from Dublin and Belfast to some of Irelands Top locations, why not check out one of the following:-
The Cliffs of Moher, The Burren & Galway Tour
The Giant's Causeway & Rope Bridge Tour (available from Dublin & Belfast).
The Giants Causeway & Game of Thrones Tour (available from Dublin & Belfast)
The Giants Causeway & Belfast Titanic Tour
The Glendalough, Wicklow & Kilkenny Tour
All Tours can be booked online, to book a tour or for more detailed information on the above tours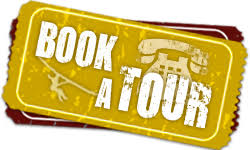 Your Finn McCools Tour
All tours visit the locations specified in the tour descriptions,  and have additional stops along the way which vary depending on the tour you take.  Your tour will bring you on a route that is filled with amazing views and you will see some spectacular scenery.   All their tours come with their experienced enthusiastic tour guide that wants to make sure that you have a very enjoyable experience.
Regardless of the length of your chosen tour the longest time you will be on the bus is approximately 2 hours, so be assured there are enough comfort breaks to ensure you have a comfortable trip. They do not have dedicated stops for lunch and recommend that you bring your own packed lunch or pick up lunch at one of your stops along the way, the reason for this is as it takes an average of one hour for a lunch stop so stopping would reduce the time you have available to you to enjoy the fantastic scenery of the tour.
Family Fun Tip:-
The size of the Coach on the day of your tour will depend on the number of people booked on the tour, which can range for 10 to 60 people, so you will either travel on a mini-coach or a coach depending on numbers on the day, your coach size will be advised on the day of the Tour as final numbers are only available then.  As there  is no wi-fi signal available in many of the areas their tours take,  Coaches do not have wi-fi. They do however have fantastic guides that will keep you entertained throughout the day.