Funderland 2022
Funderland has returned to where it all began nearly 50 years ago at the RDS.
For almost 50 years Funderland has brought the newest and most exciting attractions for all ages to experience. This year is no different, with so much excitement it's sure to create an unforgettable experience.
This year Funderland opens from Monday the 26th of December 2022 until Sunday the 15th of January 2023.
Opening from 12pm until 10pm daily (Close's at 8pm on New Year's Eve).
A fully Irish owned and operated business, we know how to deliver good 'Craic' so immerse yourself in thrills and laughter this Winter only at the RDS, Simmonscourt, this you don't want to miss!!
For those who prefer to remain on "terra firma" lots of games of skill and chance will offer hours of pure fun and the opportunity to win one of Funderland's famous soft toys.
The younger thrill seekers are not neglected either, they always have an extensive selection of Juvenile attractions for young children to enjoy, with an array of smaller children's attractions
So whether you are young or young at heart, why not go along and see why Funderland has become a national institution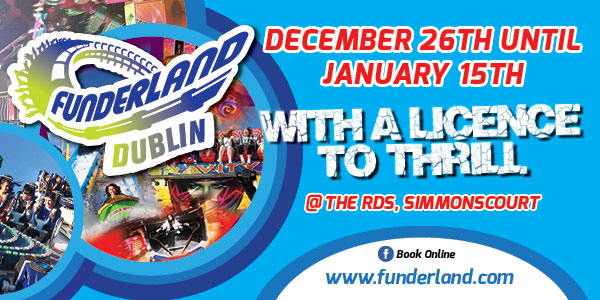 Booking Online:- You can Book Online here through our booking link directly to Funderland
For more information, visit Funderland
10 Shot Voucher
You can save up to 25% on rides when you buy a 10 shot Voucher! The 10 Shot Voucher can be shared among 2 or more people and it can also be used over several visits during the Funderland event.
Event Details:
Venue:- Funderland, Rds, Co. Dublin
Dates/Times:-
Funderland: 26th December – 15th January
Booking Online:- You can Book Online here through our booking link directly to Funderland
By Car
Outside Trinity College, take Nassau Street (N11) for about 150 metres
Turn right following the signposts for the R118
Follow the R118 (also known as Mount Street which becomes Merrion Road) for approximately 2km
The RDS Main Complex will be situated on the right hand side
Continue along the Merrion Road and turn right into Simmonscourt Road
Winter Funderland is situated on the left hand side after the two office buildings
By Bus
The RDS is serviced by bus routes number 4, 7 and 45, which stop outside the Main Hall Entrance to the RDS on the Merrion Road
Bus routes Number 4 and 7 stop outside Bewleys Hotel (located beside Funderland)
These bus services can be availed of on Nassau Street outside Trinity College
By Local
Train Dublin DART (Dublin Area Rapid Transport) service also operates from the City Centre to Ballsbridge
Travel southbound to Lansdowne or Sandymount stations