Funtasia Theme Park
Funtasia Theme Park Drogheda is an exciting entertainment centre and waterpark family business, boasting the first of its kind in Ireland.   The exhilarating indoor Pirates Cove Waterpark is 30,000 sq feet of water gushing fun and over 200 water based activities for all to enjoy.  Funtasia Theme Park has over 15 different activities from climbing, bowling, crazy golf and soft play areas to all the fun of the fairground. There's something for the whole family to enjoy.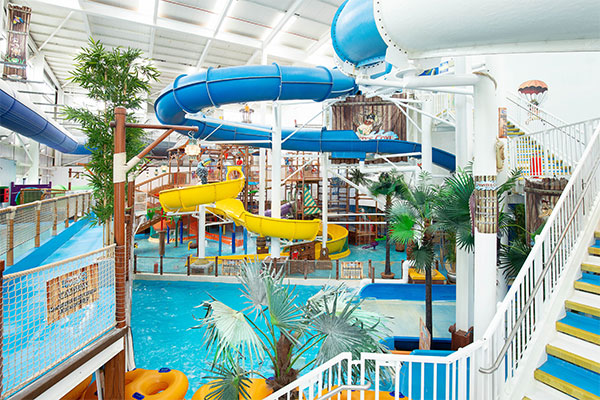 Attractions at Funtasia Theme Park –
Pirates Cove Waterpark – 30,000 Square Feet of FUN
Defy gravity on the thrilling water slides like the Boomerang and Super Bowl. Explore Pirate's Cove play area just make sure you keep an eye out for the giant pirates head, it will dump 500 litres of water on unsuspecting people below. For the smaller boys and girls there's a toddlers area with shallow water, spray cannons and little water slides. Don't worry we've showers and family changing areas to make your trip to Funtasia's Pirates Cove Waterpark as hassle free as possible.
Funtasia Swim
Swim VR employs state-of-the-art virtual reality technology to create a seamless fusion between the physical and virtual worlds. Equipped with waterproof VR headsets and motion tracking devices, visitors can interact with their surroundings, swim through stunning underwater landscapes.
Bowling Alley
At Funtasia Theme Park we've got a Bowling Alley with 14 state of the art bowling lanes. Bowling is an activity that can be enjoyed by family and friends of all ages.
Atlantis Cove Play Area
A multi-story soft play area with obstacle courses, slides, ball cannons and much more. All the boys and girls will have so much fun exploring every inch of Atlantis Cove play area! That's not all, they've also got a toddler's area upstairs, specifically designed for smaller children. There are soft blocks, miniature slides and interactive games to keep your toddlers occupied.
While your kids play, why not grab yourself a lovely 3fe coffee from Ellie's Ice Cream? There is also a great selection of herbal teas available upstairs from the refreshments counter.
18 Hole Crazy Golf
Located on the second floor, this course crazy golf course is designed to be fun for families with small children. Many of the holes are quite easy to keep your children interested throughout the 18 holes. Just make sure you don't take it too easy or you might see your little Tiger Woods beating you!
Ultimate Skyclimb – 60 ft. Aerial Assault Course
After you've been fitted with your safety harness and gone through the induction, a member of the Skyclimb team will bring you up the spiral staircase. At the top you have a choice of 3 different routes that vary in difficulty from easy to hard. Each route has different obstacles for you to make your way around. Don't worry if you get stuck at any point, there will be a member of staff to help you around your selected route. Once you make it to the end, get ready to make a leap of faith to the ground floor!  Check out your photos from the Skyclimb at the Photo Experience desk beside the exit to the Water Park.
Twin Zipline
Choose your partner and once you've got your harness on, a member of staff will lead you up to the secret Zipline Area. Listen for the count down and when it gets to one you'll bust out from behind the secret wall and whizz across the arcade floor like some kind of action movie star! Just make sure you don't look down, you might just get a fright!  Check out your pictures from the Zipline at the Photo Experience desk beside the exit to the Water Park.
Climbing Wall  – First to The Top Wins
Funtasia Theme Park has an indoor climbing wall for you and your family to enjoy. This 15 metre high climbing wall is great fun for both adults and children. Compete against your friends and family to see who can to the top and ring the bell first.  Safety is their top priority with climbing activities so don't worry. A trained member of staff will fit you with a safety harness before you're brought up the climbing wall. If you get stuck at any point there will be a member of staff close by to give you tips and/or help you out!
Arcade Games
Experience the hype, lights and buzz of the Funtasia Theme Park arcade! Here you can find 100s of fun, exciting and interactive arcade games.
Fairground Rides  –   Monkey Jumps, Gyro Loop, Eureka Flying Cars, Ferris Wheel, The Convoy
Online Booking:- You can book on line here through our booking link directly to the Funtasia Theme Park ticket sales
Attractions In Funtasia's Pirates Cove Waterpark
Pirates Cove Water Slides
"The Super Bowl" this adrenalin pumping speed slide lives up to its name with a thrilling ride and spins like you've never seen before. The ultimate water rush.
"The Boomerang" features an incredible gravity defying drop. This double rider speed slide drops you 60ft then boomerangs you to the steep incline wall for another turn around and slide to the bottom. A guaranteed thrill seekers dream slide
Pirates Cove Play Area
500 litres of water being tipped on an unsuspecting crowd below, water cannons, sprayers, hoses, slides and fountains. The Pirates Cove Play Area in Funtasia Theme Park Drogheda guarantees lots of fun and frolics.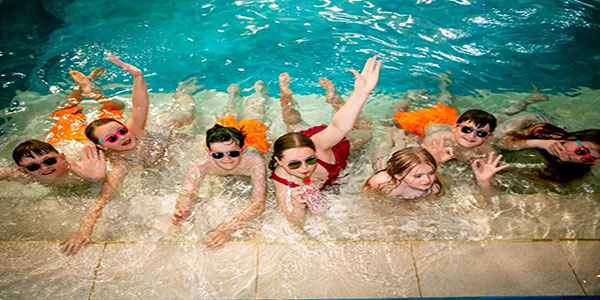 Pirates Cove Toddler Splash
This area is specially designed for the tiny tots. With a pirate boat at the helm, miniature slides and mushroom fountains make this a very cute area for toddlers to play splash and slide.
Children must be supervised at all times by an adult.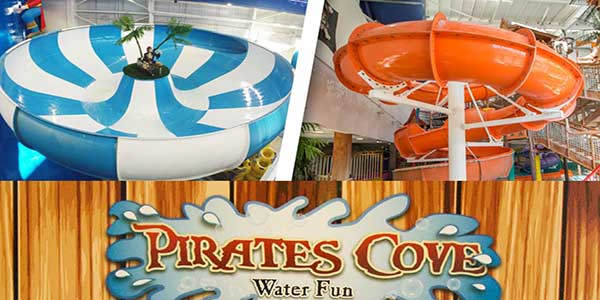 Parties At Funtasia Theme Park
Make your child's next birthday party a magical and unforgettable one, and let the party experts at Funtasia take care of it for you! They take the stress out of organising your child's party, so you can focus on enjoying the special day!
All of their party packages include time in the chosen activity, party food, drinks and dedicated party hosts on the day. The birthday child also gets a keepsake t-shirt , a special birthday present of their choosing and a complimentary group photo to remember the day for years to come. That's not all! Invitations, face painting, and party bags are also included in the price!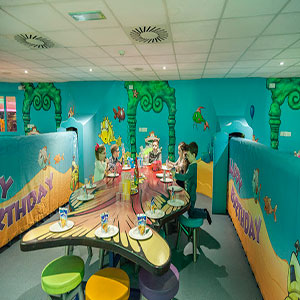 Funtasia Party Options
Waterpark Party
Play Area Party
Teen Video Game Party
Pottery Painting Party
Stuff A Bear Party
Bowling Party
Climbing Wall/ Crazy Golf
Ultimate Sky Climb Party
Disco Party Plus Karaoke
To Find Out More About Funtasia Party Packages and Bookings
School Tours Funtasia Theme Parks
School tours at Funtasia Theme Parks are guaranteed to provide your school with a range of activity options. The wide range of activities are challenging, socially stimulating and full of excitement for children of all ages at unbeatable affordable prices.
Funtasia provide discounted packages for both school tours and large groups. Their entirely indoor facility means that the temperamental Irish weather can't ruin your School Tour or Group outing.
So, rain or shine you'll be fine !
For more information and enquirers on School Tour Packages please contact them Tel. 041 989 8000
Funtasia Theme Park Opening Times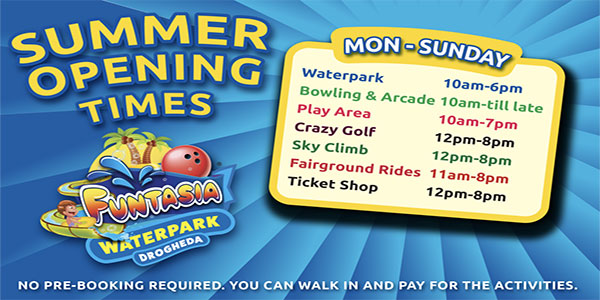 Funtasia opening time guide means you will always arrive to them being OPEN!
Please check before making your trip to avoid any disappointed little faces.
To Find Out More About Funtasia Theme Park Opening Times
Funtasia Theme Park Admission
Find Admission Pricing and Online Booking:- You can book on line here through our booking link directly to the Funtasia Theme Park ticket sales
How To Get To Funtasia Theme Park
From Dublin
Join the M50 northbound. Continue on the motorway through the toll plaza. Pass Blanchardstown, Finglas and Ballymun exits. Take exit marked for Dublin Airport and M1 northbound. Continue on the M1 through the toll plaza. Take exit 9 marked Donore. At the roundabout take the 3rd exit. Continue straight until you reach Lidl. At this junction take a right turn. Take the next left turn and arrive at Funtasia Theme Park on your left.
From Dundalk
Join the M1 motorway signposted Dublin. Continue to exit 9 marked Donore. At roundabout take the 1st exit. Continue straight to until Lidl. At this junction take a right. Take the next left and arrive at Funtasia Theme Park on your left.