Galway Aquarium
Explore Galway Atlantaquaria and discover the diversity of life in our oceans, rivers, lakes and canals.
Learn about the wonderful and varied species and their habitats.
Be inspired to play your part in protecting our shared planet.
Before your visit, here is a taste of just some of the exhibits that are waiting for you to explore and experience.
From the sharks that swim in our seas to freshwater fish that glide along our rivers and under the surface of our tranquil lakes, not to mention the colourful and exotic creatures from warmer climates – there is so much for you to encounter on a visit to Galway Aquarium.
They can't wait to welcome you to Galway Aquarium!
A great experience for families and children of all ages.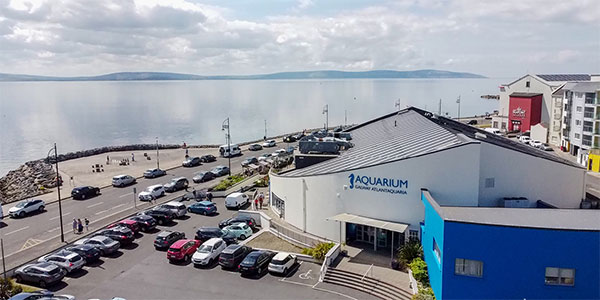 Galway Aquarium is located along the Wild Atlantic Way in Salthill, just a short distance from the heart of Galway City.  Experience an educational, engaging, and fun visit for all ages, fully accessible, where exhibits are designed around our animals and our visitors. With Free parking onsite, lots of local amenities, an all-weather attraction located on the famous Salthill Promenade
Welcome to Galway Atlantaquaria – Engage – Educate – Inspire
For over twenty years, the Aquarium has developed a unique culture of education, conservation, and celebration of the diversity of life in our rivers, lakes and ocean. It is this history and experience that can be felt by every visitor to the Aquarium, a connection to the sea & in most cases a reconnection with nature.
Find out more about all you need to plan your visit at their website
Featured Exhibits Include:
• Fin Whale skeleton (2nd largest whale in the world)(18 metres / 60 feet long).
• The SPLASH!
• Wreckfish from the depths of the Atlantic Ocean.
• Biodiversity zone, with colourful fish species from Africa and South America.
• Huge Ocean Tank (featured in the film "The Guard" & Fáilte Ireland's #KeepDiscovering campaign 2020).
• The Bearna Log Boat Exhibit over 5000 years old!
• Conger Eels, skulking in the dark, waiting to strike unwary prey.
• Freshwater zone depicting the life found in our rivers and lakes.
• Movie stars, Nemo & Dory (if you can find them).
Take A Tour Of Galway Aquarium
Talks throughout the day include the Big & Small Fish Feeding Experience tours. Our Staff are always on hand to assist and answer questions.
During weekends and school holidays, there are guided tours and talks from 11.00 to 17.00.
Family Fun Tip: Remember, Galway Aquarium showcases many species that like to hide, see if you can find them all!
Galway Aquarium Exhibition
The Aquarium is home to a range of freshwater and marine exhibits, including the Tropical Zone, Freshwater Area, Estuary Tank, Ray Pool and The Ocean Tank. This last exhibit is probably the most popular experience in the Aquarium, offering time to sit and watch a range of Ireland's marine life, while also providing a wonderful photo opportunity with family and friends. With more than 100 species from our rivers, lakes, and ocean, over two floors of exhibits, there is always something new to see.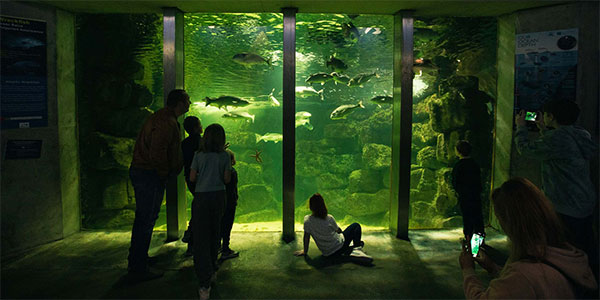 The Galway Aquarium is an EAZA and BIAZA accredited institute. It has a collection of over 100 species from our rivers, lakes, and ocean. With two floors of exhibits there is always something new to sea.
Galway Aquarium Opening Times
 Monday to Friday – 10.00 to 17.00
 Saturday and Sunday – 10.00 to 18.00
Last admission 45 mins before closing time every day. See our website for the most up to date opening times when you are planning your visit.
Galway Aquarium Admission:
For most up to date admission fees, please see their website.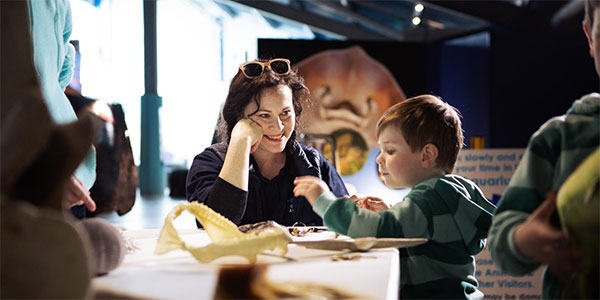 Educational Opportunities with Galway Atlantaquaria
From school tours to virtual classrooms to community events and corporate team building, their range of education and outreach initiatives has something for visitors of all ages and abilities.
They deliver in-house education, and outreach and are part of a number of school programmes including SFI Curious Minds, and the Explorers Education Programme, funded by the Marine Institute.
They have experience in delivering teacher and pre-service teacher workshops the Explorers and the Junior Cycle for Teachers, and working with the Aistear Curriculum.
Galway Atlantaquaria is part of the BIAZA and EAZA networks, and are the current secretariat of the Irish Ocean Literacy Network, working towards an Ocean Literate society on the Island of Ireland.
Passionate about conservation, education, and our ocean, they are happy to explore collaborations and work with 3rd party organisations on workshops, recordings, content development and educational deliverables.
For more information on their range of education workshops and opportunities see their website.
THE VIRTUAL AQUARIUM
Did you know Galway Aquarium have a new 'Virtual Aquarium Tour' available for families and schools?
Through 6 engaging episodes, they investigate a range of themes from freshwater habitats to ocean connections and care. Each episode finishes with a quiz to test and challenge the learner's knowledge at the end. Free accompanying worksheets are available covering a range of cross-curricular links in both English and As Gaeilge.
For just €40 your family or class can have access to all 6 episodes for one month plus accompanying worksheets. Class groups can also request an online Q&A session with one of our Education Team to complete their experience.
The tour is suited for children between 6-14 years.
Follow the link to rent the series for your home or class today Virtual Aquarium
Galway Aquarium Directions
Galway Aquarium is located on the Seafront Promenade of Salthill, the heart of the Wild Atlantic Way, overlooking Galway Bay.
Easily accessible by public transport from the city centre, there is plenty of free car parking available within the aquarium complex and, at busy times, an overflow car park is available.
Atlantaquaria is a 30-minute walk or a 10-minute cycle from the centre of Galway City (Eyre Square). Bike Parking is available within the aquarium complex.
They are looking forward to welcoming you to 'sea' the Aquarium soon.