Name:
National Aquarium of Ireland
Address:
The Prom, Salthill, Galway
Tel.:
091 585100


Please mention Family Fun when booking!
Galway Aquarium
Galway Atlantaquaria, Ireland's largest native species aquarium. An EAZA accredited Aquarium that celebrates education, awareness and conservation of our ocean and life under water. Enjoy learning about our native sharks, rays, and crustaceans, as well as other unique species.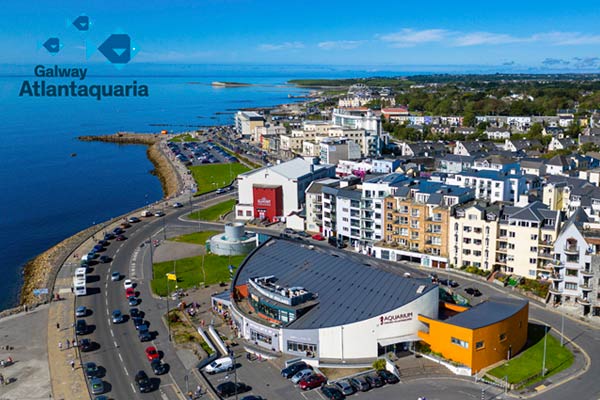 An educational, engaging, and fun visit for all ages, fully accessible and all exhibits designed around the visitor. Free parking, lots of amenities and an all-weather attraction located in the heart of Salthill, Galway City.
The Ocean Experience & Connection to the Sea
For over twenty years, the Aquarium has developed a unique culture of education, conservation, and celebration of the diversity of life in our rivers, lakes and ocean. It is this history and experience that can be felt by every visitor to the Aquarium, a connection to the sea & in most cases a reconnection with nature.
Featured Exhibits Include:
• Fin Whale skeleton (2nd largest whale in the world)(18 metres / 60 feet long).
• The SPLASH!
• Wreckfish from the depths of the Atlantic Ocean.
• Biodiversity zone, with colourful fish species from Africa and South America.
• Huge Ocean Tank (featured in the film "The Guard" & Fáilte Ireland's #KeepDiscovering campaign 2020).
• The Bearna Log Boat Exhibit over 5000 years old!
• Conger Eels, skulking in the dark, waiting to strike unwary prey.
• Freshwater zone depicting the life found in our rivers and lakes.
• Movie stars, Nemo & Dory (if you can find them).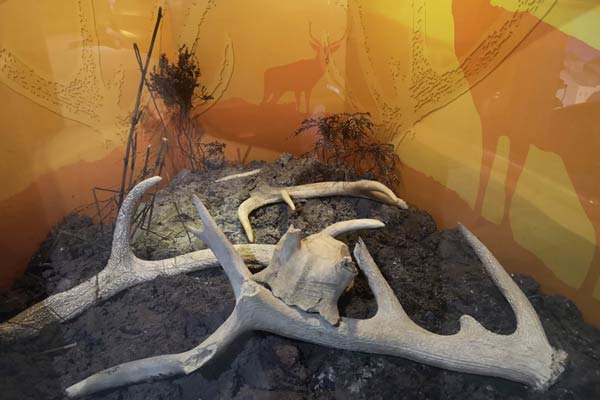 Take A Tour Of Galway Aquarium
Talks throughout the day include the Big Fish Feeding, Rock Pool tours, Fresh water Fish Feeding. Staff are on hand at all times to assist and answer questions.
During  weekends and school holidays there are guided tours and talks at from 11.00 to 17.00.
Family Fun Tip:– Remember, your ticket is valid all day, so you can come back for any tour throughout the day!
Galway Aquarium Exhibition
The Ocean Tank is probably the most popular experience in the Aquarium offering wonderful photography moments with family and friends.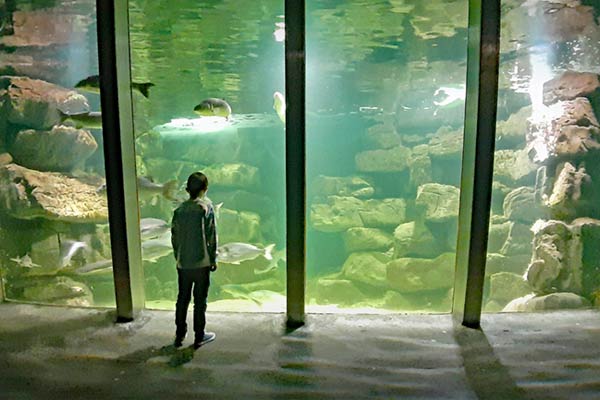 The Aquarium is an EAZA and BIAZA accredited institute. It has a collection of over 100 species from our rivers, lakes, and ocean. With two floors of exhibits there is always something new to sea.
Galway Aquarium Opening Times
Monday to Friday         –   10.00 to  17.00
Saturday and Sunday   –   10.00 to 18.00
Please note that Christmas season opening and closing times changes for the holidays.
Last admission 45 mins before closing time every day.
Galway Aquarium Admission:
For most up to date admissin fee, please see their website.
Educational Opportunities with Galway Atlantaquaria
Our education team are experts in the field of marine education, combining over 20 years of experience, always upskilling in CPD and very friendly in their approach to education.
Our Educational Team have over 20 years' experience in Ocean Literacy, Outdoor Learning and Virtual Workshops.
We deliver in-house education, outreach and are part of a number of school programmes includes Discover Primary Science and Maths, and the Explorers Education Programme, funded by the Marine Institute.
We have experience in delivering teacher and pre-service teacher workshops with DPSM, the Explorers and the Junior Cycle for Teachers, and working with the Aistear Curriculum.
We are part of the BIAZA and EAZA networks, and are current secretariat of the Irish Ocean Literacy Network, working towards an Ocean Literate society on the Island of Ireland.
We are passionate about conservation, education, and our ocean, and are happy to explore collaborations and work with 3rd party organisations on workshops, recordings, content development and educational deliverables.
Contact [email protected] for enquires.
THE VIRTUAL AQUARIUM
Virtual School Tours
Did you know we have a new 'Virtual Aquarium Tour' available for schools?
Through 6 engaging episodes we investigate a range of themes from freshwater habitats to ocean connections and care. Each episode has a quiz to test the learner's knowledge at the end. Free accompanying worksheets are available covering a range of cross curricular links, helping students build on what they have learned. These worksheets are available in English and As Gaeilge.
For just €40 your class can have access to all 6 episodes for one month plus an online Q&A session with one of our Education Team.
The tour is ideally suited or children between 6-14 years.
Email [email protected] to rent the series for your class today.
Discover Primary Science & Maths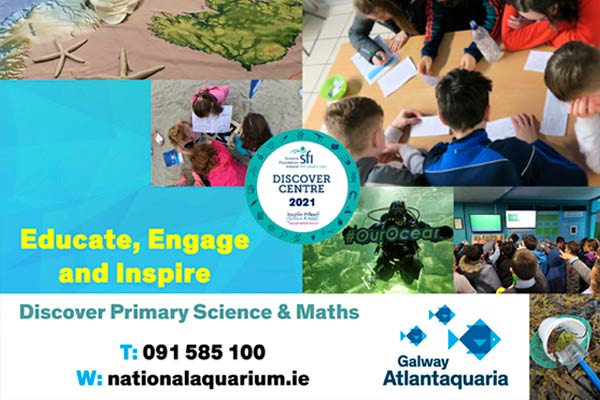 The education team have collected a number of teaching methodologies including games, activities and more. The versatility of these learning themes ensure education is visual, audible, read/write and kinetic.
Our DPSM Workshops include a tour of the aquarium plus any of the following options:
1. Science Experiments: Bring Science to life in our Explorer's Laboratory.
2. Animal Anatomy: Learn about the characteristics of living things and take part in a squid dissection.
3. Seashore Safari: Take a trip to our local shore, Grattan Beach to learn about Galway's seashore life.
4. Explorers Maths Workshop: Celebrate Maths with your students by carrying out an Explorers Maths workshop.
5. Engineering Trial and Workshop: The workshop includes a guided tour of the aquarium, with an integrated engineering trail, designed in association with STEPS engineering and SFI Discover.
Contact us today to talk about booking your visit. And while you are waiting check out lots of fantastic resources for Science, Technology, Engineering, and Math's at the DPSM website STEM at Home
Galway Aquarium Directions
Galway Aquarium is located on the Seafront Promenade of Salthill, the heart of the Wild Atlantic Way, overlooking Galway Bay.
We look forward to welcoming you to 'sea' the Aquarium and enjoying your experience.