Dates:
From Friday, 25th of October 2019 to Thursday, 31st of October 2019
Venue:
Carlingford Adventure Centre
Address:
Thosel Street Carlingford Louth
Tel.:
+353 42 9373100


Please mention Family Fun when booking!
Carlingford Adventure Centre
Carlingford Adventure Centre is set  against the natural beauty of a true medieval Irish coastal town Carlingford in Co. Louth. Carlingford Adventure Centre's facilities, providing visitors with the perfect mix of character and modern comforts. With over 20 fun filled water and land based outdoor activities designed to challenge and reward all ages and abilities. The ideal location of the Carlingford Adventure Centre situated almost exactly half way between Belfast and Dublin, the temperate climate and the safety of the Harbour within which to run the Water sports facility, coupled with the recent acquisition of the old quarry along with almost 10 acres of forest, make the Centre ideally placed to cater for all manor of groups and individuals alike. Carlingford Adventure Centre lets you experience action packed adventure holidays in Ireland that you'll talk about for a lifetime.
Carlingford Adventure Centre offer an extensive range of exciting outdoor adventure activities ideal for tiring the kids out for a Day or Week, a Family Adventure Holiday in Ireland or just to try something New!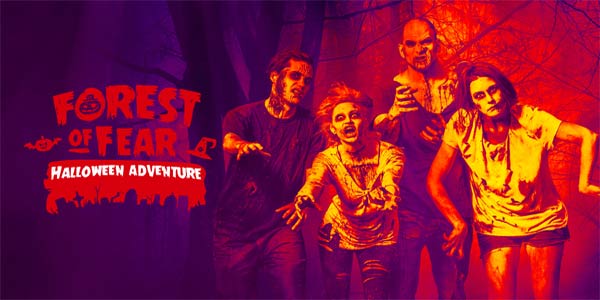 Forest of Fear – Halloween Adventure
25th October – 31st October; 6pm – 9pm
The difference with other Halloween events is that they don't just dress up like clowns and scare the life out of people… visitors also get to do cool adventure activities like laser combat, a night zipline over a quarry, axe throwing and more!
This event gets scarier as the evening progresses, there are 4 slots starting at 6pm for family fun, progressing to Scary at 7pm, and rounded off with Dead Scary at 8pm and 9pm.
Adventures last between 1.5 and 2 hrs and are €10pp for family fun, €20pp for the scary events. Transport to and from the forest is included as well as toasted smores to round off the evening.
Direction To Carlingford Adventure Centre in Co. Louth
Travelling From The South
Follow for M1 Dublin to Belfast route; take Exit 18 (Dundalk North) signposted Carlingford. Follow signs for Carlingford and continue on this road (R173) for approximately 1o miles. Then take the sign posted left hand turn to Carlingford (R176) Cooley Inn Pub is on your right. On arrival at Carlingford sea-front, take the second turn on your left (between the Tourist Office and tennis courts). Then take next left (immediately past Darcy Magee Monument) – this will bring you to the Tholsel car-park. Walk through the Archway to Tholsel Street. Carlingford Adventure Centre is situated on Tholsel Street (pedestrianized) beside the Mint medieval Townhouse.
Travelling From The North 
When coming from Northern Ireland – follow the signs to Newry, travel along the front of the Quays Shopping Centre. Turn left to take the canal road south (B79) to Omeath and continue to Carlingford –Aprox.10 miles.On arrival at Carlingford sea-front, take the second turn on your right (just past the Tennis Courts). Then take next left (immediately past Darcy Magee Monument) – this will bring you to the Tholsel car-park. Walk through the Archway to Tholsel Street. Carlingford Adventure Centre is situated on Tholsel Street (pedestrianized) beside the Mint medieval Townhouse
Directions for buses:
It may be difficult to negotiate the Darcy Magee Monument left-hand turn. It is advisable, on arrival at Carlingford, to park on the main road opposite the sea-front -at the "Green".You can then walk to the Centre, travelling through the Sea-front car-park, Tholsel car-park and through the Tholsel Archway