Name:
Hookless Holiday Homes
Address:
Houseland, Fethard on Sea, New Ross, County Wexford.
Tel.:
+353 51 44 11 30


Please mention Family Fun when booking!
Hookless Holiday Homes Self Catering Homes in Wexford
Hookless Holiday Homes are located in a picturesque holiday village set on the amazing Hook Peninsula, overlooking the Hook Lighthouse.
Hookless Holiday Homes are the perfect location to explore the very best that Ireland has to offer.  Within minutes of Hook Lighthouse and Loftus Hall, only 2 hours from Dublin and within 1 hour of Wexford, Waterford & Kilkenny.
The Hook Peninsula is also perfect for the more adventurous with sea kayaking, kite surfing and coasteering to name just a few of the many activities on your doorstep.
Hookless Holiday Homes are the perfect location for your family break. Situated on a private 5 acre site, they offer seclusion while being in a village setting.  Only a short walk from Sandeel bay where you can take a dip in the sea, explore the rock pools or simply enjoy the peace & tranquility of one of Ireland's best kept secret beaches.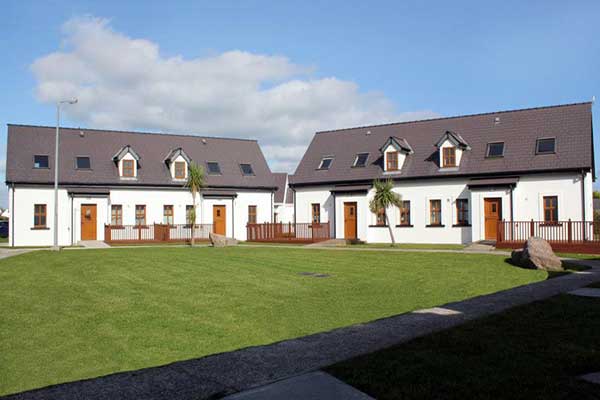 Hookless Holiday Homes Family Accommodation
Outstanding accommodation, with their luxury 3 bed houses sleep up to 6 people. They are bright and airy comprising of 2 bedrooms upstairs with walk in wardrobes and 1 bedroom downstairs, all en-suite. Bedrooms are double and twin depending on your needs. Downstairs includes a bright kitchen/diner in a conservatory setting with double doors leading outside. Kitchens are equipped with all mod cons. The large sitting room includes leather furniture and a wood burning stove/fireplace. Decking surrounds the front and back for those relaxing sunny evenings
Facilities on site include a children's play area, a full size football pitch, a basketball court and a barbecue area with picnic benches overlooking Sandeel Bay.
Booking Online:- You can book on line here through our booking link directly to the Hookless Holiday Homes  
Hookless Holiday Homes, Wexford
County Wexford is the cornerstone of Ireland's Ancient East and Hookless Holiday Homes are the ideal place to base your family holiday.  Though there is an absolute wealth of things to do on the Hook Peninsula itself, you will also find yourselves perfectly located to spend the day at any of County Wexford's many attractions or even spend the day instead in either of the Southeast's medieval cities – Waterford or Kilkenny.