Hotel Westport For Family Breaks
Four-star Hotel Westport offers all its guests tasteful, comfortable accommodation in beautifully furnished rooms, as well as luxurious spa experiences, a range of kids' clubs, fine dining and plenty of entertainment. While situated in the heart of Westport town, Hotel Westport is the only hotel located on the grounds of Westport House giving guests unrivalled access to the estate's many charms, 3.5 km riverside and woodland trail.
The ambience of Hotel Westport, together with the genuine friendliness of the staff and the people of Westport will prove to be an excellent family choice.
Family Friendly Deals
Find out all about the Hotel Westport Family Packages and Special Offers
Hotel Facilities for Families
If you are looking for a fun family holiday, look no further than Hotel Westport.
Located in 400 acres of parkland, lakeland and woodland in the heart of Westport Town, close to the sea and the Great Western Greenway, AND just a 5 minute walk to our attraction Westport House, this treasure trove of family fun and is only a hop, skip and a jump away in the grounds of our 400 acre Westport House Estate!
Everything about Hotel Westport is designed with Families in mind. From fabulous family- friendly accommodation, to their restaurants, family bush camp, leisure centre, baby listening service and travel cots allowing you to spend quality and fun-filled times together.
Hotel Westport Family Bush Camp
Family Bush Camp will be run by their retired 25 year Army Sergeant and U.N. Peacekeeper, Patsy, who will show families how to source water and firewood, light a fire outdoors, build a shelter, cook outdoors, navigation skills, camp housekeeping, identify native trees and birds, protect yourself from the elements, forage and more.
There will a daily session for up to 15 families at a time. The camp will take place in our beautiful woodlands and so you are encouraged to dress for the weather.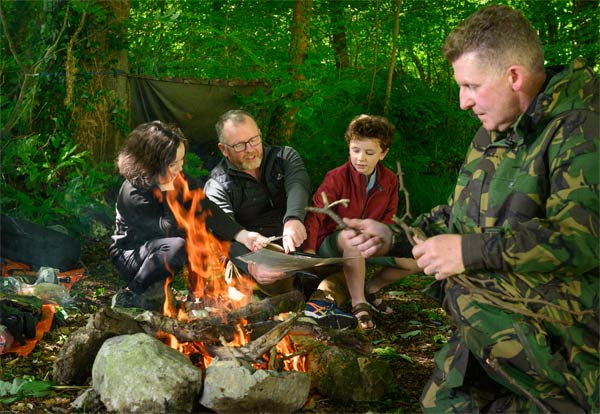 Bike Hire
Why not Hire a Bike from Clew Bay Bike Hire and pick it up right by the hotel? Simply reserve it on arrival and pay Clew Bay Bike Hire direct. The team have put together an exclusive 10k family-friendly loop through estate to Westport Harbour, returning to town on the Railway Walk, crossing over to Knockranny Woods to Aittireesh and return through estate back to the hotel. Did you know that Clew Bay Bike Hire also offer guided kayaking?

Evening Dining
In the evening, families will dine in the very socially distanced Cara Suite. The owner and head chef of Cian's on Bridge Street, Cian Hayes, will be opening a pop-up restaurant experience in Hotel Westport this summer: Cian's at Hotel Westport. Bringing a unique take on the menu ordinarily served at his award-winning restaurant to Hotel Westport, the pop-up will take advantage of the large space available in the hotel so guests and locals alike can enjoy a remarkable dining experience in comfortable and socially distant surrounds.
Diners can expect to enjoy the best in locally sourced ingredients with bespoke dishes that are bursting with flavour and Cian promises to have some healthy and delicious choices for the kids too.
Looking for something a little more casual? Gracy's Pizzeria and Bistro is based in the farmyard of the Westport House Estate – about a 10-minute walk through the beautiful 400-acre estate, we are lucky enough to call our back garden. You won't want to miss some of the best Stone Fire Pizza around and some other family favourites.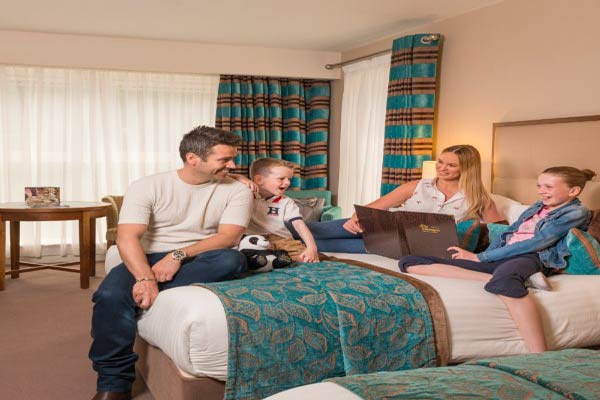 Hotel Westport Family Accommodation
Enjoy all the comforts of home and more in any of the 129 bedrooms in Hotel Westport. Crisp white linen, hypoallergenic pillows and duvets as standard, each room has Wifi, TV, tea-coffee making facilities, iron and ironing board, trouser press and hairdryer.
Hotel Westport was among only a handful of properties countrywide in 2019 to receive the IASI (Irish Accommodation Services Institute) Gold Standard for Excellence in facilities management, cleanliness, hygiene and presentation in the Accommodation Department and across all public areas.
Unique to Hotel Westport is the Anti-Allergy Room, not compromising on style or luxury, the only difference on first glance is the solid wood floor. Fabrics are specifically made to contain a 'catalytic type' system to draw in impurities and clear the air. Ideal for someone with asthma or allergies, available at an extra cost.
Family Rooms
Standard Family Bedrooms are bright, airy and classically styled.
Room types include:
Family Room with 1 double bed and 2 single beds – limited availability (can also accomodate 1 camp bed or 1 cot as required)
Family Room with 1 double bed and 1 single bed (can also accomodate 1 additional camp bed or 1 cot as required)
Interconneting Rooms (each room comprising of a double bed and single bed, can also accommodate a camp bed)
Wheelchair Accessible Rooms
Premier Family Rooms offer a bit of luxury and contemporary styling with bespoke walnut furniture and large Italian marble bathrooms with bath and walk-in showers as standard. Premier bedrooms offer the same as the Standard room plus the following facilities:
Flat Screen Plasma Satellite TV
24 Hour Room Service
Beverage Cooler
Air Conditioning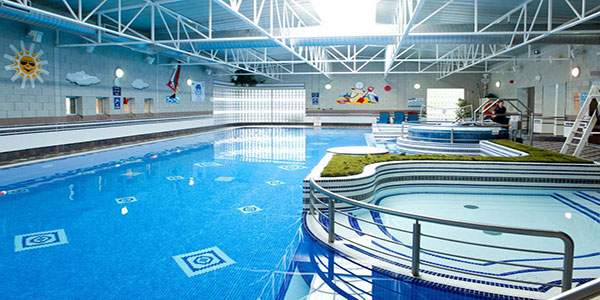 Hotel Westport's Ocean Spirit Leisure
Has been accredited with the White Flag award 5 years running. This is an environmental and hygiene award representing the dedication to achieving higher standards.
Splash time sound good to you? Us too. Pool Time must be reserved and up to 10 people will be allowed in the pool at a time for up to 45 minutes. You are asked to change in your bedroom and bring a robe to wear to and from the pool.
Leisure facilities
• 20m Swimming Pool
• Swimming Lane
• Lounger Pool
• Children's Splash Pool
• Jacuzzi
• Jet Stream
• Sauna
• Steam room
• Sunbed room
• State of the art Gymnasium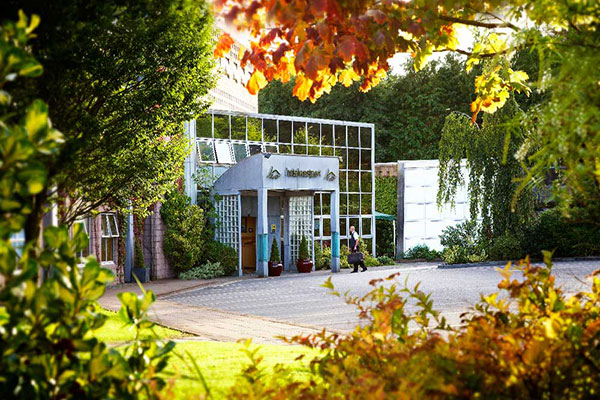 Adventure Park
A Treasure Trove of Family Fun and Winner of Best Family Visitor Attraction* in Ireland.Do you want a variety of things to do to excite the whole family? Looking for an experience that you'll all cherish for years to come? Look no further!
The Pirate Adventure Park and children's attraction will remain closed for 2020 following the Covid-19 Lockdown. We look forward to more adventures with you in 2021!