Dates:
From Wednesday, 15th of March 2023 to Sunday, 19th of March 2023
Venue:
St Patricks Festival
St. Patricks Festival in Kilkenny 2023
After hosting our biggest Parade ever in 2022, we are delighted to return once again for our Kilkenny City Parade in 2023. The centre of this year's 5 day festival, the St. Patrick's Festival Kilkenny Parade, promises to be a fantastic community event celebrating the creativity of Kilkenny and all things Irish. Community groups, organisations and performers will use their imagination and talents to come up with an entertaining and engaging Parade.
This Year's theme is Legends and Stories
Drawing from the past, the present and the future, participants are asked to tap into the stories that are most important to them. These can involve stories from your local communities or group history, larger than life figures, episodes from the city and county's history and folklore, or stories straight from your imagination! Storytelling is a core part of Irish culture and heritage. From Celtic myths and legends, to great Irish writers, the stories we tell through songs and the tales we exchange with friends. Rich in history, Kilkenny has many stories of it's own.
At this year's St. Patrick's Day Parade participants are encouraged to tell their own stories literal, imagined and legendary!
The Kilkenny St. Patrick's Day Parade will take place on Friday the 17th March at 1.30pm.
The Parade Route: John Street, Rose Inn Street, The Parade (Review stand), High Street, Market Yard (finishing/collection point).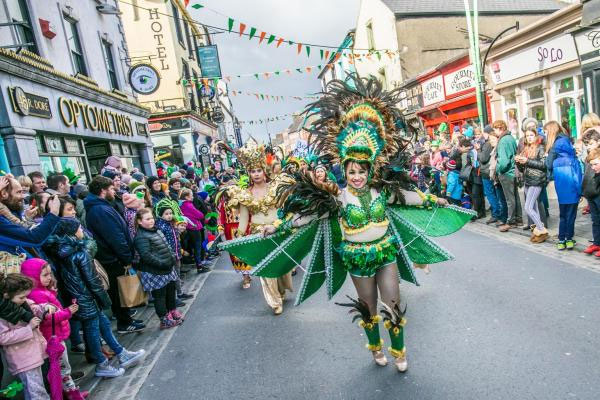 15th March Wednesday

10.30am  An Cailín Ciúin  – Movie Screening
4pm – American Marching Bands – The Purdue Marching Band and the Mountain West Conference All-Star American Marching Band.
The Big Wheel – birdseye views of the city throughout the festival  11am – 6pm
Vintage Carousel –  beautiful carnival ride throughout the festival  11am – 6pm
16th March Thursday

Festival Market on the Mayor's Walk
11am – 6pm       Thursday 16th – Sunday 19th March
1pm – 5 pm   Street Entertainment – Stiltwalkers, Unicyclist, Juggler
7.30pm The Banshees of Inisherin – Movie screening

8pm Pop-Up Gaeltacht – Seachtain na Gaeilge

The Big Wheel – birdseye views of the city throughout the festival  11am – 6pm
Vintage Carousel –  beautiful carnival ride throughout the festival  11am – 6pm
17th March   Friday

10am – Pre Parade Party at McDonagh Junction
Festival Market on the Mayor's Walk
11am – 6pm       Thursday 16th – Sunday 19th March
1.30pm ST PATRICK'S DAY PARADE Weaving stories through the street of Kilkenny
1pm – 6pm  The Big Community Drum with Fuinneamh
3pm – The Hit Machine on the Festival Stage
3.30pm – Karbunklis Latvian Dancers
4pm – Reel to Reel live local music on the Festival Stage
4.40pm – Hakuna Matata street acrobatic show
Mr Boom's Drum Show – with Drum Dance Ireland
The Big Wheel – birdseye views of the city throughout the festival  11am – 6pm
Vintage Carousel –  beautiful carnival ride throughout the festival  11am – 6pm
7pm –  Fireflame Family Street Entertainment Show
8pm – Kilfenora Céilí Band at the Watergate Theatre
18th March Saturday

Festival Market on the Mayor's Walk
11am – 6pm       Thursday 16th – Sunday 19th March
12.30- Marist High School Marching Band from Chicago
1.30 – Bishop Moore High School Marching Band from Florida
Mr Boom's Drum Show – with Drum Dance Ireland
1pm – 6pm  The Big Community Drum with Fuinneamh
The Big Wheel – birdseye views of the city throughout the festival  11am – 6pm
Vintage Carousel –  beautiful carnival ride throughout the festival  11am – 6pm
The Absurdist Pipe Band – clowning around the streets of Kilkenny
FunkyFi – chinese pole show
8pm – Fireworks Display -lighting up the skies
8pm – Scullion in Concert
8pm – Céilí -with the Tulla Céilí Band
19th March Sunday
Festival Market on the Mayor's Walk
11am – 6pm       Thursday 16th – Sunday 19th March
The Big Wheel – birdseye views of the city throughout the festival  11am – 6pm
Vintage Carousel –  beautiful carnival ride throughout the festival  11am – 6pm
The Absurdist Pipe Band – clowning around the streets of Kilkenny
1.45pm – Kilkenny v Waterford Allianz National Hurling League Match
Find out more about St Patrick's Festival Kilkenny