Name:
Killruddery House and Gardens
Address:
Bray Co. Wicklow
Tel.:
+353 (0)1 2863405


Please mention Family Fun when booking!
Killruddery House And Gardens
Killruddery; the world renowned gardens and house. Set in 850 acres of working farm and protected bio-diversity, cared for and lived in by the same family for 400 years. Living History on Dublin's doorstep. Just 30 minutes from Dublin's City Centre. 
This Year marks the 400th anniversary that Killruddery has been seat of the Brabazon Family, Earls of Meath. The historic Gardens have become the best surviving example of a formal 17th Century Garden in Ireland . 
Killruddery has been used as a location for films such as My Left Foot, Far and Away, The Tudors, Becoming Jane and most recently The Turning.
Killruddery often described as a wonderful place to escape for a great family day out. Conveniently located on the outskirts of the capital where Dublin meets Wicklow here's your opportunity to discover a hidden gem in our midst. There's so much to see and explore.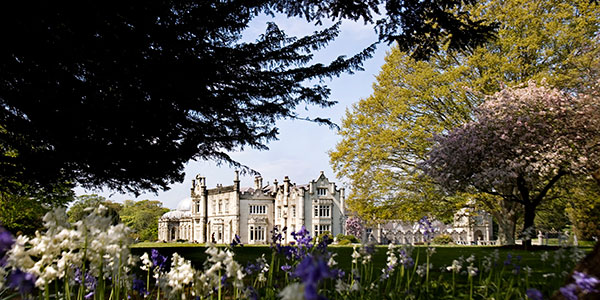 Killruddery House
Home to the Brabazon Family (the Earls of Meath) since 1618 Killruddery House is the most successful Elizabethan-Revival mansion in Ireland and also one of the earliest. In the 1820s the 10th Earl engaged the fashionable architects of the day – Richard Morrison and his son William – to remodel Killruddery. In the 1950s the house was greatly reduced to its present day proportions, but much of the Morrisons' design and architecture still remain.
Killruddery Garden
The Gardens are the oldest in Ireland still surviving in their original 17th century unique style together with 18th and 19th century additions. The Gardens were designed for the entertainment of a large number of people and therefore the scale is comparable to that of a park. The Gardens should be regarded as mainly the work of the 4th and 6th Earls. A French Landscape architect named Bonet, a pupil of Le Notre, was known to have been employed by the Earl of Meath in 1682.
Family Fun Tip:-
The Gardens contain many water features and it is vitally important that visiting children are supervised at all times.
The Management takes no responsibility for loss or damage to visitors' vehicles or personal effects.
They reserves the right to refuse entry or to ask visitors to leave if a nuisance is caused.
Killruddery Tea Room
The Tea Room is located within the gardens and is open whenever the Gardens are. Nestled below a south facing wall in the Gardens The Tea Room serves simple and delicious food from the Walled Gardens and Farm, delicious home-made cakes, great local coffee and drinks.
Killruddery Events
Killruddery House and Garden hosts weddings, corporate events and private parties.
Hosting an event in Killruddery is a real experience and to enquire please email: [email protected]
Killruddery offers a full programme of events catering for all ages and many interests with a series of Garden, Family, Wellness and Arts and Heritage Events
Check whats on at  Killruddery Garden And House
House and Garden Opening Times
Gardens
April – Weekends only, 9.30am – 6pm
May to September – Daily 9.30am – 6pm
October – Weekends only, 9.30am – 6pm
House Tours Daily
Farm Market every Saturday, 10am – 3pm
Access to the house by guided tour only. Guided tours of the house, available in July, August & September daily, 1pm – 4pm or by appointment for groups throughout the year
House and Garden Admission
Garden Entrance Adult €7.50
Garden Entrance with Guided House Tour Adult €14
Concession Garden Entrance Adult €6.50
Concession Garden Entrance with Guided House Tour Adult €12
Garden Entrance Children under 12 €2.00 and children under 4 are free. (All children must be accompanied by an adult)
Garden Entrance & House tour Children: €4.50
Children under 4 are free. (All children must be accompanied by an adult)
Tours for Members (This rate applies to Killruddery Members Only)
House Tour Member: €5
Annual Memberships range from €60 – €100 for between 2 and 6 persons
Killruddery Garden And House Directions
Killruddery is situated 20 kms south of Dublin, just beyond Bray in Co. Wicklow. Take the M50 southbound onto the N11 then take Exit 7, the Bray/Greystones exit and follow signs to Greystones. We are on the right near the end of the Southern Cross road leading from the N11 to the Greystones Rd.
(Sat-Nav 53.184907, -6.102392)