Kylemore Indoor Karting
Kylemore Karting, Ireland's Premier Karting Arena, is situated in Dublin 10 which is just 5 minutes from the M50 (J9) and approximately 15 minutes from the City Centre. It is renowned as Ireland's largest indoor karting arena, with 3 spectacular multi-level tracks. Combine this with a brand-new digital timing and online booking system, top class customer service and global industry leading Sodi Karts, a race at Kylemore Karting is sure to be fun, exciting and adrenaline filled.
Go-Karting is a fun, thrilling and exciting activity for people of all ages. Not only is go-karting enjoyable – it is also safe. At Kylemore Karting, your safety is their priority – their fully trained race team, industry leading karts and track designs allow them to put your safety first and offer a fun and exciting karting experience for kids over 9 years old
Kylemore Karting is 100% indoors, so you need not worry about the rainy Irish weather effecting the race.
Together with a fully trained race team – the perfect formula for the ultimate Grand Prix experience
Kylemore Karting Online Booking
Pre-booking is essential to reserve your preferred time on the track,  by emailing [email protected] or by phoning the booking line on (01) 6261444 where a member of the team will be happy to help
Booking Online:- You can book on line here through our booking link directly Kylemore Karting – go to 'Book Now'  on this page.
Families at Kylemore Karting
Kylemore Karting has fun for all the family
At Kylemore Karting they use the industry leader Sodi Karts on their tracks and for children provide junior LR5 karts. The  junior karts are suitable for children aged from 9 and up, and above the height of 137cm
Will Mum get one over on Dad? The fully trained race team will make sure all the family can enjoy a safe and enjoyable driving experience. They provide all race gear and full safety briefing.
The karts and tracks are built with safety at the forefront of design and production. Before setting off, there is a mandatory safety briefing which all drivers must watch. This will explain how easy it is to drive the karts and all the safety measures that all drivers should take into consideration.
The Speed Screens will allow parents to track results from each race while they relax in the Mondello Lounge – where they can have tea or coffee from the Coffee Stop or play some pool while they watch on. There are also plenty of opportunities to snap some pics from track level, from above on the walk-way or on the podium after the race. Our track marshal team will always be watching to ensure things are running smoothly and that everyone is having a blast.
Time Trial Sessions
The Time Trial Sessions are an ideal way for the family to get to drive on one of the 3 Tracks. Ranging from 15 – 30 minutes. Includes: full race equipment, safety briefing and race report.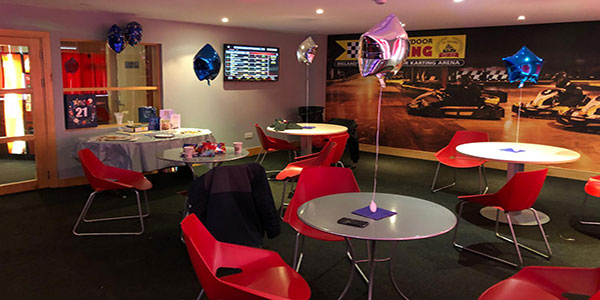 Kylemore Karting Kids Birthday Parties
All packages include: Comprehensive safety briefing, full race equipment, a podium presentation and a special surprise for the birthday boy/girl.
After the the podium presentation and the birthday boy/girl receives their suprise.
Dominos Pizza have been delivering food here at discounted rates for their customers for a number of years now and it always goes down a treat! They offer any large pizza delivered  for just €11 per pizza. That's up to a whopping 50% off!
The Chequered Flag Lounge is available to use for up to 30 minutes after the race for a party at no extra cost for food and cake.
Junior rates are available for children's parties. Give us a call on (01) 6261444 to find out more
Kylemore Karting for Schools
They offer a reduced rate on race events for Students & School kids. Rate available Mon – Fri 10am-5pm and all day Sunday
Mini Enduro
Think you got endurance? Battle it out over two 20 lap heats to try and claim the coveted race trophy. Reduced student rate available.
Time Trial Sessions
Time Trial Sessions are an ideal way to race on one of our 3 Multi-Level tracks. Drivers get time on the track to set their fastest lap with their performance constantly monitored
Kylemore Opening Times
Open 7 Days – 10am till Late.
They are open till Late 363 days a year, closing only on Christmas Day and St. Stephen's Day!
Note they open at 11am on Bank Holiday Mondays
Kylemore Karting Directions
Kylemore Karting,  is situated in Dublin 10 which is just 5 minutes from the M50 (J9) and approximately 15 minutes from the City Centre
Kylemore Karting is a member of the National Karting Association.