Marie's Paradise Bed and Breakfast For Kids
"Awarded the "Welcome Standard" for the 4th year"
Marie's Paradise bed and breakfast in Garrykennedy, Lough Derg Lakelands, County Tipperary is the 1st ever kid orientated B&B and can accommodate one booking at a time, so parents don't have to worry about kids making noise and getting bad looks from other B&B guests!
For extra safety this year following the Pandemic Marie has completed 2 extra courses in infection prevention and can display Failte Ireland Covid19 Safety charter.
Maries's Paradise B & B for Kids also offer special cancellation policies this season and as long as the pandemic will last.
If you are unwell, don't travel and don't worry you will get your deposit back and/or a suitable change of dates.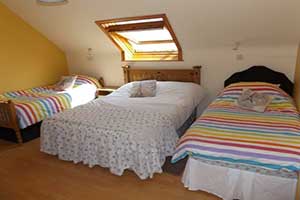 Marie's Paradise  B & B for Kids is dedicated to making their guests feel special, little ones and grownups alike and are able to offer a total family break in the beautiful surroundings set on the shores of Lough Derg in Garrykennedy, a gorgeous spot overlooking the Shannon with all water-related activities, walks and lovely pubs and restaurants within walking distance (extra service of babysitting by a professional child minder) when parents need a break!
With international attractions like Bunratty Castle and Medieval Banquets, the Burren, Cliffs of Moher, Lahinch and Galway, all within easy reach, a visit Marie's Paradise ideal place to take your family on a break for a breath of fresh air for a weekend or the best base in the Shannon region to visit Ireland.
Marie's Paradise family bed and breakfast is registered with Failte Ireland and has been awarded the Welcome Standard in March 2016 for their commitment to Customer Satisfaction.
Front Line Workers and Family Availability
Now that Marie's Paradise can re open they would like to offer availability to our Front Line Workers. First availability will be offered  to nurses, teachers, doctors, carers and all other front line workers. Here you will find beautiful surroundings, the breath of fresh air and family bonding times. They accommodate one household at a time so no cross contamination, physical distance is adhered to and normal Covid protection is in place.  For the moment the breakfast is laid out as self-help.
Maries's Paradise Family Accommodation

The layout of the house is ideal for the guests and their privacy. Entering the front door brings you straight in front of the stairs which lead to your own private quarters upstairs where you and your family make yourself at home.
The guests have exclusive use of the space upstairs which includes a double bedroom, a family room (with double and 2 single beds) and your own bathroom.
There is a big playroom full with lots of toys for the children to enjoy.*
*Note: According to the Government guidelines during the pandemic, less toys are available and only if they are washable.
Downstairs breakfast is served in the sunny conservatory, overlooking the garden and the Shannon. Kids can play in the garden (parents too, if they behave!!) Nothing stops you either to bring your picnic outside, if the weather allows! Tea and coffee making facilities available at all times. Light snacks can be organized too with a little notice.
Marie's Paradise will offer a self-catering option.
Marie's Paradise Facilities
Facilities at Marie's Paradise include parking on site, possibility of ordering light snacks, laundry service, local information, possibility to organise fishing, hiking or private tours with local providers.
Safety comes first in Marie's Paradise at every stage of your stay, property gates closed when children are playing in the garden, safety gate at the top of stairs, doors & drawers stoppers to avoid pinched fingers and night lights.
They want the house to be family-orientated and as child-friendly as possible, they also understand the need to make a baby bottle or change a nappy at any time day or night but all facilities will be provided for you to do it in your own quarters, in a calm and quiet house.
There is a huge playroom for the rainy days with lots of toys, a great garden where kids can play and pick strawberries in June or apples in August.
The Benefits for you the Parent
Peace of mind that your family is staying in a safe child friendly environment, total relaxation, professional nanny, one booking at a time, unique family experience, no other guests, beautiful surrounding, and baby-sitting.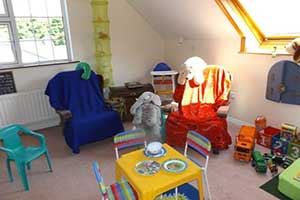 House Rules
No smoking
Not suitable for pets
No parties or events
Check-in time is 3pm – 9pm
About Marie's Paradise Family Bed and Breakfast
Marie's Paradise is run by Marie a registered childminder who is French and her husband Paul is Irish so both languages are spoken at Marie's Paradise and international guests feel very much at home.
They offer you the unique and safe service of professional childcare and the break you need.
Booking Your Family Break
An early booking is always advisable as Marie's Paradise can only satisfy one demand at a time and the more notice they get the more tailor made your stay will be.
Family Fun Tip:-  They also cater for the B&B outside of week-ends, Bank holidays and some special dates, booked & confirmed way in advance..
You can contact Marie for Family Fun Special offers for  week-ends directly on +353 67 23919, 087 9435262 or by email: [email protected]
Free! All children under 2 years stay free of charge in a crib.
The maximum number of extra beds in a room is 1.
Any type of extra bed or crib is upon request and needs to be confirmed by management.
See what they say about Marie's Paradise on Tripadvisor 
"Marie's Paradise Family Friendly Bed and Breakfast"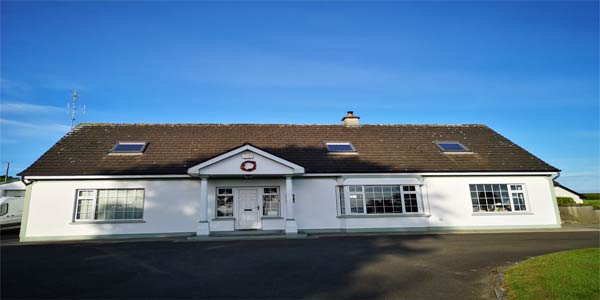 Set on the shores of Lough Derg in Garrykennedy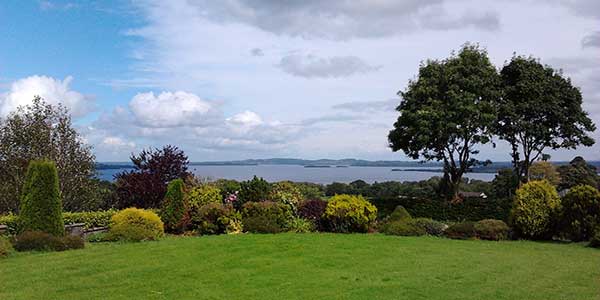 Registered with Failte Ireland