The Maritime Hotel
The Maritime Hotel is located on Bantry Bay in the heart of West Cork making it the perfect family friendly choice for your family break. The hotel is within easy reach of popular activities like Mizen Head, Barleycove Beach, Garnish Island and Dursey Island Cable Car.
The luxurious Maritime Hotel loves nothing more than seeing the whole family smiling and enjoying the comfort and the facilities of the hotel. The atmosphere within the hotel is exceptionally friendly and welcoming and this child friendly hotel creates a fun environment for the whole family so you can enjoy a family holiday at home in a luxury hotel.
The Maritime Hotel offers contemporary accommodation with luxurious bedrooms, featuring one and two bedroom suites which are ideal for families, offering many of the comforts of home in beautiful Bantry.
The hotel offers 110 guest bedrooms which all include free Wi-Fi, an en-suite bathroom and a flat screen TV.
The Maritime Hotel has 2 dining options: the relaxing Maritime Bar and The Ocean Restaurant serving modern Irish cuisine.
Club Maritime and You Time Spa provide guests with a space to escape from it all with a 19m pool, sauna, Jacuzzi, Sauna, Steam Room, Gym and 2 Treatment Rooms
Winter Sale
Discover West Cork this Winter and enjoy up to 20% off on select dates from January to March 2023 at the stylish 4-star Maritime Hotel. Choose from a Double/Twin Room for 2 people, King Room, or 1 Bedroom Suite, with a full Irish breakfast the following morning. Guests can avail of complimentary access to Leisure Centre with a 19-meter swimming pool, children's pool & gym as well as Free WiFi & Free Parking.
For further booking information visit Winter Sale at the Maritime
Family Mid-Term Breaks
The Maritime Hotel is the ideal choice for a relaxing family break with a range of popular family activities on our doorstep such as Dursey Island Cable Car, Garnish Island, Barleycove Beach, and Mizen Head all within close proximity.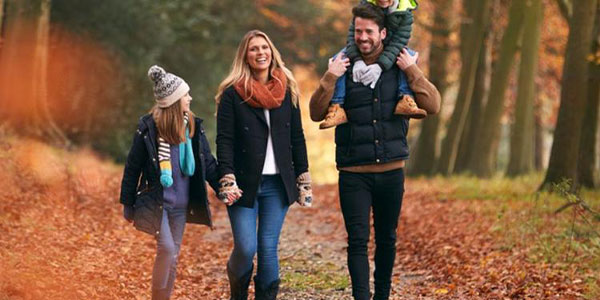 Family friendly facilities at The Maritime Hotel include:
Complimentary use of our Leisure centre with children's pool
High chairs
List of 'what to do' in the area for younger guests
Cots/camp beds
Porter service available for luggage
We can also organise a baby sitter (we require 24 hours notice)
Sensory boxes available upon request from our main hotel reception / Club Maritime reception
Items from the sensory box can also be purchased from our main hotel reception
Family Suites At The Maritime Hotel
The Maritime Hotel has a range of accommodation options to suit families. The hotel offers 1 bedroom and 2 bedroom suites.
Our 1 Bedroom suite comprises of a 43m² room, that sleeps up to 2 adults and 2 children. The 1 Bedroom suite offers a seperate interconnecting living area, and has the option to pull-out the double bed sofa for up to 2 children under 12.
Our 2 Bedroom suite comprises of a 74m² room, that sleeps up to 2 adults and 4 children and consists of 2 seperate interconnecting bedrooms – one double bedroom, one double or twin bedroom – and a separate living area with the option to pull-out the double sofa bed for up to 2 children
under 12.
Kids Meals At The Maritime Hotel
Here at The Maritime Bar and Ocean Restaurant we offer high chairs to assist parents when dining with their children.
Our Childrens menu is available from 12 noon each day until 9pm at The Maritime Bar, and is also available at Ocean Restaurant from 6pm to 9pm. The menu doubles up as a colouring book to keep children entertained during dinner time.
Family Activities In West Cork
West Cork is a haven for family activities with a wide range of locations and activities to explore in close proxiomety to the Maritime Hotel.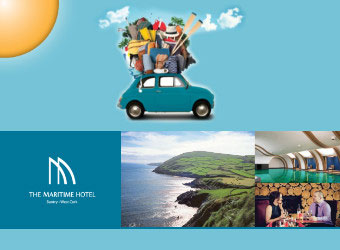 Family Friendly Deals
The Maritime Hotel, is one of the leading family friendly hotels and offers the ultimate ideal destination for a family break in Cork. They they are introducing their family-friendly offer to help you and your family feel at home away from home.
The Maritime Hotel in West Cork run special family break packages throughout the year. Fun, excitement, adventures and good value are all part of a family break at the Maritime.
Find out about Family Break Packages at The Maritime Hotel in West Cork 
Holidaying Solo with your Kids? 
Their Flying Solo offers the Best Value Breaks for Holidaying Solo with Kids
Their Flying Solo Package includes –a Twin Room for 1 Adult and Max 2 Children
Holidaying Solo – Enjoy a break away with your kids….
At The Maritime Hotel, they appreciate that parents don't always get to holiday together. If you are holidaying solo with your kids, then they have the perfect tailored break for you. Don't let busy family schedules stop you…
Book Online your Flying Solo break today!
Twin Room with 2 Single Beds for 1 adult and up to 2 children under 12 (Camp bed added for 2nd child)
Their deluxe standard rooms offer either sea views overlooking Bantry Bay or overlook mature woods.
Rate Includes:
Accommodation for 1 adult & up to 2 children under 12
Complimentary access to Leisure Centre
Complimentary Wi-Fi
Complimentary Parking
Complimentary Kids Club during school holidays fro ages 4 – 12 (Check timetablefor dates)
Choice of dining options on site – children's menus for lunch & dinner as well as a children's afternoon tea available
Friendly Staff that always go the extra mile to chat and help
The Maritime Hotel Family Accommodation
The Maritime Hotel one and two bedroom family suites offer your family all the comforts of home, but with the luxury of a hotel stay in West Cork.
Most importantly, the suites are spacious, making them ideal hotel accommodation for all family sizes and perfect for extended stays. Bedrooms are joined by a comfortable living room. All the suites have views over Bantry Bay and feature a balcony area.
As you would expect of the luxury The Maritime Hotel 24-hour room service compliments the many in-room features which include:
Complimentary broadband/Wi-Fi Internet access
Kitchenette with Refrigerator, Microwave, Sink and Toaster
Plasma Screen TV
Iron and ironing board
Tea and coffee making facilities
Bottled Water
Hairdryer
Luxury toiletries
Complimentary secure car parking
In-room Safe
All Maritime bedrooms are non-smoking
The Maritime Hotel For Families
The Sharks & Dolphins Kids Club
The Sharks & Dolphins Kid's Swim Camp has been carefully planned by the Club Maritime staff to take the stress away from mom and dad so the whole family can enjoy a fun-filled and relaxing holiday. Kids Club is available to children aged 4-12 years old.
The Kids Club is available Tuesday – Saturday from 11am – 3pm each day with lunch included during school holidays and includes Fun & Games and Swim Time.
It is Complimentary to Hotel Residents, but pre-booking is still required to avoid disappointment.
Kids Movie Time
The Maritime Hotel evening Kids Movie Time from 6pm to 8pm, so parents can enjoy a relaxing meal while the little ones are entertained.
This is for children aged 4 – 12 years old and pre-booking is required. A snack is included for all kids.
Evening Kid's Club is Complimentary to Hotel Residents, but pre-booking is still required to avoid disappointment..
Family Fun Tip:- Outside of the Kid's Club dates, there is a babysitting service available in the hotel at an additional charge.
Family Attractions In Cork
Get out and active by hiring bikes from Cycle West Cork and experience the West Cork countryside first hand.
Visit the Island Paradise of Whiddy Island, where you can enjoy a restful escape and hire bikes to cycle the island.
Take a boat trip to Sherkin Island or Cape Clear Island from Baltimore and spend the day exploring.
Take an energized walk or leisurely stroll to the Sheep's Head Peninsula Lighthouse for Breathtaking views.
Stand at the edge of the world with a visit to Mizen Head Signal Station & Visitor's Centre (and make sure to climb the 99 steps!)
Visit the wonderful gardens on Garnish Island from the pier in Glengarriff via the magical Seal Island.
Experience an interactive and interpretative sculpture garden with The Ewe Sculpture Gardens in Glengarriff.
Marvel at the Whales and Dolphins with a Whale Watching Trip with Nic Slocum from Baltimore.
Glide over the waters on Ireland's only Cable Car which will take the whole family over to Dursey Island.
Meet the Alpaca's at Waterfall Alpaca Farm & Walk in Castledonovan, Drimoleague.
Learn the basics with Bantry Driving Academy cycling and driving training sessions in their state of the art facility.
Visit the West Cork Model Railway Village in Clonakilty, where you can experience the quaint miniature village or take a tour on the Tschu Tschu road train.
Play 18 holes of fun at Smugglers Cove Adventure Golf in Rosscarbery.
Stargaze at Schull Planetarium with their out of this world star shows.
The Prince August Toy Soldier Factory and Visitor Centre is Ireland's only Toy Soldier Factory and provides a memorable day out for all the family
Directions to The Maritime Hotel
We hope that you find our directions to Bantry of assistance to you in your journey.
Bantry sits on the South Western peninsula of Ireland and is located on the main N71 between Cork and Kenmare and Killarney.
Travelling By Car from CORK:
At Kinsale Rd Roundabout, take the 2nd exit onto the N40 ramp to N25/South Ring (West)/N22/N71/Togher.
Keep right at the fork, follow signs for N25/N22/N71/South Ring (West), merge onto N40 and then take the exit toward Bandon Road/N71
At Bandon Rd Roundabout, take the 1st exit onto Bandon Road/N71 and continue to follow N71 to Bandon town as far as Glasslyn Rd.
Turn right onto St Finbarr's Pl and then turn left onto N Main St
Slight left onto Emmet Row/R586 then turn left onto Bridge St/R586
Turn right onto W Green/R586 and Continue onto N71
Turn right onto Wolfe Tone Square/N71 and follow N71 going south, the Maritime Hotel will be on your left hand side as you exit the square towards Skibbereen.
Travelling by Car from KILLARNEY:
Follow N22 towards Cork for approx 32km
Shortly after White Deer Brewery on your right, turn right and drive for approx 4.2km then turn left and drive for 2km
Take R584 to N71 in Bantry and continue onto L3402
Turn right onto R584
Turn left onto N71
Turn right onto Wolfe Tone Square/N71 and follow N71 going south, the Maritime Hotel will be on your left hand side as you exit the square towards Skibbereen.
There is Google map at top of this page so that you can actually see the directions to Bantry from Cork, Killarney, Limerick and many more main cities and towns.
Parking
For your convenience, they recommend parking in the set-down area outside the entrance of the Maritime Hotel before unloading your luggage from your car and check in with the hotel. The complimentary secure underground car park is located approximately 100 metres past the hotel on the right hand side of the N71 going south. The receptionist will advise you on directions.