Michael Collins House
Michael Collins House, Clonakilty is a new museum dedicated to Michael Collins. Offering an insight into the life of 'The Big Fella' and bringing the history of Irish independence to life for all the family.
The museum, which opened in 2016, is an excellent resource which brings a large period of Irish history to life and presents it in an easy to understand and personal manner. Learn of the local patriots who went before Collins and dedicated their lives to an independent Ireland, influencing the path which Collins would take. Explore the life of Michael Collins himself, the farmers son, the rebel, the politician, the soldier, the leader, the 'Big Fella'.
Michael Collins House prides itself on being an accessible and enjoyable experience for all ages and levels of interest with a family friendly atmosphere promoting interaction and intrigue. To do this it utilises guided tours, interactive displays, activity sheets, Audio Visual, artefacts and information boards all aimed at providing an educational but fun experience for everyone. Popular with schools, Tour Groups and individuals alike, the museum provides an interesting, educational and entertaining activity, not just for rainy days but every day and all year round.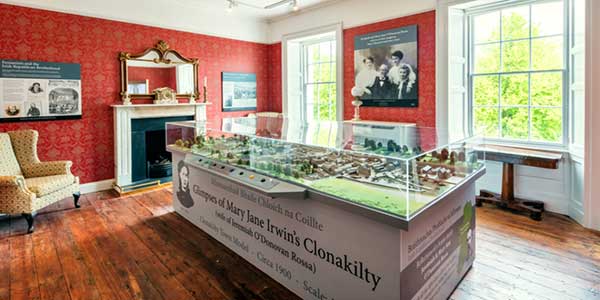 Facilities
Fully Wheelchair Accessible
Toilets
Baby Changing Facilities
Suitable for Hearing impaired
Family Friendly Atmosphere
Book and Gift Shop
Nearby Picnic Area/Park
Located in town centre
Michael Collins House Opening Hours
Summer Opening Hours (May-Sept)
Tuesday -Saturday: 10am to 5pm
Monday & Sunday Closed
(Last Admission 4pm)
Winter Opening Hours (Oct-Apr)
Wednesday – Saturday: 10am to 5pm
Sunday, Monday & Tuesday: Closed
(Last Admission 4pm)
Michael Collins House Admission Prices
Adult: €6
Students/Senior Citizens: €4
Children: €2
Family (2 adults + 2 children U14): €12
There is also Free on street parking available.
School Tours and Group Tours:
Michael Collins House offers a range of different group tour options tailored to suit your needs. From Primary School Tours to Retirement Groups, they offers packages suitable for all.
For more information contact Michael Collins House or phone 023 8858676
School Tours
Teachers/Guides go free.
Guided tour of the museum (Allow 1.5 hours for tour)
Age appropriate worksheets/fun quiz.
For School Groups: Curriculum appropriate tour, tailor made for specific age groups and education levels
Tours tailored to suit your itinerary.
Curator Tours available on request.
Bespoke tours available.
Interactive and Audiovisual presentations throughout the museum.
Wheelchair accessible.
Toilets and Baby changing facilities.
Gift and books shop.
Coffee/Lunch/Dinner offers in conjunction with the Emmet Hotel is available.
Groups Tours (10+)
Guides go free
All groups are given a guided tour of the museum, duration approx (1 hour)
Tours tailored to suit your itinerary.
Bespoke private tours with options of lunch/meal available (advanced booking required)
Wheelchair accessible.
Interactive and Audiovisual presentations throughout the museum.
Wheelchair accessible.
Gift and books shop.
Michael Collins House Location
The Michael Collins House Museum is located at 7 Emmet Square, Clonakilty, very close to the town centre.
Directions from Clonakilty, Main Street (Pearse St.) – Travel west to the end of Pease Street, Turn left at end of Pearse St at Bank of Ireland onto Bridge St. , continue straight, pass the statue of Michael Collins and directly across Emmet Sq to Michael Collins House.
There is also Free on street parking available.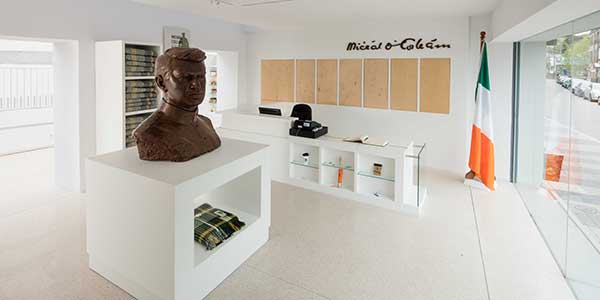 More Information About Michael Collins House
Michael Collins House, 7 Emmet Sq. is a new public museum run by Cork County Council situated in the heart of West Cork in Clonakilty. The house, built in the 1800's, is situated on the only planned Georgian square outside of Dublin. It has been restored to its original 1800's era layout (excluding the addition of a lift for access purposes) with period décor including much of the original fixtures and fittings so this is actually how the house would have looked when it was originally built and decorated. Attached to the original building is a modern style light and airy reception area with further amenities and a book and gift shop where you can sit and peruse and find out more information on further sites of interest in the Clonakilty and West Cork area.
The museum follows a chronological narrative of the intertwined story of Irish independence and Michael Collins' life. In doing this it focuses on the 1798 Rebellion and the Battle of Big Cross at Shannonvale, near Clonakilty and how this event influenced a young Collins as he grew up in the same area just 100 years later. Learn of another local patriot; Jeremiah O'Donovan Rossa and his role in promoting the Fenian movement, and how his legacy was a significant factor in the 1916 Rising and another strong influence on Collins nationalist beliefs. Explore a very different Clonakilty as it was in the 1900's when a teenage Collins moved from his home at the family farm in Woodfield to Emmet Sq, on which Michael Collins House is situated. Discover how this young, West Cork man would go on to become 'The Big Fellow', one of the most influential figures in the history of Ireland. See a different, fun filled and energetic side to the intense, strong leader often portrayed through his relationships with friends and families as well as his thoughtful and romantic side in his letters expressing his love to his fiancé, Kitty. Lastly gain an insight into the difficult last days through the Civil War and his tragic end, aged just 31, at Beal na Blath.