Name:
Muckross House & Gardens
Address:
The National Park, Killarney, Co Kerry. Ireland
Tel.:
064 6630804


Please mention Family Fun when booking!
Muckross House, Gardens & Traditional Farms
Muckross House, Gardens and Traditional Farms are located approximately 6km (3.6 miles) from Killarney town centre, Muckross House and Gardens represent the focal point and nucleus of Killarney National Park. This is Ireland's oldest National Park and it includes the world-famous Lakes of Killarney, as well as the mountains and woodlands that surround them.  There is something for all the family at Muckross – enjoy a guided tour of the house, walk the gardens, tour the farms at your leisure or enjoy a scenic lunch in the Garden Restaurant.  Included here you will find some information, which will assist you when planning your visit to Muckross.
Muckross House & Gardens
The Muckross estate dates back to the 17th Century when the first member of the Herbert family, who were originally from Wales, came to settle in Killarney. The present day Muckross House was built for Henry Arthur Herbert and his family. It was completed in 1843. It is situated close to the eastern shore of Muckross Lake, taking full advantage of the magnificent views which can be enjoyed from this location. Most of the house has been preserved as a late 19th century mansion, with furniture and artefacts from that period.
Muckross Gardens adjoin Muckross House and are mainly informal in style. They date back to the mid-19th century when extensive landscaping was carried out by the Herbert family in preparation for the visit of Britain's Queen Victoria in 1861. Throughout their tenure at Muckross, the Herbert's played a very active role in social and political life and in the development and improvement of the Muckross Estate.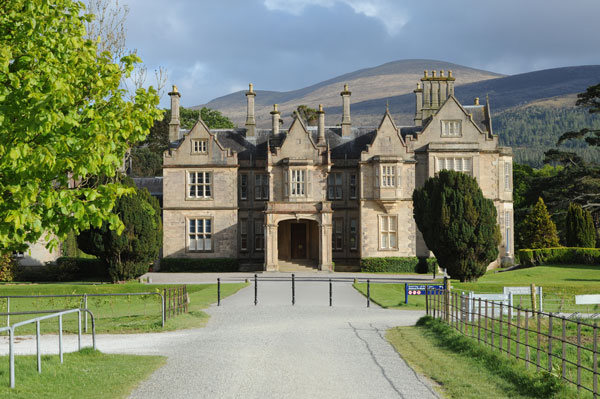 Muckross House Opening Times 
Muckross House and Gardens are open daily all year round (except the Christmas period). Admission to Muckross House is self-guided tour only due to Covid 19 restrictions.
Jan-Mar
Apr-Jun
Jul-Aug
Sept-Oct
Nov-Dec
9am-5pm
Last Admission
3.40pm
9am-6pm
Last Admission
4.40pm
9am-6pm
Last Admission
5.40pm
9am-6pm
Last Admission
4.40pm
9am-5pm
Last Admission
3.40pm
Muckross Traditional Farms
Step back into the past on Muckross Traditional Farms and visit a very different Ireland – the Ireland of the 1930s and 1940s. Then, a trip to the well was still a daily chore for the housewife and electricity had yet to be introduced to the countryside.
Visit three separate working farms (small, medium and large), each complete with animals, poultry and machinery.  There is also a Labourer's Cottage, a Carpenter's Workshop and a Blacksmith's Forge.
Younger visitors will enjoy our  Farm Animals and parents can enjoy a sheltered picnic in our Woodland Play Area, while their children have fun on the wonderful slides and swings.
Muckross Traditional Farms is open weekly  from Wednesday to Sunday 1-5pm July and August
Due to Covid 19 restrictions the farms are free of charge due to limited experience.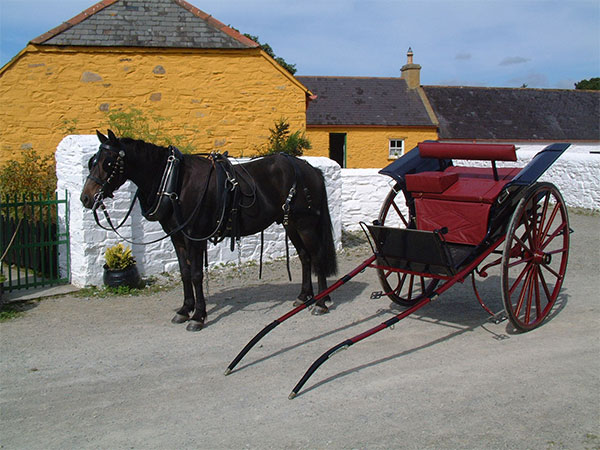 Muckross Traditional Farms & Farms Reception
Open daily Wednesday – Sunday 1-5pm, last admission at 4pm.
Contact Muckross House Guiding Service:
Tel: 00 353 (0) 64 6670144
Muckross House Admissions
| Category | Muckross House | | |
| --- | --- | --- | --- |
| Adult | €9.25 | | |
| Groups, Senior Citizen, Student (over 18) | €7.75 | | |
| Child (aged 3-12) | Free | | |
| Child (aged 13-18) | €6.25 | | |
| Family (2+2) | €29.00 | | |
| Family (2+3) | €33.00 | | |
Group Rate: Applies to twenty visitors or more and when payment is made by a single transaction. All groups must have advance reservations.
Student Rate: Applies to students in full time third level education on production of a valid and current student identity card.
Child Rate: Applies to children aged three to eighteen. Children of two years of age and under are admitted free of charge.
Family Rates: Apply to a group of two adults and 2 to 3 of their children aged 2-18.
*Admission to Muckross House is by guided tour only.
*Last admission to Muckross Traditional Farms is always one hour before closing.
Note: there is no charge for admission to Killarney National Park and Muckross Gardens.
Facilities at Muckross House
Separate parking facilities are available for cars and coaches. There is no parking charge.
The Muckross Garden Restaurant and Muckross Craft Centre are located within the Walled Garden Centre.
Muckross House, Gardens and Traditional Farms have received the Failte Ireland Covid 19 Safety Charter with all safety measures in place to ensure a safe experience for visitors.
Enjoy spacious outdoor seating in the Walled Gardens to enjoy your lunch or coffee.
For the most part Muckross House and Muckross Traditional Farms have universal access, however in some instances access may be limited due to the limitations of historic buildings. To assist people with reduced mobility a courtesy/transit wheelchair is available for use within the interior environs of Muckross House only. Please ask a member of staff for details.

Muckross House Garden Restaurant
The Garden Restaurant at Muckross is an ideal venue for those who wish to enjoy a relaxing meal in the scenic surroundings of Killarney National Park.
Set against the spectacular backdrop of Torc and Mangerton Mountains, the Garden Restaurant enjoys magnificent views across the old Victorian Walled Garden area.
The Garden Restaurant is open seven days a week throughout the year. In the peak summer season, they are open from 9am until 7pm. During the off-peak months, they are open from 9am until 5pm.
Direction Muckross House and Gardens
The town of Killarney is situated in the south-west of Ireland, on the border of Killarney National Park. Distances from the main cities are as follows:
Dublin: 333km (200 miles); Cork: 83km (50 miles); Galway: 250km (150 miles).
Killarney has direct rail links to Dublin and Cork, while Kerry Regional Airport is situated 5km (9 miles) from the town.
When travelling to Muckross, from Killarney town centre, take the main Kenmare road (N71) for a distance of approximately 6km (3.6 miles). The only vehicle access is via the large entrance gate located on the right, a short distance beyond the Muckross Park Hotel. This provides direct access to both Muckross House and the Reception of Muckross Traditional Farms.