Name:
The National Concert Hall
Address:
Earlsfort Terrace, Dublin 2
Tel.:
00 353 1 4170000


Please mention Family Fun when booking!
The National Concert Hall For Families and Schools
The National Concert Hall is one of Ireland's principal music venues, showcasing many musical types and provides schedules for families and schools.
The National Concert Hall seeks to engage people with music, to enhance people's understanding and appreciation of music and music making, and to encourage personal, community and social development through music.
Built on the twin pillars of excellence and inclusivity, their aims to contribute to national musical citizenship through a wide range of quality, accessible, and socially relevant initiatives.
A growing body of research provides evidence of the long term benefits of music education from very early in a child's life.  NCH believe in this, and they also believe that it's a great way to have fun!
Find Out More Information on  The National Concert Hall Events, Workshops and Concerts For Children and Families
The National Concert Hall Events For Children and Families
The National Concert Hall is passionate about music, and believes that the joy of music should be experienced by all.
National Concert Hall activities for children and families are based on principles of fostering the natural creativity of the child, and of promoting music's potential to enhance family cohesion. The National Concert Hall view children as co-creators of the education process, and develop initiatives to be child centred, and wherever possible, child led.
In developing initiatives for families, they encourage engagement with the NCH, and with music in general, as a shared experience, and so most of our activities in this area include both parents and children as active participants.
Mini Music
Mini Music is an action-packed music workshop experience for babies and young children aged 3 months to 8 years old. These 30-minute workshops take place on Saturdays at the National Concert Hall, and seek to provide an immersive learning environment for young children. Carefully designed to suit each of the age groups, workshops are fun and accessible with foot-tapping, memorable tunes. With the exception of the Mini Maxi and Mini Maestro sessions, all children should be accompanied by one adult.
Mini Minors 10.20: 3-12 months
Mini Majors 11.00: 1-2 years
Mini Mezzos 10.20 & 11.40: 2 -3 years
Mini Muchos 12.20 & 13:50: 3-4 years
Mini Maxis 13.00 & 13.45: 4-5 years
Family Workshop Days
The National Concert Hall Family Workshop Days are designed for families of all generations to enjoy and partake in interactive music workshops.
Families and friends can enjoy all that is on offer, whether you wish to experience the magic of the Gamelan, the rhythms of sounds of jazz, the beat of the drums, or bop and twist to the new workshops for parents and very young children.
They welcome any combination of families and friends to take part in their fascinating interactive music workshops.
Baby Bop and Toddler Twist
Let's Drum (age 6+)
Family Jazz (age 6+)
Introduction to Gamelan (age 6+)
No previous musical experience is required, just as willingness to join in and have fun.
Family Concerts
The National Concert Hall Family Concerts are especially designed for children and their families to entertain, excite and educate.
Throughout the year they present a wide range of fun and accessible concerts for the whole family to enjoy. There are plenty of opportunities to join in, and the NCH love to see different generations coming together to experience the music in a relaxed and informal atmosphere.
All their Family Concerts offer a unique and fun-filled opportunity for families to spend quality time with their children and share the excitement of live music.
Find Out What's On :-  The National Concert Hall Concerts For Children and Families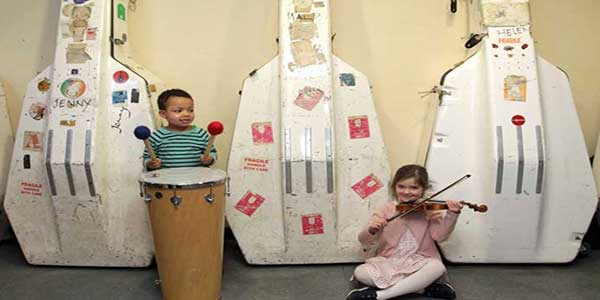 The National Concert Hall's Programmes for Schools and Teachers
The National Concert Hall programmes for Schools and teachers, aims to enhance the musical experience of students in primary and post-primary education, and support teachers in curriculum delivery and development through innovation and creativity.  A key goal is also to increase musical engagement within schools while widening the breadth of this programme through the use of technology.
Primary Ensemble Project
An exciting and innovative programme for primary schools that have existing ensemble programmes.
Music and Science Programme
Innovative programme exploring the intersection points of the worlds of music and science through a series of hands-on workshops.
Music Workshops for Schools
A range of music workshops designed to get everyone involved.
Special Schools Sing Along
Special schools (pupils with moderate, severe and profound general learning disabilities)are invited along to join the NCH for this interactive, multi-sensory concert-workshop.
The Art of Tradition
Workshop programme for traditional Irish music for Junior and Leaving Cert students delivered by Altan member Dr. Martin Tourish.
Continuing Professional Development
These courses aim to support educators to develop their skills allowing them to engage in imaginative, active and educational music sessions in the classroom.
St. Declan's School
St. Declan's School is a school for children with behavioural and emotional difficulties. The work of the National Concert Hall here involves engaging the talents of sound artist and composer Slavek Kwi.
Primary Strings Project Report
The Primary Strings Project assisted schools in the setting up and development of instrumental tuition programmes within the primary school curriculum framework.
Waltons Music for Schools Competition
Waltons Music for Schools Competition, a non-profit national event celebrating music in Irish schools supported by the National Concert Hall.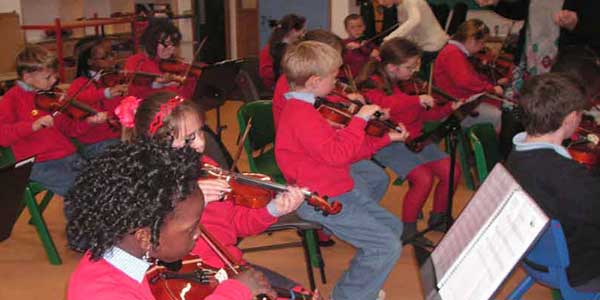 Directions To The National Concert Hall
The National Concert Hall is located in the centre of the city beside St. Stephen's Green.
Please be aware that there is a one-way system in place on St Stephen's Green so please follow the instructions below
Follow the signs to the City Centre.
From O'Connell Street, head south over the River Liffey, down D'Olier Street, past Trinity College onto Nassau Street.
From Nassau Street, take a right turn onto Kildare Street.
This will lead you onto St. Stephen's Green.
Continue down towards Baggot Street, take the first right onto Pembroke Street, straight past Fitzwilliam Square until you come to a set of traffic lights.
Turn right onto Leeson Street and at the next set of traffic lights take the left onto Earlsfort Terrace where the National Concert Hall is situated on the right hand side.
Harcourt Street is within 5 minutes walk of the National Concert Hall and runs regularly: every 5 minutes at busy periods and every 15 minutes at less busy periods