Dates:
From Saturday, 20th of October 2018 to Sunday, 4th of November 2018
Times:
10:00 am to 6:00 pm
Venue:
National Sea Life Centre
Address:
Strand Road, Bray, Co. Wicklow
Tel.:
01 286 6939


Please mention Family Fun when booking!
National Sea Life Centre Halloween Event
Ascarium
Help the sea witch find the magic ingredients and claim your treasure!
Enter the ASCARIUM …
Explore the ocean depths to discover the spooky creatures that lurk beneath the waves. Find the missing magic ingredients around SEA LIFE to help the Sea witch cast her spell and claim your reward!
Long ago, Zara was a regular witch who lived on the land. She soon fell in love with the ocean and all the amazing creatures inside, but also saw how people mistreated the seas.
She decided to cast a spell, and turned herself into a Sea witch. With all of her magical powers; she swims the seas, looking after the weird and wonderful creatures of the ocean, but also casting curses on those who would mistreat the seas.
This Halloween, Zara has brought her magic to SEA LIFE, but she has a problem. On her watery travels she has come across a treasure chest, but needs a special set of ingredients in order to cast her "Spell of Unlocking". If you help her, she will even share the treasure inside!
Head through the attraction to discover the ingredients, and find out all about the weirder creatures of the Sea that Zara loves to play with.
Don't forget, Zara loves those who do what they can to help the seas, but for those who mistreat the oceans and the creatures inside, she might just turn your nose into a barnacle!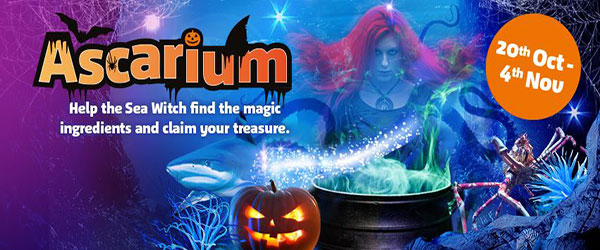 Event Information
Venue: National Sea Life Centre, Bray
Classification : Family Event
Dates:- 20 October – 4 November
Times:- Monday to Sunday 10:00 to 18:00 (last admissions 17:00)
National Sea Life Centre Admission
Admission to SEA LIFE Bray on selected date including ASCARIUM Event
Adult (15+) – Online €10.75 Pay on the day €12.95
Children – Online €8.50, Pay on the day €9:95
Save up to €2:50 per person when you book online!
Booking Online:- You can book on line here through our booking link directly to the National SEA LIFE Centre ticket sales
National Sea Life Centre Opening Times
Summer Season
Monday to Sunday 10:00 to 18:00 (last admissions 17:00)
Winter Season
Monday to Friday  11:00 to 17:00  (last admissions 16:00)
Saturday/Sunday  10:00 to 18:00 (last admissions 17:00)
Please be aware that due to our limited capacity, we strongly advise all guests to book online tickets in advance of their visit, particularly when planning to visit during weekends or school holidays.
Guests with pre-booked tickets are guaranteed entry and will be given priority over guests who arrive with no tickets, who may have to wait to be admitted due to our limited capacity
How To Get To National SEA LIFE Centre
Enter Bray, follow signs for the seafront where SEA LIFE is located.  3 hours free parking on Promenade.
Take train to Bray station.  5 minute walk to seafront.
Take No 45, 84 or 145 from Dublin city centre to Bray Main Street and walk to the seafront.