National Sea Life Centre Event
Ascaruim – Tricks or Treats
Spooky fun for families with children
Join the team at the National Sealife Centre, as Aquarium turns Ascarium this Halloween!
Help the Sea Witch and Warlock look after their ocean home and fellow sea creatures by completing magical challenges throughout the aquarium.
Will you be brave enough to step up and help them by solving the 'spook-splash-tic' challenges and fill in your activity sheet as you go?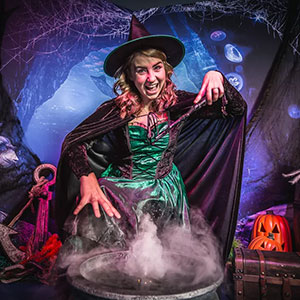 Complete magical challenges to join their army of ocean defenders!
Meet the Sea Witch or Warlock
Enjoy cool photo opportunities
Fun activity trail and challenges throughout the aquarium
Enjoy visual games and activities
Get a reward for completion
This event is included with SEA LIFE Admission Ticket
Book online now and don't miss out Ascaruim- Tricks or Treats
Event Information
Venue: National Sea Life Centre, Bray
Classification : Halloween Event – Ascarium – Tricks & Treats
Dates:- 21/10/2023 to 05/11/2023
National Sea Life Centre Admission
Admission to SEA LIFE Bray on selected date including ASCARIUM Event
Adult (15+) – Check Website for admission costs
Children – Check Website for admission costs
Booking Online:- You can book on line here through our booking link directly to the National SEA LIFE Centre ticket sales
National Sea Life Centre Opening Times
Summer Season
Monday to Sunday 10:00 to 18:00 (last admissions 17:00)
Winter Season
Monday to Friday  11:00 to 17:00  (last admissions 16:00)
Saturday/Sunday  10:00 to 18:00 (last admissions 17:00)
PLEASE NOTE THESE TIMES ARE SUBJECT TO CHANGE PLEASE CHECK WEBSITE FOR UPTODATE OPENING HOURS
Please be aware that due to our limited capacity, we strongly advise all guests to book online tickets in advance of their visit, particularly when planning to visit during weekends or school holidays.
Guests with pre-booked tickets are guaranteed entry and will be given priority over guests who arrive with no tickets, who may have to wait to be admitted due to our limited capacity
How To Get To National SEA LIFE Centre
Enter Bray, follow signs for the seafront where SEA LIFE is located.  3 hours free parking on Promenade.
Take train to Bray station.  5 minute walk to seafront.
Take No 45, 84 or 145 from Dublin city centre to Bray Main Street and walk to the seafront.